USD Student's Research Contributes to the Future of Electronics
Interest in renewable energy sources has seen a resurgence in recent decades, and the development of organic electrode materials in rechargeable batteries has followed suit.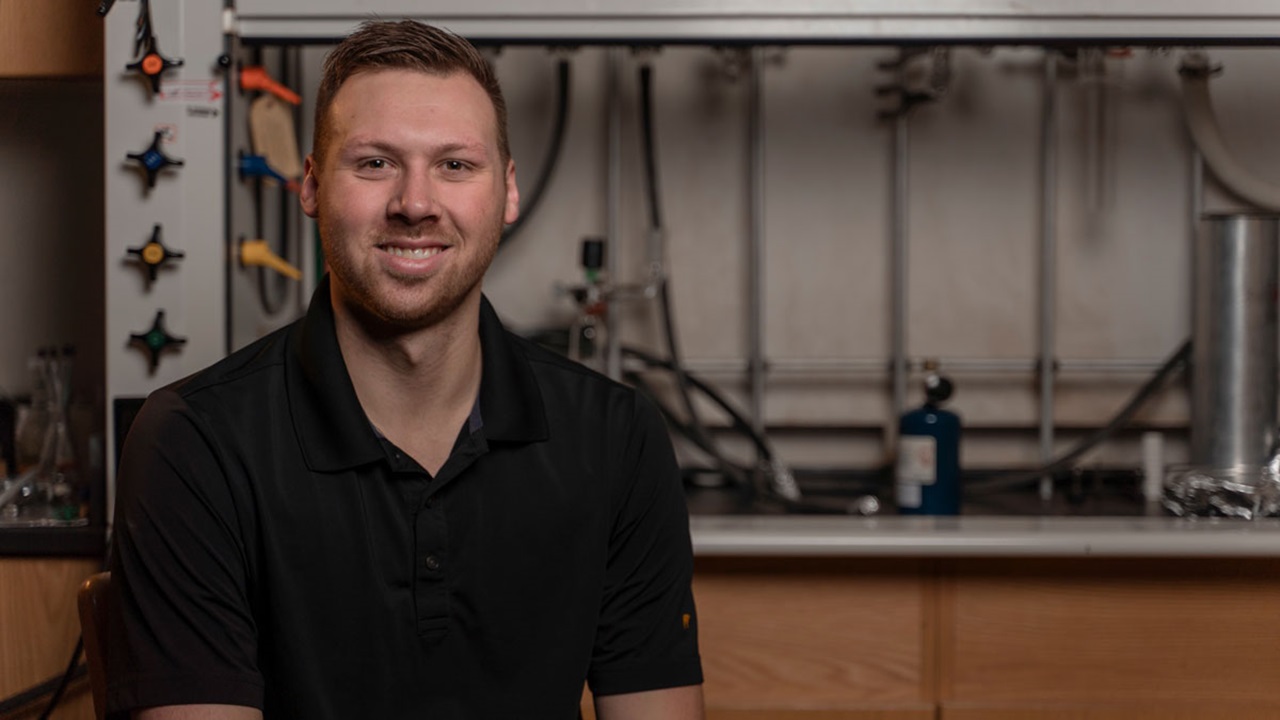 Brady Samuelson, a senior chemistry major, is the major driving force behind a project that aims to discover and develop high energy density battery materials for next-generation low-weight, high-capacity batteries. These batteries are significant for several applications, ranging from mobile electronic devices to electric automobiles.
Samuelson and his group are investigating new lightweight redoxactive polymeric materials to serve as a potential replacement for current lithium battery cathode materials. The current materials typically deploy a lithium metal oxide structure that has problems with limited capacity, thermal runaway and an unreliable supply chain.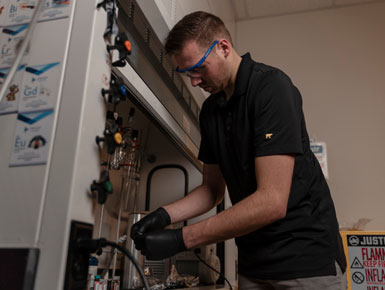 "I'm proud that I'm able to implement my own ideas and creativity into this project," Samuelson said. "I am also proud that the material I have learned in my chemistry courses has been able to help me with this research, and I know that what I am learning is incredibly important."
The polymeric materials Samuelson is studying have 65% higher theoretical capacities than that of current lithium metal oxide. He is exploring the field of lightweight, organic materials for battery cathodes because they have the potential to dramatically increase the energy density of lithium-ion batteries in the future.
"I imagine electric cars, the electrical grid and my other applications will someday all have new battery technology implemented in them," Samuelson said. "This project has the benefit of the general public being able to get behind it and support the research that is being conducted."
Samuelson is a NASA scholarship awardee and a UDiscover scholarship awardee. He has presented his research work at the American Chemical Society (ACS) Midwest regional meeting, the South Dakota Establish Program to Stimulate Competitive Research (EPSCoR) undergraduate symposium and the UDiscover conference.
"It has been a privilege to work on this project with Dr. Haoran Sun and our research group, and the knowledge I have learned because of this project is hard to quantify," Samuelson said. "So many doors have been opened because of this research, and I am excited to continue my next steps in the field of chemistry and research in general."
After completing his undergraduate degree, Samuelson plans to further his education and hopes to get accepted into a master's or Ph.D. program for chemistry. He then would like to work in an industrial lab setting in either the pharmaceutical or agrochemical sectors.