Weaving Justice Into Rural South Dakota
Rachelle Norberg '18 makes connections that strengthen the community she serves.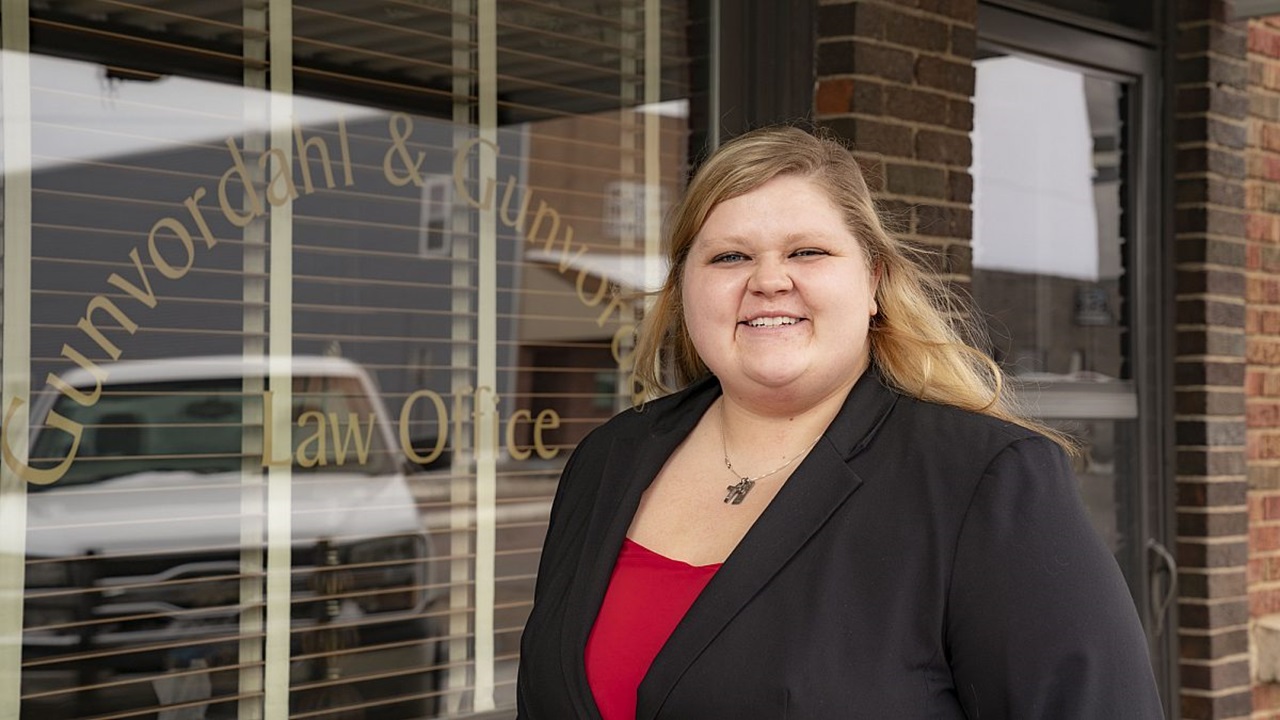 Life in a small town teaches you the value and potential of reaching out to those around you. This inherent drive to help others brought Norberg to the University of South Dakota and its School of Law. Then, it brought her back home.
When "home" consists of about 650 people, concepts of community and working together are more than nice ideas: they're your way of life. Family, friends and neighbors are one and the same, and to help an individual is to help all those around you – a mentality that defines and is understood by the community as a whole.
"I love what I do, and I love being in Burke," Rachelle Norberg '18 said of her hometown in South Dakota. She finished both political science and economics undergraduate degrees at the University of South Dakota in 2015, then continued to the School of Law and graduated in May 2018.
Having joined Gunvordahl, Gunvordahl & Norberg in August 2018, she added her name to the office and her services to the community in which she grew up. "I've always wanted a job where I could help people," Norberg added, and the new attorney is off to a good start.
Meeting Needs
To only call it a job doesn't do her justice. Burke is the county seat for Gregory County, and the Gunvordahl, Gunvordahl & Norberg law office also functions as a real estate and title company; its five employees share the load in all areas. A "typical day" hardly exists, but that's the environment in which Norberg and her organizational skills thrive.
"I meet with clients on everything from buying land to writing wills," Norberg said, "and I'm eligible to take criminal appointments and determine the need for mental health commitments."
Other roles include assessments on properties; seeing the county treasurer in the courthouse for real estate closings; and working with the registrar of deeds for property titles.
That's only in Gregory County. Starting in spring 2019, Norberg will be covering more ground and service areas. She will have licensure in Holt and Boyd counties in Nebraska, extending her services to a 75-mile radius and offering quality legal services to all those within. She will also be taking the Rosebud Bar exam, allowing her to practice in tribal court; she hopes to someday expand her work to the Yankton Sioux, Marty and Wagner areas of South Dakota.
If Norberg's work sounds like too much for one person–especially one who enjoys reading, traveling and an otherwise active personal life–that's because it is. Call it passion, small-town pride or both, but this dedicated worker knows better than to think she has to do anything on her own.
Closing Gaps
Rural towns have a way of seeming "cut off " from larger areas with easier access to everyday services like shopping and health care. Those who understand how interconnected these small towns are, however, know that they're anything but isolated. South Dakota lawyers recognize this need for connection perhaps more than most, and Norberg is no exception.
"There are two other law firms in Gregory, and we balance out a lot of our services," she said. "Gregory is only eight miles from Burke, and although each firm does a little bit of everything, we for example do more estate planning whereas they'll do more civil and adoption cases."
Stephanie Pochop is a third-generation lawyer at Johnson, Pochop & Bartling in Gregory. She's also a friend and colleague of Norberg's who has known her as a student, intern and practicing attorney. Though sending clients to other lawyers seems counterintuitive, these professionals know that connecting people with the help they need is the number one priority.
I received a great education while at the University of South Dakota, and had some really beneficial mentorship, so I felt very prepared for the field. As the state's only law school, we get a lot of networking opportunities that other schools don't.
"We team together because quality legal assistance has to be the premium for everybody," said Pochop, who has seen Norberg approach her work from that very standpoint."If we don't help people in our communities get a lawyer when they need it, we diminish people's trust in the judicial system."
With every challenge comes opportunity for growth: take Norberg's own house hunting in Burke, for example. The prospect of buying a home is daunting no matter where you are, and in small towns with fewer options, even more so.
Rather than be discouraged, Norberg took the opportunity to become her own self-proclaimed "guinea pig" and learn the homebuying process from the inside out. She then took what she learned and applied it to her work, helping a coworker and other clients find and purchase homes of their own.
"Rachelle has a brilliant legal mind and engaging personality," said Pochop, "and she knows that if she needs help, she can find a solution or find a resource."
Making Connections
Norberg does everything she can to connect people in need with the right solutions. Sometimes that means taking on and learning new roles, such as real estate. Other times, solutions are found by phone – whether that means calling someone from across the hall, street or state.
"I received a great education while at the University of South Dakota, and had some really beneficial mentorship, so I felt very prepared for the field," Norberg said. "As the state's only law school, we get a lot of networking opportunities that other schools don't."
These opportunities help students meet practicing attorneys and judges while still in school. Such relationships, formed early on, equip future lawyers with vital resources and promote the resilience of an interdependent community.
Further strengthening connections, the State Bar of South Dakota plays its own role in balancing the need for legal services. The Hagemann-Morris Young Lawyer Mentorship Coin Program pairs lawyers who are just getting started with those who have years of experience, and Project Rural Practice (PRP) helps place newly graduated lawyers in rural communities without nearby access to legal services.
In fact, PRP brought Norberg back to Burke, where she has since been supported by friends, family and the community she has always loved.
Kelsea Sutton is the corporate counsel and compliance officer for First Fidelity Bank in Burke, as well as the County Commissioner for Ward 2 in Gregory County. She and Norberg are "fellow Burkites" who are familiar with the need for rural lawyers – and who both decided to do something about it.
"I cannot emphasize enough the jackpot that our city and county hit in Rachelle choosing to return," said Sutton. "A person who already calls Burke 'home' is inherently committed to improving their community, but she goes beyond that."
Norberg's influence has been seen – by Sutton and others – in her professionalism at Burke's city council meetings, Community Club Board and development corporation. But she's also making a personal impact as a proud supporter of the city's events, from an Oktoberfest celebration to a new $4 million hospital addition and remodel, as well as school functions.
"She has always been a part of the fabric of our community," Sutton said. "[Norberg] will make Burke, Gregory County and life for many clients better for decades, and I'm so excited to watch her career from right across the street."
Continuing Legacy
Norberg's career has been evolving from the start. Jack Gunvordahl, practicing attorney at Gunvordahl, Gunvordahl & Norberg for 41 years, hired the returning Burkite with the understanding that she would eventually take over.
Gunvordahl is semi-retired and already turning the practice over to Norberg. Together the two are working toward a seamless transition that will take a few years to complete. Maintaining client relationships and the practice's legacy is no small task, but it's one about which all parties feel confident.
"We've had her doing and learning a little bit of everything," said Gunvordahl, "and I'll still be available when she needs help." Born, raised and retiring in Burke, he looks forward to the continuation of legal services in a building that has held strong on Main Street for more than 100 years.
To hear Norberg tell it, she's just doing what she loves in the place she calls home.
"It's a lot of work," she said, "but it's fulfilling and it's worth it."
Moving Forward
When faced with challenges, we find strength in connection – the potential of which cannot be overlooked. Norberg and her fellow up-and-coming lawyers are more connected now than ever, even if separated by miles of rolling plains. Their challenge is to leverage knowledge and resources, much as lawyers always have, to continue a professional legacy of helping people in need. That's what community is for, after all.