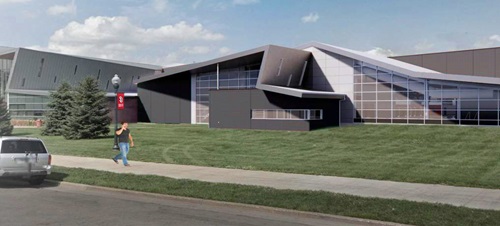 Wellness Center Expansion
The planned expansion will add aquatic facilities to the existing Wellness Center, which will be open to the public beginning fall 2024.
Breaking ground in spring 2023, this 31.25-million-dollar project will add an estimated 45,800 gross square feet to the facility to house a new indoor competition pool, wellness pool, aquatic obstacle course, wet classroom, hot tub, steam room, athletic locker rooms, expanded wellness locker rooms, meet management rooms, coaches offices and lifeguard rooms.
The Wellness Center expansion is designed to serve both the campus community and the Vermillion community at large; with facilities that can host everything from public swim classes to large swim competitions, the addition creates many new opportunities in water fitness and wellness for all age groups.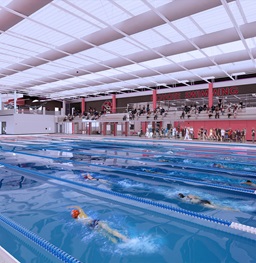 New Competition Pool
The state-of-the-art 50-meter competition pool will feature two movable bulkheads, which enable the pool to be divided into three separate zones so that three unique activities can take place simultaneously. The space will also include seating for 400 people.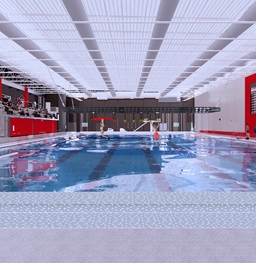 NinjaCross
One of the most exciting features of the expansion is the addition of a NinjaCross system, a fully customizable obstacle course that can be raised or lowered from the ceiling in under 60 seconds. This obstacle course will create 3-D challenges for swimmers and exercisers of all ages and at any fitness level.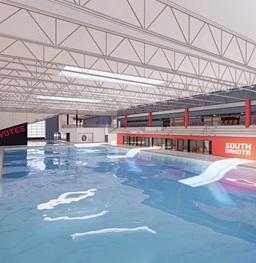 Leisure Pool
The 1,000-square-foot leisure pool will offer warmer water than the competition pool, intended for intramural water basketball and volleyball, water aerobics and swim lessons, among other activities.
Hot Tub & Steam Room
The new hot tub will accommodate 25 people and support a range of positive outcomes, with possible benefits including stress and muscle relief, lower blood pressure and improved sleep. The steam room will offer a relaxing experience that can improve circulation, clear congestion, promote skin health, aid in workout recovery and boost your immune system.
Explore more of USD's Fitness and Recreation Offerings