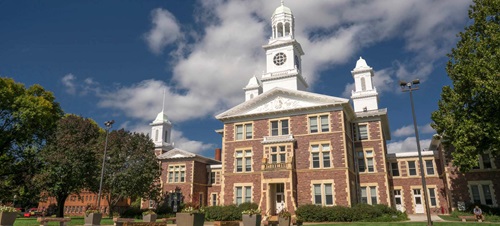 Academic Support
Every step of your college education, USD has the resources to help you navigate the unknown and be successful upon graduation.
Our academic support resources are here to help you thrive in a college setting. The new landscape of higher education can be a difficult adjustment, so here at USD, we give our students access to all the resources and tools necessary to find success. Through advising, tutoring, learning specialists and more, we want you to feel supported in all of your academic endeavors. Located on the first floor of the ID Weeks Library, the Academic Commons is your one stop for academic, technical and research support.

Take advantage of the resources that can help you be a successful student.
Academic Services
Get the educational assistance you need now while developing the skills you'll use for a lifetime.
Advising
Throughout your USD experience, you'll explore many opportunities for academic, personal and professional growth. Your academic and faculty advisors will play important roles in your journey as they help you plan for and understand the requirements for graduation while assisting you in preparing for your eventual career.
Incoming Students
As an incoming freshman or transfer student, you'll have the opportunity to meet with an advisor and register for your first semester classes at one of our Coyote Registration Day events.
As you continue your academic career at USD, you will meet with an advisor specifically assigned to you, either through the USD Academic and Career Planning Center or through your major's school or college:
Academic and Career Planning Center


College of Arts and Sciences majors, undeclared majors, secondary education majors and majors in the School of Health Sciences including alcohol and drug studies, health sciences major, medical laboratory sciences, nursing and social work

Beacom School of Business Student Services Center


Accounting, business administration, economics, finance, health services administration, human resource management, innovation and entrepreneurship, management, marketing and operational analytics

School of Education Center for Student and Professional Services


Elementary education, special education and kinesiology and sport management

Department-Assigned Advisers

College of Fine Arts majors (art, music, theatre), dental hygiene
After completing 45 hours of course work, you will be assigned a personal faculty adviser in the department of your major.
Current Students
Find the right major. Stay on track. Complete your degree. The following advising resources are available through the myUSD portal to help you in successfully accomplishing your academic goals:
The learning specialist will provide individual consultation to any student who has a desire to improve their academic performance or be more successful. For each student, the learning specialist will conduct an intake screening to identify the student's strengths and concerns and will assist the student in developing an action plan with strategies and resources that can help them reach their academic goals.
The learning specialist will work one-on-one with the student to help them understand their learning styles and acquire successful learning strategies and study skills, develop a personal academic plan to improve the likleihood of college success, and create a specific action plan for classes or academic tasks that are causing the most difficulty.
Possible learning topics include:
Identifying obstacles to success
Setting learning goals
Becoming a more active learner
Using critical thinking skills
Improving reading comprehension
Dealing with test/performance anxiety
Academic stress management
Time management
Motivation
Procrastination
Concentration
Organization skills
Test-taking strategies
Note-taking
Memory strategies
Students can schedule an appointment with a Learning Specialist through Coyote Connections or by emailing advising@usd.edu.
The Math Emporium is here to help you succeed in understanding and comprehending the vast world of mathematics. Our knowledgeable staff can assist you with MATH 095, MATH 103, MATH 104, MATH 114 and MATH 121. Here you will have a place to concentrate and focus, receive assistance on difficult problems or assignments, and work with others who have similar questions. There are no appointments necessary.
The college years can be filled with new and enriching experiences, but can also present challenges which may interfere with your academic progress and emotional well-being. The Student Counseling Center's goal is to help you make the most of your years here at USD. On our website, you will find information about our services, staff, campus resources, crisis management and how to refer someone. There are also links to self-help tools and general health information.
If you would like to continue services or schedule a new appointment, please visit the Student Counseling Center page. You can also follow our social media accounts to stay up-to-date on what we have happening.
Supplemental Instruction (SI) is a learning enhancement program designed to organize and improve the ways in which students prepare for studies outside of class. SI is attached to particular courses and provides students with a systematic and disciplined approach for processing the subject material assigned by the professor. The SI leader attends the course to keep up with the subject content being presented and then holds out of class sessions to help students with effective study skills and course content. A current SI schedule can be found here.
We offer a free tutoring program that covers subjects like math, biology, chemistry, psychology and more. There are in-person, small group tutoring sessions and online tutoring support for one-on-one needs. Students can find details about signing up for tutoring
here
.