Prevention Services educates and empowers students to make informed choices about:
Mental health and substance use through educational programming
Collaborative partnerships for campus and community outreach
Planned campus-wide events
E-Checkup to Go (e-CHUG)
The e-CHUG is a brief, online alcohol abuse prevention and harm reduction program. The e-CHUG program involves a 15-20 minute online assessment of alcohol use with personally tailored recommendations for making change and reducing risk around alcohol use. Students will receive information on individual drinking patterns, specific health and personal consequences, unique personal and family risk factors and campus and community support and emergency services.
CHOICES
CHOICES is a brief alcohol abuse prevention and harm reduction program for college students involving interactive journaling. The CHOICES program involves a 90-minute, peer facilitated class. Throughout the course, students are presented with information, and then they are able to reflect on what they have learned as it relates to their choice about drinking in their personal journals. The CHOICES program is presented in a non-confrontational manner that enables students to make their own decisions about alcohol consumption. Because the central focus of this program is to help students make informed choices, the journal is set up to provide participants with information, and then they are asked to apply what they have learned in a series of self-reflective questions. Please email
scc@usd.edu
to inquire about enrolling in a class.
Prime for Life ©
Prime for Life© is an evidence-based motivational prevention, intervention and pre-treatment program specifically designed for people who may be making high-risk choices. This includes but is not limited to impaired driving offenders, college students, and young people charged with alcohol and/or drug offenses. It is designed to change drinking and drug use behaviors by changing beliefs, attitudes, risk perceptions, motivations, and the knowledge of how to reduce their risk of alcohol and drug related problems throughout their lives. Because Prime For Life includes both prevention and intervention content, it is also designed in a way that serves universal, selective and indicated audiences with program delivery options for each. Please email scc@usd.edu to inquire about enrolling in a class.
Planned Campus-Wide Prevention Events
Nikki's Fund: Designed as a preemptive measure, Nikki's Fund assists USD students with mental health concerns beyond their financial capabilities.
Question, Persuade, Refer (QPR): Just as people trained in CPR and the Heimlich Maneuver help save thousands of lives each year, people trained in QPR learn how to recognize the warning signs of a suicide crisis and how to question, persuade, and refer someone to help. QPR training is available upon request. Contact scc@usd.edu or call 605-677-5777 for more information.
Student Counseling Center
If you would like to continue services or schedule a new appointment, please call the Student Counseling Center at 605-658-3580 or email us at scc@usd.edu.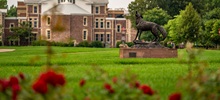 The Student Counseling Center provides a wide range of confidential services to currently enrolled USD students at no cost. We offer individual and group counseling, as well as self-help tools and general health information, to help students take care of their mental health and access wellness during their time at USD.