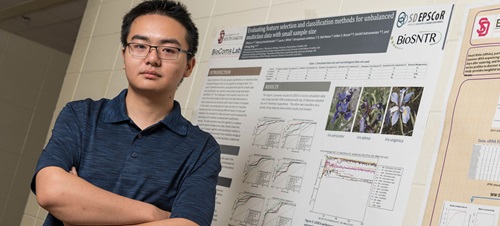 IdeaFest
Showcase your talent, hard work and passion for your field of study.
For over 34 years, the University of South Dakota has celebrated diverse research, creative scholarship, and academic engagement through the IdeaFest symposium. IdeaFest showcases academic achievement and promotes the expansion of student, faculty and community member understanding of the scholarly work that occurs at USD.
IdeaFest is a two-day event held each spring. Presentations, from undergraduate and graduate students, and a range of disciplines, fill the day during IdeaFest. Other event highlights include:
Keynote speakers each year
Student panels to discuss relevant research topics
Mixed-discipline sessions provide diverse presentation topics
Performance excerpts from the College of Fine Arts
Over 100 poster presentations
How to Apply
Take advantage of the opportunity to showcase your talent, hard work, and passion for your field of study at IdeaFest. The symposium is open to all students, faculty, and community members.

Submission deadline is March 1, 2023.

IdeaFest Submission Form
Presentation Guidelines
There are five formats available in which you may participate in IdeaFest. For more information, review the presentation guidelines to determine which format you want to use.

IdeaFest is made possible with campus partnerships:
Provost & Vice-President for Academic Affairs
Vice-President for Research & Sponsored Programs
Center for Academic and Global Engagement
USD Graduate School
For more information visit our IdeaFest website.