Gallagher International Center
Office
The Gallagher International Center oversees the university's international affairs, including programs and resources such as study abroad, international admissions and international student services.
Gallagher International Center
Academic Commons Room 103
414 E. Clark St.
Vermillion SD 57069
Office Hours
Monday - Friday
8:00 a.m. - 5:00 p.m.
Contributing to a Vibrant, Global Community
Do you want to see the world? Learn in a new environment? Enrich your education? The Gallagher International Center is USD's resource for students, faculty and staff interested in international programs – including international education, study abroad and international student services. The center offers services such as visa interview practice, international and study abroad advising, compliance resources and more.
Whether you are exploring a future on our campus or are ready to bring your USD education to new places, we're here to help.
Get to Know Us
We have vibrant global community here at the University of South Dakota. In the Gallagher International Center, you'll find new friends and endless opportunities.
55
USD international students represent more than 55 countries from around the world.
200
USD offers 200+ study abroad programs on six continents.
400
More than 400 international students call USD home.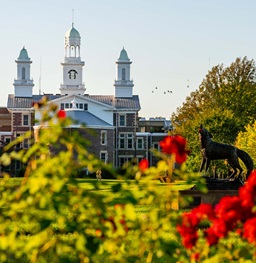 International Admissions
Are you an international student considering making USD your home away from home? The Gallagher International Center is your home base. Our office staff supports students through the entire college experience — starting with the college search process and continuing through graduation.
We provide international students with a variety of services, resources and programming, including enrollment and visa compliance support, multicultural events, an international student organization, trips to cities across the region and more. We are a welcoming space on campus where international and domestic students can learn together and celebrate the various cultures represented on our campus.
Learn More and Apply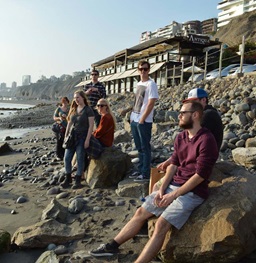 Study Abroad
Study abroad programs can help you achieve a variety of skills and experiences — including gaining a new perspective on your academic field of study, improving your language skills, exploring new cultures and setting yourself apart from other job and graduate school applicants, just to name a few.
Our office is dedicated to connecting you with these opportunities so you can enrich your education and learn about the world around you.
Learn More About Study Abroad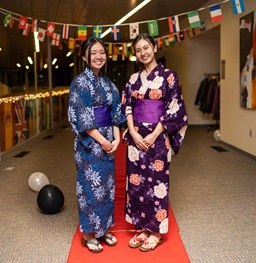 Get Involved
USD provides a welcoming community where international students and study abroad participants can make new friends and celebrate the many cultures represented on our campus.
As one of USD's largest organizations, International Club offers all USD students opportunities to learn and connect through cultural events and social activities. Annual events include the International Night Gala — featuring student performances — and Festivals of Nations — featuring a global food festival.
Join International Club
Meet Our Team
Get to know the faculty and staff in the Gallagher International Center.
Resources
Choose the category that best describes you to view information about resources and where you can go to learn more.