Student Counseling Center
Office
The Student Counseling Center provides a wide range of confidential services to currently enrolled USD students at no cost. We offer individual and group counseling, as well as self-help tools and general health information, to help students take care of their mental health and access wellness during their time at USD.
Student Counseling Center
Dakota Hall
Vermillion, SD 57069
Office Hours
Monday - Friday
8:00 a.m. - 5:00 p.m.
For after hours crisis situations, please see the Crisis Services tab below.

The college years can be filled with new and enriching experiences but can also present challenges which may interfere with your academic progress and emotional well-being. The Student Counseling Center's (SCC) goal is to help you make the most of your years here at USD.
We are committed to providing students with the support they need to succeed. If you are struggling, please know that you are not alone. Contact the Student Counseling Center today to learn more about our services and how we can help.
Services We Offer
The Counseling Center is a confidential, non-judgmental space where students can receive support for a variety of mental health concerns. Our team of licensed professionals offers a wide range of services, including individual counseling, group therapy, prevention services and crisis services.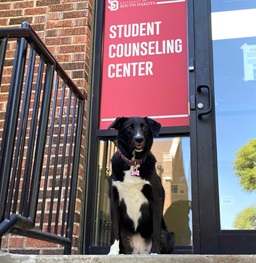 Meet USD Staff Member Jellybean
Jellybean is 5-year-old Border Collie/Lab mix. She is an approved USD staff member who provides animal-assisted therapy. Jellybean has been working with student clients for over 3 years. Jellybeans' responsibilities are to provide co-regulation, help the parallel process, and promote secure relationships.
Jellybean Will NOT:
Roam around and randomly walk up to you
Be guaranteed in therapy sessions
Be available for requests or visits


Jellybean Will:
Always be "leash in hand" and work in a private office
Be used in sessions at the discretion of therapists
Be available for visits on Thursdays at 12 p.m. in MUC-219


Follow USDSCC on Instagram for announcements
Faculty & Staff
Get to know the faculty and staff at the Student Counseling Center.
Listed below are some presentations we offer at the Student counseling center.
Mental Health:
Stress
Anxiety
Imposter syndrome
Disordered Eating
Self-Harm
Work/Life Balance
QPR
Prevention:
Marijuana Education
Alcohol Education
Healthy Choices
Suicide Prevention
Sexual Assault
Presentation / Outreach Request
Resource Guide
We provide recourses to assist faculty, staff and peers working with a student in need of assistance. To view these resources, please download our Coyote Resources Guide.
CARE Team (formerly known as BIT)
Do you know a student who needs assistance but do not know how to help? Please contact us for guidance to appropriate service and support provisions by phone at 605-677-5331, by email at deanofstudents@usd.edu or fill out the form below.

Submit CARE Referral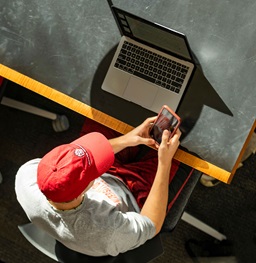 Mental Health Resources at Your Fingertips
You have free unlimited access to over 150 brief, effective, educational sessions covering over 50 common topics and skills related to mental health, wellness, and substance use issues. The Therapy Assistance Online (TAO) platform includes interactive sessions, mindfulness exercises and practice tools to help you care for yourself and meet your goals.