Beacom Career Success Center
Resource
The Career Success Center has career development services to support students every step of the way.
Beacom Career Success Center
Beacom Hall, Room 101
414 E. Clark Street
Vermillion, S.D. 57069
Office Hours
8:30 a.m. - 4 p.m.
Walk-ins welcome
At the Beacom School of Business, we are committed to assisting students make connections between their academic experience and career paths. Students grow personally and professionally during their time on campus and we believe that career development begins the first day of classes.
The Career Success Center builds relationships with alumni, employers and graduate schools to optimize internship, job and career opportunities. These partnerships assist students in developing co-curricular experiences that will help to ensure they are successful in their future pursuits.
Explore Career Services
Our Career Success Center has everything students need to find the perfect career, including:
A dedicated center with a focus on individualized career coaching
Access to Coyote Careers - an online job and internship system accessible only to our students and alumni
On-site interview rooms in Beacom Hall
Resumé and cover letter review
Mock interviews, workshops and more
Get Connected
Events like career fairs, workshops and programs bring students and employers together to discuss a broad range of topics and trends. We facilitate many opportunities to make these connections such as:
On-campus interviews with regional and national companies that recruit our business students every year
Access to thousands of alumni contacts from all over the world
Coyote Careers, our network of job and internship listings, connects students and alumni with employers in a variety of industries and locations throughout the world
Job and Internship Search
Experience is key in reaching your professional and personal goals. Our office is available to help students and alumni find full- and part-time employment, summer jobs and internships. We highly encourage you to meet with our office to help you develop your strategy and gain a competitive edge.
Coyote Careers is an online resource housing hundreds of internship and full-time job opportunities, as well as local and regional part-time positions, and USD work-study and graduate assistant positions. The system is easy to use and allows you to review and save job postings, upload your resume and other career documents, apply for positions and sign up for on-campus interviews.
Career Planning Guide
In conjunction with the Academic & Career Planning Center, School of Education Placement Services and School of Law Career Services, the Career Success Center has created a Career Planning Guide to help with common questions regarding resumes, preparing for an interview, graduate school and preparing for life after graduation.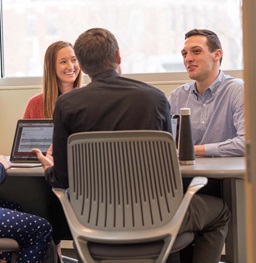 "Biz Bulletin"
Sign up for our weekly newsletter that highlights internship and employment opportunities for admitted business students by emailing
BeacomCSC@usd.edu
.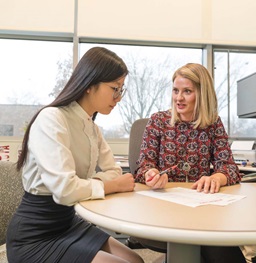 Coyote Careers
Coyote Careers will allow you to view and apply for jobs, connect with employers and sign up for on-campus interviews and career events.
Employer Resources
Our Career Success Center offers a wide variety of employer services designed to put you in contact with our diverse population of enthusiastic, well-qualified candidates who are ready to contribute to the success of your organization. Our services are designed to help you connect with our students and alumni available for full- and part-time employment and internship opportunities.
On-campus interview scheduling
Assistance with developing appropriate avenues for recruiting on campus
Networking events to facilitate networking and professional relationship building between students and employers
Job and internship posting on Coyote Careers
Full-time, part-time and internship position posting in the "Biz Bulletin," a weekly email newsletter that goes out to students who have been admitted to the Business School
Create a pipeline of new hires through internships and assistance with internship development
Recruit qualified candidates and generate interest in your organization through career fairs and campus visits
Connect with faculty and student organizations
Coyote Careers
Coyote Careers, exclusive to current students and alumni, will allow you to post jobs, connect with students and schedule on-campus interviews and career events.
Employers are invited to link to Coyote Careers. If you already have an account, log in with your username and password. If this is your first time using Coyote Careers, click the link at the bottom of the page "Click Here To Register" then follow the instructions for posting a position.
The system is easy to use and is a great way to advertise your company, review students' resumes and profiles, post your positions and schedule on-campus interviews. Feel free to email email or call us if you have any questions.
Along with posting your available positions to Coyote Careers, employers are encouraged to email opportunities to the Career Success Center to be included in the Biz Bulletin newsletter. By emailing your positions, the Career Success Center will include the positions in the Biz Bulletin newsletter sent directly to business students.
Coyote Careers Employer User Guide
Employer Log in for Coyote Careers
Interview On Campus
You can arrange to hold on-campus interviews for full- and part-time employment or internship positions right on campus. Contact us to schedule your interviews.
Host On-Campus Events
Employers are welcome to coordinate a time to host an on-campus event, such as an Information Session or Lunch 'n Learn, to connect with Beacom School of Business students. Contact the Career Success Center with any questions or inquiries about coming to campus.
MEET THE PROFESSIONALS
Get to know the faculty and staff in the Beacom Career Success Center. Our staff are experts in preparing students for their future careers.
South Dakotan Business
The South Dakotan Business is the story hub of the USD Beacom School of Business. Here you'll find stories and news highlighting the meaningful contributions of our students, faculty and staff, and alumni.
Read News & Stories