Physiology Core Facilities
Facility
The Physiology Core Facility provides basic and biological researchers with a central resource for creating models of animal physiology and pathophysiology. While our main focus is exploring the effects of cardiovascular disease and cancer in rodents, we can provide support to any aspect of animal research.
Physiology Core Facilities
Basic Biomedical Sciences
Lee Medical Building
414 E. Clark St.
Vermillion, SD 57069
Office Hours
Monday - Friday
8:00 a.m. - 5:00 p.m.
Our Facility
We offer both invasive and non-invasive techniques for collecting in vivo physiological data. We provide:
Equipment
Services
Training
Method development
Data measurement/analysis
Our staff has extensive surgical experience with a variety of animal models, strains, species and techniques. We can evaluate your needs and provide technical assistance with experimental design and technical training.
Researchers may request our trained facility staff to perform techniques or use the available equipment themselves, once trained. Once approved, researchers can use the Booked electronic scheduling platform to remotely reserve stations or equipment.
USD and USD-affiliated researchers may incur charges for use of the facility. External charge rates apply for outside entities. Contact Core Director Jessica Freeling at jessica.freeling@usd.edu for a quote or details about available services.
Equipment and Facility Use
A variety of equipment, testing stations, and services are available.
Faculty & Staff
Get to know the faculty and staff that contribute to your research.
Departments & Facilities
Explore the departments, facilities and centers that contribute to your education in basic biomedical sciences.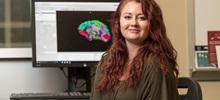 The Center for Brain and Behavior Research (CBBRe) promotes outstanding training of research students and fellows, feeding the pipeline of creative independent scientists in the fields of neuroscience and behavioral science.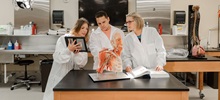 The University of South Dakota's human anatomy lab offers a cadaver-based experience to undergraduate, graduate, medical and health sciences students. Our lab enables future health care professionals to assist their patients through the mastery of human anatomy.