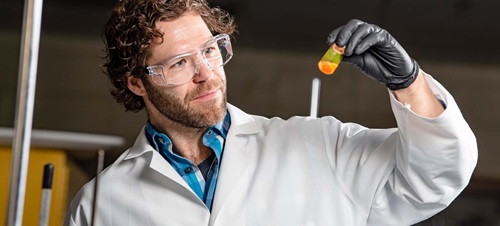 Basic Biomedical Sciences
Put yourself at the forefront of research and discovery in medicine through a graduate degree in basic biomedical sciences. Gain an interdisciplinary foundation and robust research experiences as you begin your career in biomedical research.
Make a difference through biomedical research
Biomedical sciences bridges science and health care, producing meaningful research that promotes human health and expands your understanding and treatment of disease. By pursuing a graduate degree in basic biomedical sciences, you will gain the interdisciplinary foundation you need for a career in biomedical research.
As a basic biomedical sciences student in the USD Sanford School of Medicine, you will experience a hands-on and specialized education that prepares you to become a biomedical scientist. Our program prioritizes laboratory investigation and original research opportunities, providing you with access to robust facilities that help you find the answers to your questions. Here you'll find passionate and expert faculty who serve as research mentors while also actively producing their own research. This is an important part of our program, as we want you to access enhanced learning experiences and set yourself up for success pursuing a residency match.
Our students have gone on to become toxicologists, doctors, epidemiologists, laboratory technicians and professors, among other careers in research and medicine. With notable funding opportunities, well-established research centers and close interaction between faculty and students, USD provides a robust and enriching education in basic biomedical sciences.
Become a biomedical scientist who has the experience, knowledge and connections necessary to thrive by studying basic biomedical sciences at USD.
Degrees & Offerings
Basic Biomedical Sciences (M.S.)
Master's
Through the M.S. in basic biomedical sciences program, you'll gain an interdisciplinary graduate education in a variety of basic biomedical science areas. The program stresses laboratory investigation and original research under the direction of a faculty member, as well as flexibility and individual choice as you develop a program of study that fits your unique interests. You may select between the Plan A (thesis) or Plan B (non-thesis) programs of study.
Basic Biomedical Sciences (Ph.D.)
Doctorate
Pursue an interdisciplinary graduate education to begin your career in biomedical research. You can choose to specialize in cancer biology, cardiovascular biology, infectious diseases, molecular biology and genetics, neuroscience or physiology and pharmacology.
Program Details
Graduate
College
Department
Contact
Graduate Admissions
Known for Excellence
With qualities like small class sizes, specialized programs and incredible student opportunities, USD is not your typical university. What makes us unique is what makes your education exceptional.
In external funding awards over the past 5 years.
Faculty in the basic biomedical sciences program.
USD is home to South Dakota's only medical school.
STUDENT OPPORTUNITIES
As a student at USD, the opportunities available to you extend beyond the classroom. Explore your interests, find your community and experience your education to the fullest extent through the following opportunities.
Gain valuable, real-world professional experience while enjoying paid employment and discounted tuition rates as a graduate student at USD. The affordability you gain through graduate assistantships and fellowships will equip you with valuable, professional-level skills that will set you apart after graduation.
Stipend
In the basic biomedical sciences program, admitted students in research track programs are eligible to receive a fellowship stipend and reduced tuition. Recipients must work full time towards degree completion. Stipend is also contingent upon successful completion of a background check.
The Ph.D. Research Graduate Assistantship stipend is currently $28,084 for the first full year ($2,340 per month)
The M.S. Plan A Research Graduate Assistantship stipend is currently $14,042 annually ($1,170 monthly)
Tuition Reduction
Fellows with resident student status receive an additional reduction in tuition and fees on top of the resident student tuition reduction (student portion = $4,893 annually for 21 credit hours).
Fellows with non-resident student status receive a 62% reduction in tuition and fees (student portion = $5,601 annually for 21 credit hours).
Credit hour tuition and fee details are listed on the USD tuition and fees page.
You may be asked to assist faculty in some teaching, but this typically is limited to fewer than 20 hours per year.
If you do not receive an assistantship within the department, you may apply for an assistantship outside of your academic program or within support offices at USD. For more information and to apply for a graduate assistantship, visit the Graduate Assistantship webpage.
At USD, our graduate students are actively pursuing unique research and presenting at local and national conferences exploring innovative areas of interest to them. Additional research and grant opportunities include:
Research and Creative Scholarship Opportunities
Each semester students may apply for grants through the USD Graduate School, faculty and students pursue research in virtually all academic departments on campus, and in many cases, it is a required portion of a graduate degree program.
IdeaFest
IdeaFest is an annual event celebrating student research, creative scholarship and academic engagement. Undergraduate and graduate students in all disciplines present their work in oral and poster presentations, live performances, readings, exhibits and displays.
Departments & Facilities
Explore the departments, facilities and centers that contribute to your education in basic biomedical sciences.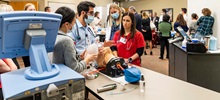 The Parry Center for Clinical Skills & Simulation is a state-of-the-art learning environment that allows collaboration among students and safely simulates real-patient experiences.
Faculty & Staff
Get to know the faculty and staff in the Division of Basic Biomedical Sciences. Our faculty are experts in their field, specializing in cancer biology, cardiovascular, entomology, human genetics, infectious disease, microbiology, and neuroscience among other areas.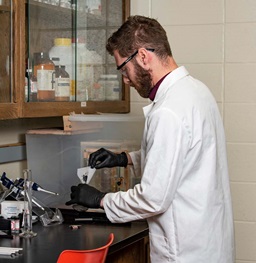 Hands-on Learning Through Cutting-edge Research
As a community of researchers and scientists, we know that hands-on experience in research facilities is crucial for your career preparation. Our division is home to several state-of-the-art facilities that allow you to gain experience with industry technology and find answers to your questions. Whether you want to study biochemistry, immunology, neuroscience, pharmacology, cancer biology, cellular biology or another area of the biomedical sciences, you'll find the support and resources to engage in relevant research and launch your career.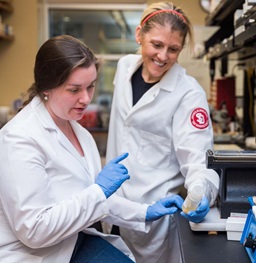 Mentorship Unlocks Opportunity
Enhance your learning experience through research opportunities and improve your chance at getting a residency match. More than half of the faculty members in our division are actively engaged in scholarly and research activities, and they are committed to bringing students into that experience.
Surprisingly Affordable
Whether you've recently completed your undergraduate degree, or you want to kick your career up a notch, graduate school is the next logical step. The good news is there is funding for both online and on-campus students to get you through your program.
| | GA (Resident*) | Resident | Online | Non-Resident |
| --- | --- | --- | --- | --- |
| Tuition (1 cr.) | | | | |
| GAF Fee (1 cr.) | | | | |
| Total | | | | |
More About Tuition & Fees
Tuition rates are subject to change and may vary depending on the program or department. Visit the Graduate Tuition & Costs page for more information.
* Graduate Assistant (GA) rates are available for resident, non-resident and online students.
** Resident rates may be available to you through the SD Advantage, Child of Alumni or Western Regional Graduate Program. To see if you quality, visit usd.edu/grad-tuition.