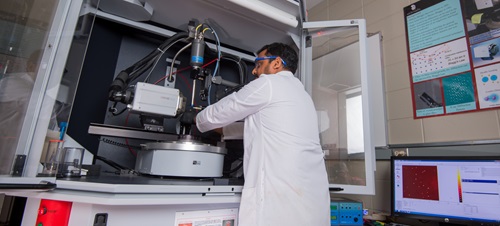 Materials Chemistry
Gain the knowledge you need to excel as an active researcher, problem solver and leader. This training lays the foundation for expertise in energy, catalysis, health fields and more.
Why Earn a Ph.D. in Materials Chemistry?
The Doctor of Philosophy in Materials Chemistry at USD is big enough to offer exciting research in the field of materials chemistry and small enough to gain personal attention to ensure your success. Here you'll learn how to think like a chemist, whether you're studying topical areas of Materials Chemistry or conducting independent, original research. With each new finding comes another opportunity to communicate your results and contribute to the knowledge base in your discipline.
Begin your program at the start of either the fall or spring semester. This program is designed so you can complete both master's and doctoral requirements within five years. To help you get there, our internationally recognized faculty members have funding from many national granting agencies and are invested in your intellectual growth and advancement through active research, professional development and career training. Whichever path you take, you'll help investigate new materials with advanced instrumentation and receive professional mentorship on an individualized level. Become an active, effective researcher and leader as a materials chemistry student at USD.
Degrees & Offerings
Materials Chemistry (Ph.D.)
Doctorate
A Doctor of Philosophy in Materials Chemistry addresses critical needs in energy, catalysis, security, health and environmental remediation. There is a substantial research component to the program culminating in oral defense of a thesis whose basis is an original contribution to the discipline.
Program Details
Graduate
College
Department
Contact
Graduate Admissions
Start Your Application Today
Each program has unique application requirements and deadlines. Be sure and consult the graduate catalog for detailed program information. It will ensure your application and materials are complete and submitted on time. To learn more about the application process, visit how to apply.
Known for Excellence
With qualities like small class sizes, specialized programs and incredible student opportunities, USD is not your typical university. What makes us unique is what makes your education exceptional.
We provide various graduate assistantships ($24,000 or higher).
Our Target is Your Ultimate Success.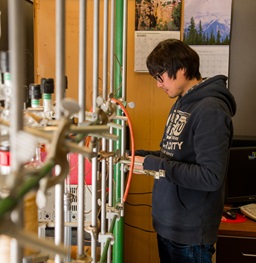 Student Opportunities
The academic opportunities available to you extend beyond the classroom. Visit our department webpage for more information about the experiences and resources you can look forward to at USD.
Learn more about chemistry
Departments & Facilities
Explore the departments, facilities and centers that contribute to your education in chemistry.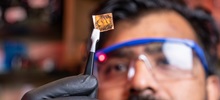 USD Chemistry is a tight-knit community of scholars. Undergraduates, graduate students, post-docs, and faculty work together in the classroom and the laboratory to solve some of today's biggest challenges in health, energy and the environment.
Faculty & Staff
Get to know the faculty & staff in the Department of Chemistry. Our faculty are internationally recognized scholars and continually update and improve their knowledge and skills as chemists. We aim to develop relevant skills so that our graduates are highly marketable in the job force.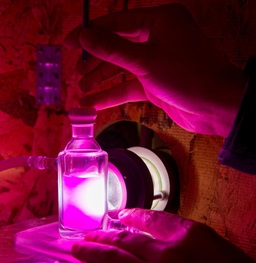 Cutting-Edge Equipment and Facilities
Access equipment to advance your research and become an expert. Department instrumentation includes a single crystal X-ray diffractometer, transmission electron microscope, scanning electron microscope, 400 MHz NMR and scanning confocal Raman microscope.
Surprisingly Affordable
Whether you've recently completed your undergraduate degree, or you want to kick your career up a notch, graduate school is the next logical step. The good news is there is funding for both online and on-campus students to get you through your program.
| | Resident & WRGP | MN Residents | Non-Resident |
| --- | --- | --- | --- |
| Tuition (9 cr.) | | | |
| Fees (9 cr.) | | | |
| Books (estimate) | | | |
More About Tuition & Fees
This is an estimate tuition rate* per credit hour and other factors such as special fees associated with your program may change the cost of tuition. Tuition rates are subject to change.
If you are wondering about how to pay for graduate school, there are additional funding options to consider.