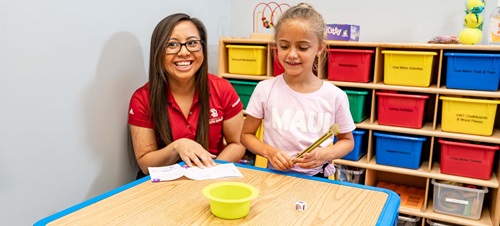 Child Life
Gain the knowledge and real-world experiences you need to become an active and responsible advocate for children and their families in a variety of settings.
Why Study Child Life?
Pursuing a certificate in child life will help you on your journey to becoming a Certified Child Life Specialist. Here at USD, you will participate in rich experiences in and beyond the classroom that equip you with the knowledge and skills needed in a pediatric healthcare setting. You will learn to work directly with infants, children, adolescents and their families to create an optimal emotional, social and educational environment for treatment and recovery, or hospice/palliative care. If you are not interested in becoming a Child Life Specialist, you can apply the knowledge and skills from these certificate programs to any pediatric health care or community setting.
Pursue your passion for impacting children's lives by obtaining child life certificates from USD. Becoming a Certified Child Life Specialist can benefit any student interested in working with youth in health care settings, such as nursing and pre-med, as well as allied professions such as criminal justice and speech & communication.
Students interested in the professional certification will need to complete several additional requirements beyond the coursework in the certificate program. Students should contact cpe@usd.edu and visit childlife.org/certification for more information about requirements and certification.
Degrees & Offerings
Introduction to Child Life
Certificate
Gain an understanding of current theory and practice in child development, medical terminology, the nature of suffering, stages of grief and family systems. You will learn to apply this knowledge in healthcare environments and other challenging settings while working with children and families in the context of chronic and life-threatening illnesses.
Advanced Child Life
Certificate
Develop the skill set related to child life specialist occupations that will give you a competitive advantage in securing internships and job offers. Most importantly, you will learn how to interact, communicate and advocate for children and their families. You will take courses such as Sociology of Family, Health Literacy and Culture Care, The Science of Love, along with other fascinating options.
Program Details
Undergraduate
College
Department
Contact
Admissions
Departments & Facilities
Explore the departments, facilities and centers that contribute to your education in teacher residency & education.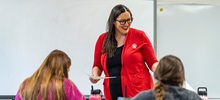 We'll train students to make a difference and impact the lives of others as mental health counselors, school psychologists, or human development and educational professionals.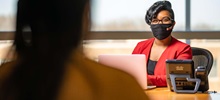 The Department of Public Health and Health Sciences emphasizes collaborative learning, equipping students with a rich understanding of the health care field and preparing them to excel in careers such as advocating for health policy, promoting health through education, managing health data analytics and leading collaborative health care teams. The department offers degrees at the associate, bachelor's, master's and doctorate levels.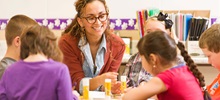 The Division of Teacher Residency & Education is focused on preparing effective, responsive teachers who can meet the needs of all students in today's schools. Through unique features such as a robust yearlong residency, an emphasis on technology and curriculum that recognizes a variety of learners, our division offers an enriching education for educators and leaders.
Faculty & Staff
Get to know your professors in the Counseling and Psychology in Education Division.

The faculty and staff of the Division of Counseling and Psychology in Education train highly competent professionals seeking to make a difference as community and mental health school counselors, school psychologists and human development and educational psychology professionals.