International Graduate Admissions
Explore application requirements, the admissions process and additional resources.
Apply to USD
We're glad to hear you are interested in graduate education at USD! Apply now if you're ready, or review the resources below for more information.
Apply online to graduate school
Each graduate program may have different admission requirements; please refer to the current graduate catalog for departmental specific admission information

The Application Process
International applicants will go through a three-step process that involves the academic department, the Graduate School and the International Office.
No formal review takes place until after the university receives your complete application, application fee and all required documents.
Complete applications and required documents are sent to the academic programs in electronic folders. Graduate Program Directors do not have access to partial applications.
The Graduate School also reviews your application, makes the formal admission decision and emails the decision and acceptance letters to students.
Graduate Teaching and Research Assistantships are decided at the department level. Some departments include an assistantship offer in the letter of admission.
Other departments make the decision at a later date. Graduate assistantships are competitive and limited in number. Only a small number of master's level students receive a departmental award.
The International Office collects official financial ability documents and copies of valid passports. Once everything complete, a DS2019 or I20 is issued to admitted students.
Application Procedure
The following items must be submitted before an international application for admission can be evaluated. Final application deadlines are June 1 for fall entry and October 15 for spring entry. Please note that certain programs have earlier deadlines; please refer to the current graduate catalog for departmental specific admission information.
Types of Admission Decisions
USD accepts unofficial copies of English proficiency test scores, admission test scores (e.g., GRE, GMAT) and unofficial and unofficial partial transcripts for contingent admission. Full admission is granted only after receipt of official English proficiency documentation, official transcripts for all academic work at the undergraduate and graduate levels (undergraduate documents must verify receipt of degree) and official test score reports (if required).
Financial Ability Requirements
Federal regulations require all students to show that they have the financial ability to pay for at least one full academic year of tuition, fees and living expenses before the University of South Dakota can issue a Certificate of Eligibility for Nonimmigrant Status (I-20).
Your admission application is reviewed without any regard to your financial ability, but the university cannot issue your I-20 until you have proven financial ability. You must complete the Financial Ability Form and provide official financial documentation showing the amount of cost to attend USD. Details can be found on the Financial Ability Form. Please send the Financial Ability Form together with your financial documents.
Transfer from American College or University
If you are transferring from an accredited college or university in the USA, please contact International Admissions at isrt@usd.edu.
Mailing Address for Application Materials
Graduate Admissions
University of South Dakota
414 E. Clark Street
Vermillion, SD 57069-2390
If you have questions about the International Student Graduate Application process, please contact International Admissions at 605-658-6236 or by email at isrt@usd.edu.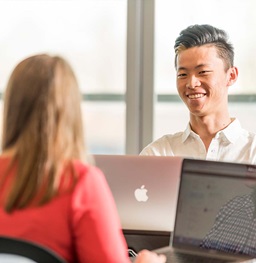 Still deciding which program is right for you?
With more than 80 graduate program options, there is something for everyone at USD. Check out the degrees we offer, and reach out to us at ISRT@usd.edu with any questions.
Explore Graduate Programs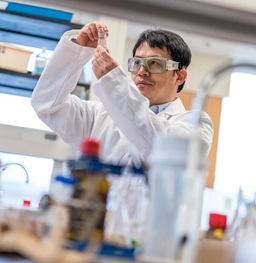 Graduate Assistantships
A variety of research and teaching graduate assistantships are available across campus. These opportunities can help you pay for your education while you gain invaluable work experience.
Learn More