Utopia/Dystopia Symposium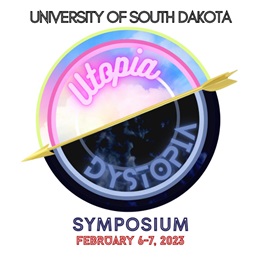 Dates: 6-7 February, 2023
Join the College of Arts and Sciences (A&S) for a 2-day event that brings together students, faculty, and community members to consider the wide-ranging influence of utopian and dystopian thinking in contemporary culture. These themes are often found in popular film, literature, and TV shows, but they also permeate areas that we don't often think about in utopian and dystopian terms.


View Schedule
The symposium opens on Monday (2/6) with a reception at the Coyote Twin Theatre in downtown Vermillion that includes:
refreshments,
artifacts from Vermillion residents that represent their idea of Utopian Vermillion, and
a free film screening of Mad Max Fury Road (2015).
The events on Tuesday (2/7) begin at the Munster University Center (MUC) and include:
two panels of ten-minute flash lectures in the morning, featuring USD faculty from Computer Science, History, Native Studies, Law, English, Biology,
Criminal Justice and more,
Lunch and USD student poster presentations,
An afternoon session with brief talks by USD students,
A keynote talk by author and screenwriter Alex Weinstein,
Dinner and a screening of Weinstein's film After Yang (2021) at the Coyote Twin Theatre.
All events are free and open to the public, and we warmly invite everyone to join us for all or some of the days' festivities.
Click here for more information about the times and location for individual events.
Click here to register for the event. All sessions are free, but we ask you to register so that we can ensure that there is enough space and refreshments for everyone.
If you have any questions, contact Dr. Lisa Ann Robertson (lisaann.robertson@usd.edu). We hope to see you there