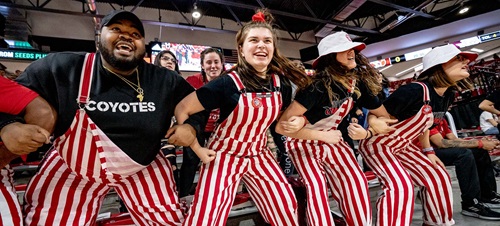 Coyote Crazies
Cheering on our team is more than just a hobby. As a Coyote Crazy, you'll share your love for the Yotes and help promote school pride.
Who We Are
We are the only official student section organization at the University of South Dakota.
The Coyote Crazies are a student athletic booster group open to all USD students. The intent of the Crazies' leadership is to improve student engagement in Coyote Athletics and school pride by building a committed student fan base and a game day atmosphere that is made for the students, by the students.
The Coyote Crazies became an official student organization in 2013, but have been cheering on the Coyote Athletics since 1996. There is a $20 membership fee to join.
Join Our Pack
Read more about why it's great to be a Crazy and how you can join us.
President: Quincee Goeller
Vice President: Alex Defenbaugh
Secretary/ Treasurer: Caleb Fowler
Recruitment Co - Chairs: Piper Roseland & Ntombi Ngeleka
Social Media Chair: Trevor Sinclair
Project Team Manager: Morgan Jaco
Event Coordinator: Marga Block
Merchandise Chair: Taylor Titze
You get special perks for being a part of the Crazies, or as one of our special "Alpha" members.
| | | |
| --- | --- | --- |
| | The Pack | Alphas |
| Priority and Early Seating | Included | Included |
| Front Row Seating | Included | Included |
| Creating an Impactful Gameday | Included | Included |
| Access to Exclusive Cheer Gear | Included | Included |
| Adidas Sports Packs | NOT Included | Included |
| Working Closely with Athletics | NOT Included | Included |
| Team and Coach Meet and Greets | NOT Included | Included |
Throughout the game we will interact with the band and get the crowd hyped up to rally behind the Yotes with an array of hype rituals. For example, we begin each game by playing "We're Going Hunting" and doing the Yote Sway, and then toward the end of the game, we are jingling our keys to signal for the other team to warm up the bus.
We support all athletics teams and clubs/organizations across campus, including the fine arts.
In addition to these events, the Crazies put on a Meet and Eat with the athletics department each semester as well as One Crazie Night to get students prepared and excited for the upcoming athletic season.
Core Sports:
Fine Arts
Want to learn more about becoming a crazy or supporting us? You can email us at coyotecrazies@usd.edu to become a general member or click here to become an alpha.
If you'd like to contact us, send an email to coyotecrazies@usd.edu and follow our social media Instagram, Twitter and Facebook @coyotecrazies.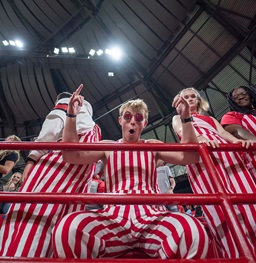 Join our Pack
You can join the Coyote Crazies by submitting your form to be a member, or simply support by cheering loud and proud alongside us!


Become a Coyote Crazy
Contact the Crazies
If you have questions or would like us to represent USD at your event, reach out to us below.
Reach out via Email