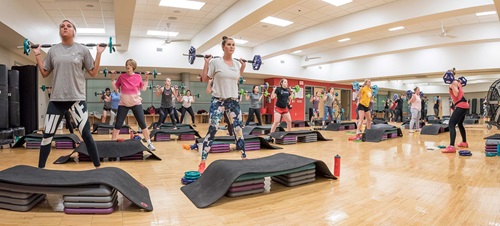 Fitness
We'll help you stay active, by working your mind and body simultaneously through all our fitness classes and programs.
Different Training Options for your Fitness Needs
Are you interested in trying boot camp programs, group fitness classes or personal training? Well, let's just say all of those are readily available for you at our Wellness Center. Our certified trainers have you in mind and love to help you meet your goals. Check out the different offerings below, or sign up for a class today!
Programs
We encourage our patrons to take their wellness to the next level Our certified Personal Training staff provide bootcamps & small group training programs to push you to do your best. We also offer personal enrichment classes such as self-defense.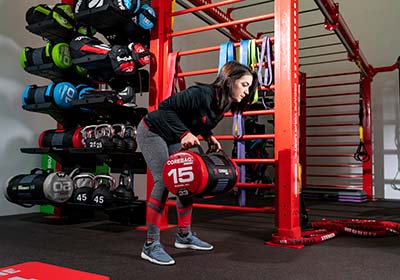 Our boot camps will help you take your fitness to the next level. During these programs, you will:
Engage in group workouts that combine boot camp-styled workouts with High Intensity Interval Training (HIIT)
Discover new ways to use equipment for cardiovascular and muscular strength and endurance
Receive an analysis of nutritional habits and suggestions to improve overall health and fitness
Take part in pre- and post-assessments
Interested in yoga, Zumba, dance, barre, body pump, cycling, HIIT and more? Try our group fitness classes for unique and new challenges that are fun to try out with friends. Group fitness schedules and course descriptions are updated frequently to keep our members updated about their workouts.
Try out our personal training fitness programs that are completely individualized to your own personal needs and goals. Personal training is available to students, members and non-members. Visit the Wellness Center with completed forms to sign up today!
Rates
Session Packages
Options are available for clients looking for personal training assistance. Trainers provide programs in weight loss, weight gain, increased strength, sport specific activities, overall fitness and more. All of our trainers have the proper knowledge and implementation to prescribe the proper program for the best results. Our trainers realize that results depend on personal application, realistic goals, and commitment to the program. They are mindful of each client's personal life and are accommodating. There will be no lack of enthusiasm, sweat or results. (sessions last one hour).
| | |
| --- | --- |
| Single Person Packages | Rates |
| 5 Sessions | $120 + Tax |
| 10 Sessions | $205 + Tax |
| 20 Sessions | $395 + Tax |
| 30 Sessions | $550 + Tax |
Group Personal Training
We offer group personal training for small groups with similar fitness goals. This option allows you to work-out with friends and/or family at a reduced cost with a personal trainer. Buddy sessions have 2 individuals per trainer, while small group sessions have 3-4 individuals per trainer. ** Recommended for group members to have similar fitness levels.
| | |
| --- | --- |
| Small Group (2 People) | Rates (Per Person) |
| 5 Sessions | $70 + Tax |
| 10 Sessions | $115 + Tax |
| 20 Sessions | $195 + Tax |
| 30 Sessions | $280 + Tax |
| | |
| --- | --- |
| Large Group (3-4 People) | Rates (Per Person) |
| 5 Sessions | $55 + Tax |
| 10 Sessions | $90 + Tax |
| 20 Sessions | $140 + Tax |
| 30 Sessions | $190 + Tax |
Custom Program Design: Six week
Have a personal trainer design a program just for you. This six-week program design includes an initial consultation and pre/post fitness assessment with your trainer, two personal training sessions, and a specialized 6 week program to meet your specific goals and needs. This option is perfect for you if you need help getting started, reached a fitness plateau or just need some new training ideas to get back to it.
In-Body Assessment
The InBody uses the bioelectric impedance analysis method to provide a comprehensive view of body composition balance. Assess the distribution of fat and lean body mass by receiving a body composition assessment. This measurement is useful when conducting pre and post testing. Plan approximately 10 minutes for the assessment.
Equipment Consultation
Set up a time to have a trainer show you how to use equipment properly. This is for those who want to correct their form or who have an injury and may need to modify how they use the equipment. Registration is required so we can work with a schedule that meets both the member and the trainer.
Pre-Program Design and Custom Program Design
Inquire to learn more about these offerings.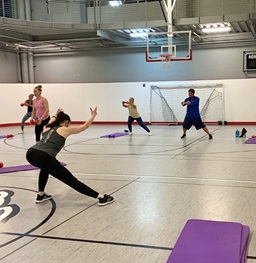 Stay fit this Holiday Season!
Register today for 12 Days of Fitness and our Holiday Bootcamp!

Staying on track over the holidays is hard. The Wellness Center staff is here to help! Sign up for our Holiday Bootcamp and 12 Days of Fitmas. In our bootcamp you will train with our certified personal trainer 3 days a week to work on fitness and nutrition. During 12 Weeks of Fitmas, you will be given 12 workouts to complete in 21 days. For each workout completed, you will receive a puzzle piece to hang on our window to keep you motivated.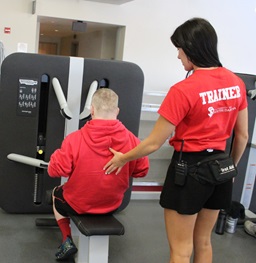 Personal Training Special
The weather is getting colder and now is the time to sign up for personal training! Sign up this November and receive 10% off any package of 5 sessions or more!

Explore more of USD's Fitness and Recreation Offerings