A Family Affair: Father-Daughter Duo Completes MBA Degrees Together
Katelyn (Breen) Conover says that her dad has always been her "go-to with anything." From spending quality time in the car on the way to the ice-skating rink, to kayaking down the river together, Conover and her dad have been at each other's side through many adventures. Their most recent adventure, however, has been a bit different – pursuing master's degrees.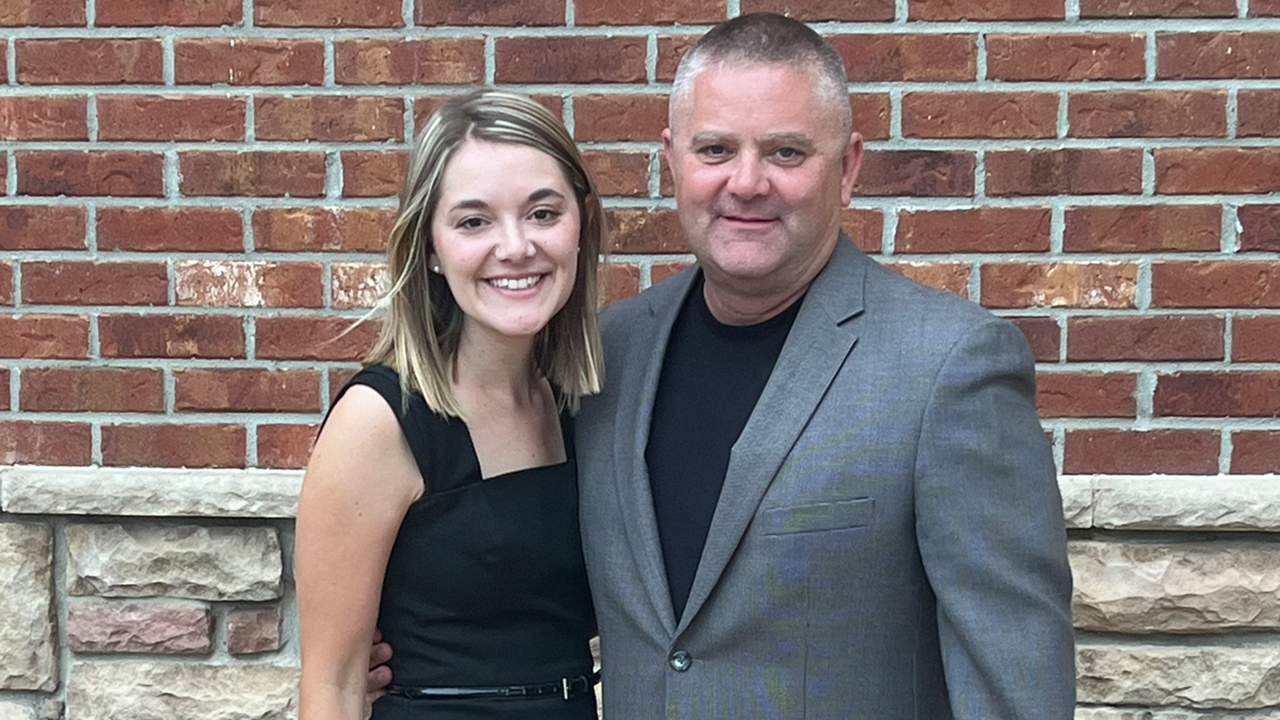 Conover and her father, Gerry Breen, both graduated with their Master in Business Administration (MBA) from the University of South Dakota Beacom School of Business in August 2022.
"Going through the MBA program with my father was truly a once-in-a-lifetime experience," Conover said. "I had a built-in study partner, and I knew I had someone who I could lean on when times were tough."
For the father-daughter duo, the flexibility of the Beacom School of Business's online MBA program is what made it possible for them to continue their business education, even when life got busy.
Conover began the program in August 2020. With two young children at home, a full-time job and freelancing upward of 15 hours a week, she needed an educational program that worked around her many commitments.
"One of the great aspects about USD's Beacom School of Business MBA program is that it is at your pace," Conover said. "I chose to set the pace at two classes per semester for two years. I really appreciated that the classes could be flexible to accommodate my schedule."
Breen also began the program in August 2020, following a similar course schedule of two classes per semester. A full-time job as a project engineer with Raven Industries puts Breen on the road often, and a flexible online program allowed him to continue working while pursuing his degree.
"The flexibility of the program was the thing I liked most," Breen said. "My current position requires me to travel a fair bit and the program allowed me to study while I was traveling."
Not only did USD's MBA program allow Conover and Breen to complete their degrees on their own time – it also helped them advance in their careers.
Conover currently works as a marketing business partner at Sanford Health in Sioux Falls, a position she was able to achieve through advancing her education.
"While about halfway through my education journey, I received a promotion at my organization," Conover said. "The MBA program, even before completion, already made me a more well-rounded marketer. I was able to view situations from new angles. It has been incredibly valuable to my career."
Her father feels the same, saying that earning his MBA broadened his business knowledge and allowed him to approach his position at Raven Industries with new insight.
"I have been in an engineering role for my entire career; the MBA taught me to look beyond the decisions I make daily as part of my job and to look at them as they fit into the larger strategy of the organization," Breen said. "It has given me a perspective that every decision, no matter what size, does have an impact in the direction an organization goes.
"The degree has also helped me to become more valuable in my career as I have been able to conduct business in Canada and Australia," Breen added. "My education has taught me the importance of foreign business practices. I am now more effective when working with customers and even coworkers in other countries."
Both Conover and Breen pursued their undergraduate education at the Beacom School of Business. Conover graduated with her bachelor's degree in marketing in 2014, and Breen completed his bachelor's in business management just two years earlier, in 2012. From their undergraduate experiences, they both knew they could trust USD's business school to provide them with the high-quality education they were looking for.
"Being an alumnus of the Beacom School of Business, I knew it was an accredited program and the best program," Breen said.
"Having done my undergraduate education at USD's Beacom School of Business, I knew the MBA program was top notch," echoed Conover. "The AACSB accreditation allowed me peace of mind knowing I would be receiving a great education at an affordable price on my time with the online program. The professors and instructors I had throughout my MBA program were fantastic, and I had an outstanding group of individuals who cared about my success."
It was Conover's lifelong dream to accomplish a master's level education program, and she was honored to complete the program alongside her father, who took a more non-traditional path.
"Completing this program provided me a new lens to look at my father. I have always been in awe of him as a non-traditional student in undergrad. But seeing him balance his full-time job, being a great husband, father and grandfather, as well as traveling for work and helping to keep the family farm running gave me a newfound respect for my father. I am so proud to have completed this program with him," Conover said.