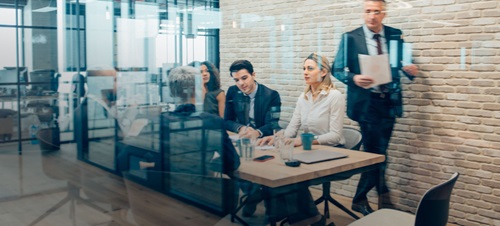 Business Administration
An MBA prepares you to be a leader in business, industry and government. You can design your program to meet your career goals with several specializations.
Be a Leader in Business
The business world is constantly changing and employers are seeking out leaders who have strong foundational knowledge in business concepts, critical thinking and problem solving. As a student in one of the top MBA programs in the country you will be part of a program that emphasizes decision making, data analysis and social responsibility. Learn from expert faculty who take a personalized approach to graduate students through one-on-one advising and support throughout your program.
Whether you pursue your degree on-campus or online, you will receive a rich educational experience that is designed with your career in mind.
Degrees & Offerings
Business Administration (MBA)
Master's
Vermillion Main Campus and Online
The Master of Business Administration (MBA) degree program emphasizes analytical and critical thinking skills, evaluation of alternative courses of action, understanding of the impact of the business environment on business decisions and application of ethical principles in identifying and resolving business dilemmas.
Business Administration: Business Analytics (MBA)
Master's
The business analytics specialization prepares you to utilize and analyze data to strengthen your business decision-making processes. It offers a tight integration of the science and technology underlying business analytics with solving key business problems in the areas of operations management, sales, marketing, finance and economics. Equipped with this knowledge, you will lead organizations to strengthen their competitive position, achieve operational efficiency and develop innovative products that anticipate far-reaching changes and trends.

Business Administration: Finance (MBA)
Master's
Vermillion Main Campus and Online
The finance specialization focuses on theories and practices on issues related to investing, raising capital and managing risks. Yoiu will learn to analyze financial statements and build complex financial models for forecasting operating and financial performance, credit evaluation and asset valuation. Financial management of a multinational firm will be studied, with an emphasis on exchange rate risk management and financial structures. Examine equity and debt markets, portfolio management, international investing, and asset allocation as well as the use of technology in finance. In addition to the general business acumen, you will gain the ability to analyze finance related issues for corporations and strengthen their finance decision making processes.

Business Administration: Health Services Administration (MBA)
Master's
The health services administration specialization prepares you for health administration careers. The mission is to improve the delivery of health services and the health of the populations served through the education of professional managers. The educational philosophy is to provide a balance among general, management, and health services education.

Business Administration: Marketing (MBA)
Master's
The marketing specialization will help you develop skills in a variety of marketing areas. Benefit from in-depth study of consumer behavior, new product development, branding and other topics relevant in today's dynamic market environment. In addition to the core MBA courses which prepares you for leadership in any business role, pursuing this specialization can cultivate a more focused career path with strengths in creativity, market analysis, and strategic marketing.

Business Administration: Operations and Supply Chain Management (MBA)
Master's
The operations and supply chain management specialization will help you develop skills relevant to all industries. Benefit from in-depth study of supply chain management, lean management, quality control and other topics relevant in today's rapidly evolving global market. In addition to the core MBA courses which prepare you for leadership in any business role, pursuing this specialization can cultivate a more focused career path with strengths in managing logistics, sourcing, quality and waste elimination.

Program Details
Graduate
College
Department
Contact
Graduate Admissions
Start Your Application Today
Each program has unique application requirements and deadlines. Be sure and consult the graduate catalog for detailed program information. It will ensure your application and materials are complete and submitted on time. To learn more about the application process, visit how to apply.
Known for Excellence
With qualities like small class sizes, specialized programs and incredible student opportunities, USD is not your typical university. What makes us unique is what makes your education exceptional.
#15 Ranked Online MBA
Princeton Review Top 50 Online MBA Programs 2022.

No GMAT Required
Available for students who hold a bachelor's degree from a US college or university.
STUDENT OPPORTUNITIES
As a student at USD, the opportunities available to you extend beyond the classroom. Explore your interests, find your community and experience your education to the fullest extent through the following opportunities.
An Affordable Education

Gain valuable real-world, professional experience while enjoying paid employment and discounted tuition rates as a graduate student at USD. The affordability you gain through graduate assistantships and fellowships will equip you with valuable, professional-level skills that will set you apart after graduation.
Teaching and research assistantships are awarded by individual departments. If you do not receive an assistantship within your department, you are eligible for an assistantship outside of your academic program or within support offices (non-academic units) at USD. Further inquiries should be directed to the graduate director of the department.
You'll find the mentorship and opportunities you need to study topics that spark your curiosity. Some of our recent MBA graduates have crafted their degree plans around the following research areas:
Communication in cross-cultural adaptation
Gender stereotypes in media
The role of artificial intelligence in crisis communications
Persuasive techniques in political campaigns
Provider-patient interaction in health care
Sports and community identity
At USD, our graduate students are actively pursuing unique research and presenting at local and national conferences exploring innovative areas of interest to them. Additional research and grant opportunities include:
Three Minute Thesis (3MT®)
Three Minute Thesis (3MT®) competition provides the opportunity to communicate the significance and impact of your research project in just three minutes.
Research and Creative Scholarship Opportunities
Each semester students may apply for grants through the USD Graduate School, faculty and students pursue research in virtually all academic departments on campus, and in many cases, it is a required portion of a graduate degree program.
IdeaFest
IdeaFest is an annual event celebrating student research, creative scholarship and academic engagement. Undergraduate and graduate students in all disciplines present their work in oral and poster presentations, live performances, readings, exhibits and displays.
USD is home to more than 170 student organizations, including several that are housed in the School of Business. You may be interested in marketing or Beacom Consulting Group to make friends, develop new skills and explore your interests.
Coyote Capital Management
Coyote Capital Management is a student-managed investment organization designed to give you experience as a money manager. The object of this fund is to generate long-term capital appreciation. Investment ideas are derived from the students and voted on under close supervision of faculty advisors. Students who participate receive hands-on investing experience as they learn to analyze the economy, industries and individual companies.
Graduate & Professional Student Association (GPSA)
Join your fellow graduate and professional students at USD. We aim to build a sense of community between graduate and professional students. Build your resume, network with others and gain experience and the unique opportunity to represent the interests of graduate students to the greater campus and community.
Departments & Facilities
Explore the departments, facilities and centers that contribute to your education in entrepreneurship, management, and marketing.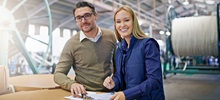 As the business world continues to grow and diversify, our students graduate with both a firm knowledge of business essentials and the experience they'll need to apply that knowledge to an exciting, ever-changing field.
Faculty & Staff
Get to know the faculty and staff in the Entrepreneurship, Management and Marketing Division. Our faculty are experts in their field, contributing research and scholarship in training and development, emotional intelligence and management.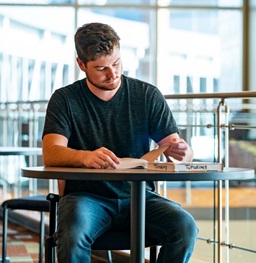 The Program You Want, Where You Want It
Whether you are a recent graduate looking to continue your education on USD's main campus in Vermillion or a working professional who values the convenience and flexibility of online options, you can rest easy knowing that you are getting a world-class education from USD. You will enjoy access to the same, expert faculty members wherever you are taking classes.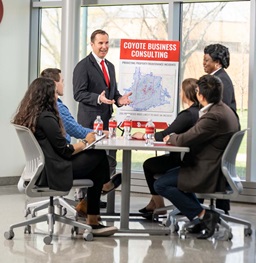 Gain Real-World Experience
Coyote Business Consulting Group is a student-centered initiative at the USD Beacom School of Business designed to help businesses stay competitive in the state of South Dakota and throughout the region. The program enables student-teams, with the guidance of faculty advisors, to help businesses solve a critical problem for their organization.
Coyote Business Consulting Group is intended to be mutually beneficial for both the students and the businesses. The consulting service will be offered at no charge to businesses and students will have the opportunity to receive academic credit, financial support and real-world experience. Available to all businesses, but a special emphasis is placed on small businesses, as they are the backbone of our economy.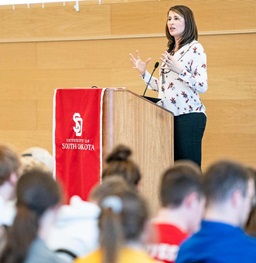 Network and Navigate Your Dream Career
As a student in the Beacom School of Business, you'll have the opportunity to hear from guest speakers, learn from expert faculty, attend events and participate in networking opportunities throughout the year. From connecting you with internship opportunities to hosting engaging panels, the Beacom School of Business is committed to providing you with an enriching education that sets you up for success in your career.
Surprisingly Affordable
Whether you've recently completed your undergraduate degree, or you want to kick your career up a notch, graduate school is the next logical step. The good news is there is funding for both online and on-campus students to get you through your program.
| | GA (Resident*) | | Online | Non-Resident |
| --- | --- | --- | --- | --- |
| Tuition (1 cr.) | | | | |
| GAF Fee (1 cr.) | | | | |
| Total | | | | |
More About Tuition & Fees
Tuition rates are subject to change and may vary depending on the program or department. Visit the Graduate Tuition & Costs page for more information.
* Graduate Assistant (GA) rates are available for resident, non-resident and online students.