Alumni and Students Honored at the 2022 Accounting and Finance Dinner
The University of South Dakota Beacom School of Business accounting and finance division honored the academic and career achievements of several alumni and students at a recognition dinner held on Nov. 3.
Three alumni were recognized for their career accomplishments and outstanding service to the accounting and finance division of the Beacom School of Business, including the following.
John Barker | Sioux Falls, South Dakota | President and CEO, Elgethun Capital Management (ECM)
Barker graduated from USD in 2007 with a Bachelor of Science in Business Administration (Finance). While at USD, he was the captain of the Coyote football team and won a conference championship. He began his career at Pitney Bowes in Stamford, Connecticut, and went on to work as a research analyst at the Royal Bank of Scotland in New York. He later moved to Sioux Falls to partner with ECM founder Terry Elgethun. In 2012, he purchased the company and became president and CEO.
As an independent Registered Investment Advisory firm with over $1 billion in assets under management and advisement, ECM offers a comprehensive investment platform and family office services to business owners, mutigenerational families, and professionals. As the CEO, Barker oversees all aspects of the business including relationships, portfolio management and research. He is a holder of the Chartered Financial Analyst® (CFA®) designation.
Today he serves as a Trustee and Board member at the USD Foundation and serves on the USD Foundation Investment Committee. Barker's passions include his faith and church, Central Church, where he serves as a trustee and elder, his family, engaging in community opportunities, reading, learning, exercising, fishing, athletics and his work. He and his wife Jenna have three children, Bryn, Samuel and Grace.
Patrick Boehmer | Chicago, Illinois | Partner (retired), KPMG LLP
Patrick Boehmer earned his Bachelor of Science in Business Administration from the USD in 1984. He is originally from Faulkton, South Dakota, and graduated from Brandon Valley High School. He started his career in the Audit Practice of KPMG LLP (formerly Peat, Marwick, Mitchell, and Co.) in Minneapolis and was elected to the partnership in 1994. Boehmer also worked in KPMG's Boston office. In 2002, he was promoted to lead KPMG's Investment Management Practice in Chicago and was instrumental in its growth to one of the largest KPMG practice units in the country.
During his 37-year career at KPMG, Boehmer served as lead partner of SEC review partner for many of the firm's largest global investment management clients. In addition to client and local leadership responsibilities, Boehmer was active in U.S. business development, technical oversight and training during his career.
Boehmer retired from KPMG in 2020 and now enjoys spending time in Chicago, Illinois, and Asheville, North Carolina, with his wife Ruth, their three children (and spouses) and three grandchildren. He continues to be involved in non-profit activities in Chicago and enjoys participating in the Beacom School of Business student mentorship program.
Brandee Schultz | Omaha, Nebraska | Audit & Assurance Managing Director, Deloitte & Touche, LLP
Brandee Schultz is an Audit & Assurance Managing Director at Deloitte & Touche, LLP, primarily serving in the financial services industry. After obtaining her undergraduate degree from USD in December 1994, she started with Deloitte in January 1995 after being hired through on-campus interviews at USD. In addition to client service responsibilities, Schultz is the deputy industry professional practice director—banking for the Deloitte U.S. firm. She is also the Diversity, Equity and Inclusion Leader for the Minneapolis Group, which includes the Omaha, Minneapolis, Des Moines and St. Louis offices.
Schultz's husband of 28 years, Greg, is also a graduate of USD, and they have four daughters (Taylor, Abigail, Erin and Brooklyn). Schultz is passionate about mentoring and teaching professionals in the accounting field, providing guidance not only from a technical perspective but also from a personal perspective, including finding a balance between having a successful career and raising a family. Schultz also volunteers her time to various organizations including the USD Foundation board of directors and finance committee, Big Brothers Big Sisters of the Midlands board of directors and inclusion committee, and the Institute for Career Advancement Needs advisory committee.
The following students received top performance awards.
Logan Bunkers
Davia Kellen
Zachary Lemon
Andy Malaterre
Allison Moerke
Drue Pieper
Zane Rankin
Michaela Rotert
Christian Schoppert
Madison Weber
Madilyn Wright
Abigail Boysen
Meghan Brunsing
Clarissa Fernandez
Ryan Johnson
Trey LaCanne
Isaac McCormick
Hanna Neesen
Morgan Roberts
Trey Peterson
Sierra Schauff
Chase Voxland
Matthew Wagenaar
Muhammad Danish Aheed
Megan Bierschbach
Kade Boltjes
Ashley Carey
Marissa Cliff
Carissa Doran
Carter Karst
William Leyland
Analese Martinez
Audrey Paulson
Anton Pratsenko
Elizabeth Rounds
Jacob Solano
Rachel Stuckenbroker
As a two-time graduate of the University of South Dakota Beacom School of Business, Jacob Wurth understands firsthand the value of an education from the state's flagship business school.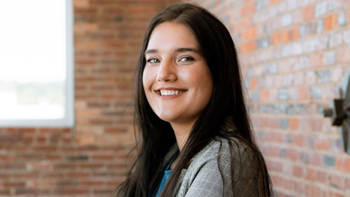 Abigail Boysen, a master's accounting student at the University of South Dakota Beacom School of Business, was recently selected for the Public Company Accounting Oversight Board's (PCAOB) PCAOB Scholars Program.
Victoria Radack, a graduate student at the University of South Dakota Beacom School of Business, recently passed her certified management accountant (CMA) certification exam. Radack was able to take the exam at no cost, as she was nominated by the faculty in Beacom's accounting and finance division to receive the CMA Scholarship.