Beacom Impacts the State with Student-Centered Initiatives
By connecting Beacom students and business professionals throughout South Dakota, BEST – Sioux Falls and Coyote Business Consulting are fostering mutually beneficial relationships and meeting the needs of both entities, providing students with real-world learning opportunities and giving businesses access to a talented and drive workforce.
BEST – Sioux Falls
An experience through the BEST – Sioux Falls program gave Max Boecker '22 the opportunity to improve his analytics and data collection skills in a real-world setting. Furthermore, his experience with BEST – Sioux Falls gave him connections that will help him continue to be successful into the future.
"The power of a relationship with people who are willing to offer their time, talent and experiences can change your life," Boecker said. "Through BEST – Sioux Falls, I was able to form these relationships with professors, leadership at Children's Home Society and leaders of other organizations involved in the program."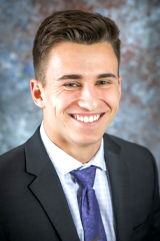 During the fall semester of his senior year, Boecker interned at Children's Home Society (CHS) in Sioux Falls through Beacom's BEST – Sioux Falls program. He worked on an eight-week project researching current competitive wages for entry level positions in the Sioux Falls and Rapid City metropolitan areas. This project enhanced Boecker's skills and helped him build upon the knowledge he was gaining in the classroom.
"My data collection and manipulation skills were tested, and it was a terrific opportunity to develop such skills beyond what is assigned in the classroom," Boecker said. "I had additional real-world experience practicing what I learned from the Beacom School of Business before I sent out applications to my first post-grad positions."
According to Boecker, his time at CHS through the BEST program gave him "a foot in the door to a great career."
"BEST not only helped me bolster my collegiate involvement, but also the people I met along the way made for great references on my resume," Boecker continued.
"Every interviewer asked me if I could tell them more about BEST. I can confidently say that this program set me apart from other applicants in my post-grad job search."
After graduating from the USD Beacom School of Business, Boecker started a position as a purchasing agent at Omega Liner Company, Inc. in Canton, South Dakota. In his current work, he practices many different facets of supply chain management, including receiving material, ordering material, inventory management, sourcing, supplier relations and terms.
Another former BEST – Sioux Falls student, Hollyn Carlton '22, agrees that her involvement with the program provided her meaningful connections and helped her stand out from other applicants in her search for jobs after graduation.
Carlton worked with the Sioux Falls Development Foundation. Her project was to conduct a salary analysis of Sioux Falls residents and analyze the opportunity for digital transformation in the state of South Dakota.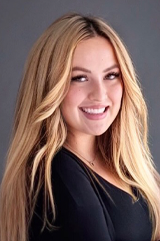 "The Sioux Falls Development Foundation helped prepare me for my future in so many ways," Carlton said. "I learned to adapt in an ever-changing work environment, different aspects of marketing and how to make meaningful connections that would further my professional development."
Although she did not pursue a career with the Sioux Falls Development Foundation beyond the BEST – Sioux Falls program, the relationships she built and the skills she learned during her time there helped her land a job placement as a content specialist for Sterling out of North Sioux City, South Dakota, even before graduating from USD.
"BEST – Sioux Falls helped me find a job, and I got hired a few months before I graduated," Carlton said. "It helped build my confidence in reaching out to a recruiter to make a meaningful connection prior to applying. It also helped me gain experience in the marketing field and proved that I was a team player."
Coyote Business Consulting
Real-world experiences are critical to a student's education in the Beacom School of Business. Through Coyote Business Consulting, students practice what they learn in the classroom to solve complex business issues that prepare them for their careers.
As part of Coyote Business Consulting, junior marketing major Joshua Reynolds helped the USD Speech-Language and Hearing Clinic raise awareness.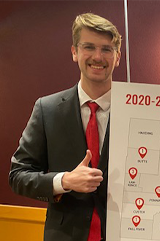 "Working with a client and discerning their needs from a business perspective was both a challenge and a learning experience," said Reynolds. "It was eye-opening to see how the medical and business fields intersected. I had to become an expert in both marketing and audiology in order to properly serve the needs of the clinic."
Ernst Coriolan '22 created a marketing plan for Infinite Welding and Machine out of Volga, South Dakota.
"We went over a lot from how they could better reach out to customers and engage with the community in a more meaningful way," Coriolan said.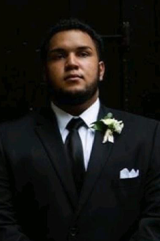 Coriolan and his team partner met with the owner of Infinite Welding and Machine weekly to gather insight, discuss progress and explore new avenues to spread awareness.
"The largest benefit to me was finding ways to understand an industry I was unfamiliar with," said Coriolan. "It helped me grow and believe I could be successful in a wider range of industries than I had previously thought. Coyote Business Consulting gave me the confidence to explore outside my comfort zone."
Coriolan recently landed a job with OTW Events, a marketing agency for nonprofits, in Kansas City.
Alayna Falak, a junior accounting student, worked with Float Spa & Sauna, LLC in Mitchell, South Dakota, to increase its sales and customer retention.
"We analyzed their data, breaking it down in different ways to find underlying trends and better understand the spa's strengths and weaknesses," explained Falak. "Then we researched the industry to see what the competitors were doing before making a list of recommendations to help improve the spa's social media marketing, promotional strategy, website and networking strategy with other businesses. In addition, we designed a rack card for the spa."
Falak said she is prepared for a future career in accounting as well as an upcoming summer internship with Eide Bailly with the lessons learned through Coyote Business Consulting.
"There was no protocol that could guide us through step by step, so we had to take the issue into our own hands," Falak explained. "As an accounting major, seeing the inner workings and struggles of a small business was valuable."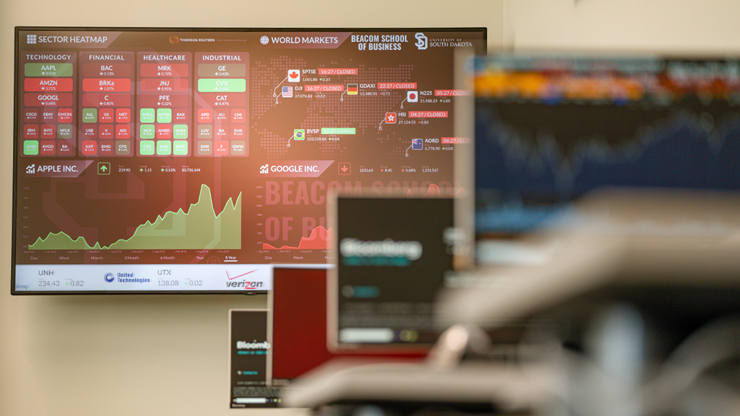 Since its founding in 2001, the Beacom School of Business student-managed investment organization, Coyote Capital Management, has prepared hundreds of students for career success.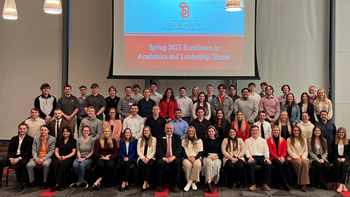 The University of South Dakota Beacom School of Business held its annual Beacom Excellence in Academics and Leadership Dinner on March 1. Over 250 students were invited to be recognized for their academic and extracurricular accomplishments.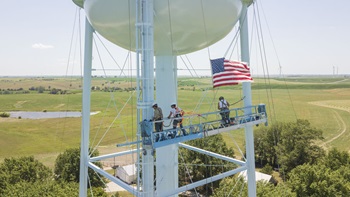 Tom Martin compares a business's supply chain to the inner workings of a watch.