Ellis Finance & Analytics Lab Opens
Beacom School of Business students and faculty now have access to a new, state-of-the-art finance and analytics lab, thanks to a generous gift from Gary and Sue Ellis.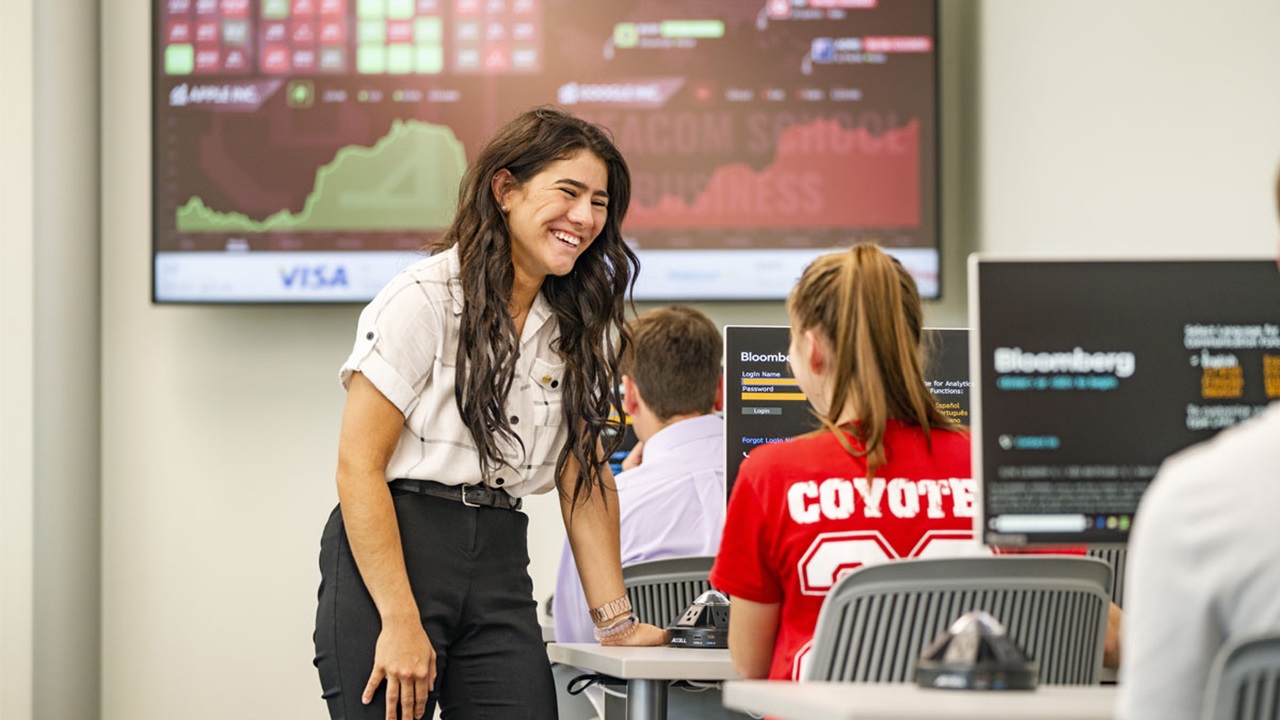 The Ellis Finance & Analytics Lab uses Bloomberg Terminals and other software to offer students a collaborative and transformative learning environment. Bloomberg is the industry standard for finance and business information.
Through the Bloomberg Terminals, educators and students can access cross-asset, real-time data and historical time series analysis in all markets. Students will learn how to analyze financial markets, assess economic scenarios and interpret the key news developments that impact the global economy.
"This technology will empower USD students with hands-on knowledge and real-world experience to give them a competitive advantage in the marketplace,"said Venky Venkatachalam, Ph.D., dean of the Beacom School of Business.
The lab was announced by USD President Sheila K. Gestring at the Beacom School of Business Dakota Days Open House on Oct. 5, 2018. Construction of the lab, located on the third floor of Beacom Hall, began in June 2019 and opened for students on the first day of the fall semester.
The lab contains 12 Bloomberg Terminals; advanced computer hardware and software for analysis and data visualization; access to a vast amount of corporate data, research, news and analytics to facilitate interdisciplinary research; and study and simulation tools to enable financial decision-making.>
By building the Ellis Finance & Analytics Lab, USD faculty will be able to better integrate industry- leading data, research, news and analytics into teaching curriculum and research.
"This new lab will provide transformative learning opportunities for the students as well as creative research opportunities for the faculty in the business school. I am happy that I could help make the lab a reality for the faculty and students of USD," said Gary Ellis.
The University of South Dakota Beacom School of Business hosted the annual Meet the Firms event on Sept. 8 to connect business students and South Dakota accounting and finance industry leaders.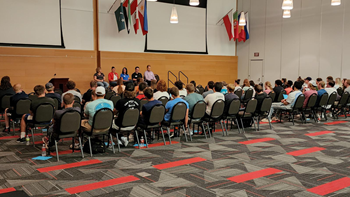 The University of South Dakota Division of Accounting and Finance recently hosted the annual South Dakota CPA (certified public accountant) Showcase, providing students with the opportunity to meet with company leaders and explore accounting careers in the state of South Dakota.