Executive Education Programs Gain Steam and Status in Third Delivery Year | University of South Dakota
The City of Sioux Falls and POET, the world's largest bio-fuel manufacturer headquartered in South Dakota, can both attest to the high quality and outcomes that the executive education courses offered by the Beacom School of Business deliver.
Beacom's inaugural executive education courses were held in 2017. The program was developed as part of the school's strategic vision to be the business school of choice for students and employers and to drive economic development in South Dakota and the region.

"South Dakota has many phenomenal companies; however, recruiting and retaining top talent can be a struggle. We created this program to help businesses develop and train their employees to achieve greater success," said Venky Venkatachalam, Ph.D., dean of the Beacom School of Business.

Now, demand has grown as word has spread about the program's flexible nature and relevant topics. Courses continue to be offered every spring and fall on subjects such as leadership development, strategy, marketing, accounting and many others. Courses can be tailored to each company and delivered in locations convenient to them. This allows employees to gain understanding of how to optimize resources and see real results.

The City of Sioux Falls just completed its first cohort group of Beacom's executive education programs. A program was custom developed for the city's needs, and 15 city employees completed a six-month curriculum on transformational leadership. The program brought the employees together with the goal of breaking down silos and building strong, cooperative relationships to make positive change happen.
Their work in the program resulted in three purposeful projects that addressed specific areas of the "One Sioux Falls" framework for the city's future. These projects will help change the community regarding accessible housing opportunities, improved employee engagement and attraction and retention of new talent for public service with the city.
Sioux Falls Mayor Paul TenHaken expressed how Beacom was responsive to the city's needs and effected change. "The Beacom School of Business took the time to really listen to what we were trying to accomplish and delivered a customized transformational leadership program that has helped us develop stronger, more engaged leaders," he said. "They were creative and responsive in helping the city develop a program specific to our organizational culture that empowered our teams to dream big, think innovatively and engage purposefully to make things happen.
"The program hit the bullseye in bringing these exceptional, high potential leaders together to learn how they can engage with anyone, either at work or in the community, to make exceptional things happen."
Another company that has seen tremendous results from a custom partnership is POET, a leader in the sustainable energy industry. Beacom faculty member Tyler Custis, J.D./M.B.A., provided a negotiation skills training for select POET staff members. In the summer of 2018, the program was delivered to POET employees throughout the country in six different training sessions, with two additional trainings added for the summer of 2019. The course content was customized for POET's specific business needs, including examples relevant to their plants.
Custis helped design the POET program with specific goals in mind. "The people of POET go to work every day to make the world a better place," he explained. "When I designed this program, I wanted to give the POET team one more tool to help them accomplish this important mission."
The value of the program was almost immediately recognized by the POET leadership team. Employees felt more comfortable on how to approach negotiations in purchasing situations. They also learned that negotiating is not just about getting the lowest price, but about establishing good relationships with trusted vendors and determining how to work together in a mutually beneficial partnership.
"The program hit the bullseye in bringing these exceptional, high potential leaders together to learn how they can engage with anyone, either at work or in the community, to make exceptional things happen." - Paul TenHaken, Mayor for the City of Sioux Falls
Mike Dishman is regional vice president at POET and said their goal was to increase the negotiation capability of the employees that interact daily with vendors at biorefineries.

"As a result of the training, our teams have reported enough negotiated savings to more than pay for all of the convenings of the negotiations course and then some," he said. "Additionally, team members are reporting using the techniques in their personal lives as well."
Dishman said the long-term effects of Beacom's executive education course is twofold: "We will continue to employ the strategies and techniques at the biorefineries to demonstrate the savings between negotiating and not negotiating, and we'll ensure that employees who took the course pass on their knowledge to new team members."
The outreach Beacom is doing has many benefits for the university as well as its corporate clients, Custis said.
"Executive education adds value in multiple ways," explained Custis. "Initially, these programs allow the world-class faculty at the Beacom School of Business to make an impact in the community.
By creating a dialog with practitioners, our professors can impart knowledge as well as gain insight into what issues companies are facing. We, in turn, can bring that knowledge and experience back to our undergraduate and graduate students."
Mayor TenHaken is confident that the city of Sioux Falls' experience with Beacom is a springboard to further potential.
"This is just the beginning," he stated. "With each cohort that follows we do nothing but gain momentum in building strong and engaged leaders for even greater roles of influence.
"We knew that this was not a traditional academic program, but an integrative transformational learning opportunity. We were looking for an experience that would change people for the better, and Beacom delivered."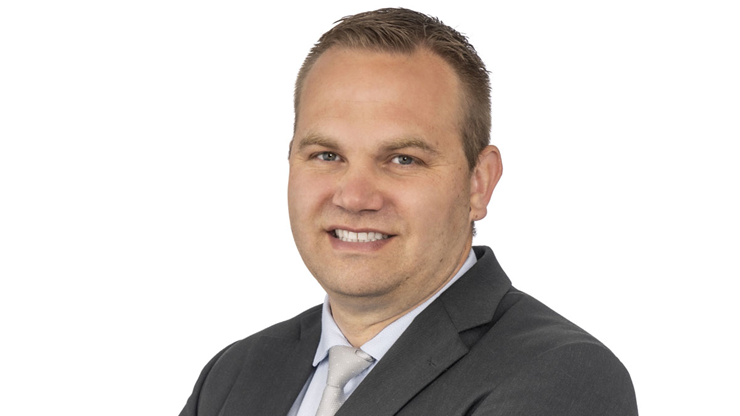 Tyler Custis, MBA, J.D., assistant professor, has been selected for the University of South Dakota Beacom School of Business 2022-2023 Excellence in Teaching award.