Assistant Professor Presents on Human Aspect of AI at Inaugural Summit in New York
University of South Dakota's Travis Loof, Ph.D., recently presented at the inaugural Newhouse Summit, which focused on connecting academia with industry by examining the future of artificial intelligence (AI). The summit was held in July at the Newhouse School at Syracuse University in Syracuse, New York.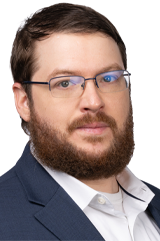 "It was an incredible honor to be invited to the Newhouse School of Communications inaugural artificial intelligence summit," said Loof. "The explosion of AI technology requires multiple perspectives from a variety of disciplines to really understand how this complex technology will and is influencing our world.
"Being invited to this conference is a testament to the important research that is being done at USD across the university," he continued.
Titled, "Provoking and Prognosticating on Generative AI Features," the event brought computer science experts, philosophers, professors, scholars and more together to explore the connections between academia, industry and the practical applications of AI.
Loof's presentation explored the future of AI within a team environment, examining the social and psychological dynamics and play when humans interact with AI in a complex work environment and what the future of work will look like when AI functions as a teammate rather than a tool.
This presentation shared just a small piece of Loof's larger research on the topic of AI.
"AI is here to stay, and it will have a major impact across multiple sectors of the economy," said Loof. "The work that I have been doing in this area has so far been related to how stakeholders perceive crisis communication, and other important communications, from AI as compared to more traditional message sources. My particular line of research is focused on the human side of AI as compared to the really amazing technical work happening around campus."
Loof is an assistant professor in the media & journalism and communications studies departments and serves as the graduate program director for the graduate communication studies program at USD.