Medical Biology Student Explores Impact of Contaminants on Frogs in South Dakota
Elle Hoops has been a researcher in Jake Kerby's, Ph.D. chair of the Department of Biology, lab since her freshman year, and her involvement in this lab led her to a summer research project exploring the impact of contaminants on tadpoles.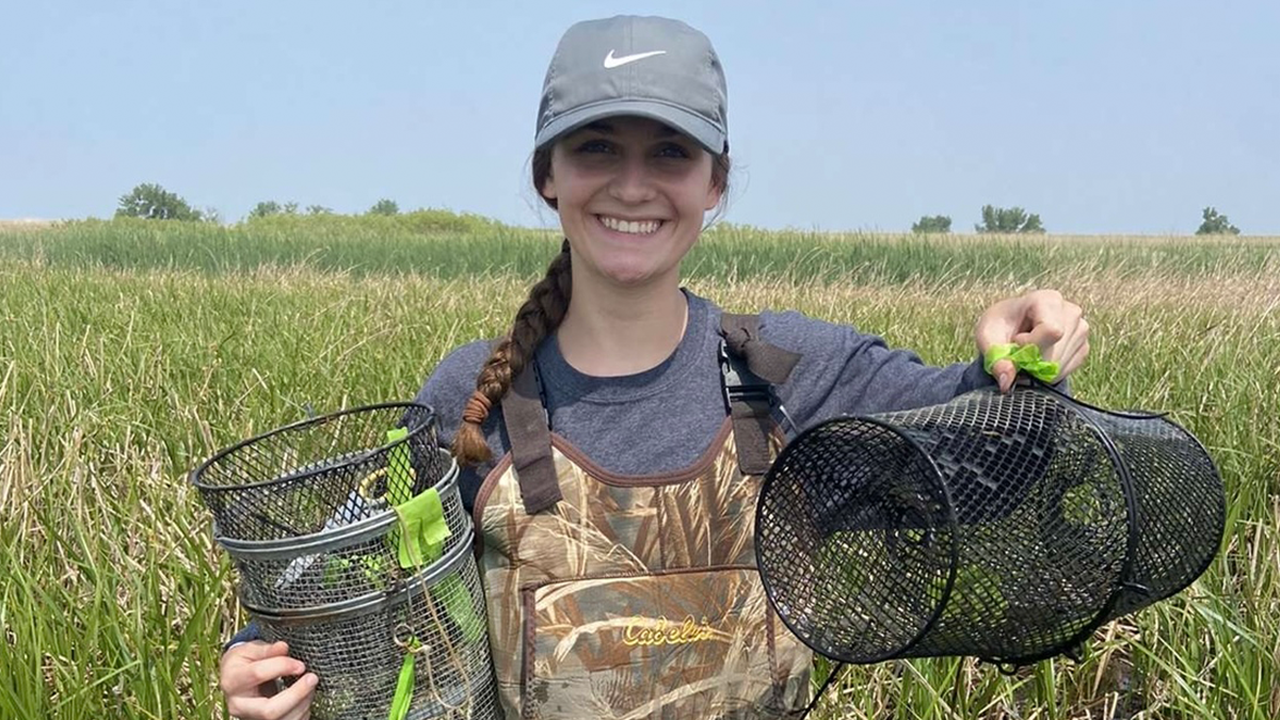 A rising junior at the University of South Dakota, Hoops is researching metabolic rate changes in bullfrog tadpoles when treated with varying amounts of contaminants found in local wetlands, including chytrid fungus and selenium. Hoops is also observing the impact of temperature treatments.
"My experiment will allow us to gain information on whether these contaminants, which are found in South Dakota, could have the potential to affect the metabolic rates of humans," Hoops said. "If the result is that it does, I hope our lab can gain more momentum as we do our best to advise farmers to be cautious in using chemicals on their crops and to do their best to avoid tile-drainage runoff which contributes to the contamination of the environment."
Hoops, a medical biology major, was initially introduced to this subject as a freshman when she learned about the ecology of frogs and their global importance in a general biology course. She then joined Kerby's lab to research amphibians further and understand the impact contaminants have on frog populations in South Dakota. Now, Hoops said said she is excited to put what she's learned to use and complete research on her own.
"Having spent time in Kerby's lab since I was a freshman, I've been able to see the different ongoing experiments that other students were able to work on. I was able to help care for and maintain the health of the tadpoles, measure their growth stages and complete data entry; I was able to see how the research project worked it its entirety," Hoops said. "This opportunity prepared me to take on the challenge of completing a project independently."
Hoops' research is supported through funding from the USD Summer Institute of Research.
"USD was generous enough to offer me a stipend for the summer in addition to separate funding that allows me to complete this research within Kerby's lab," said Hoops. "I am thankful that funding like this exists so I can participate in such an enriching experience.
After completing her undergraduate degree, Hoops hopes to attend medical school and pursue a career as a physician, where her goal is to serve underrepresented communities. Her research at USD is helping her reach that goal, she said.
"Every piece of scientific information is a product of research, and as a future physician, it's important that I understand where the knowledge stems from and how it came to be," said Hoops. "Being involved in research now gives me a sense of appreciation for all the different fields of science, increasing my respect for this discipline as a whole."