Summer Internship Leads to Full-Time Position in D.C. for USD Student
Since early May, University of South Dakota senior Trenton Hoekstra has been working as a full-time legislative correspondent in Washington, D.C. This opportunity, which came to Hoekstra unexpectedly, has proven to be the fruition of all of his experiences, acquired knowledge and hard work.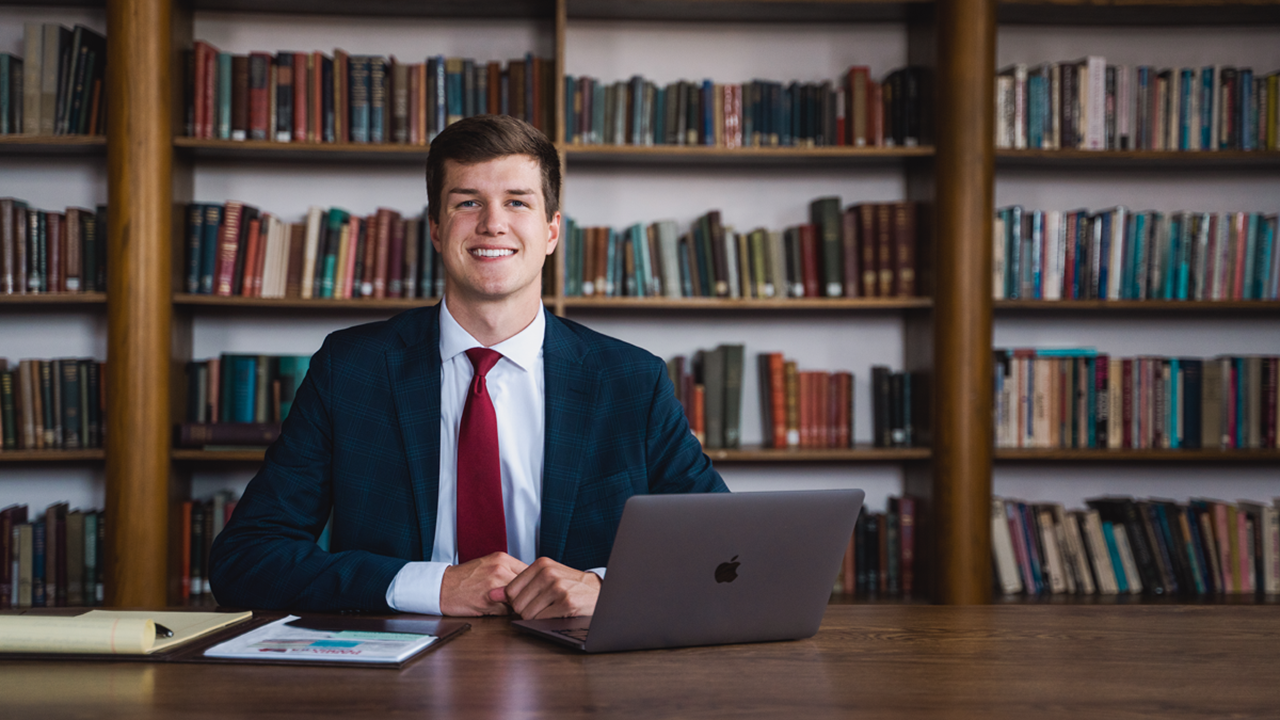 Like many students, Hoekstra entered his freshman year undecided of what he wanted to major in. He took a few general science classes with the thought of medical school but quickly realized that it wasn't the path for him. Then, he took two introductory government and political sciences classes that inspired him to take a different route.
"Those classes pushed me to ask questions I had never thought about before, and the professors encouraged me to take the first step of declaring political science and criminal justice as my two majors," Hoekstra said. "Although nerve-racking at the time, I can now say that this has been one of the best decisions I have ever made."
Near the end of his sophomore year, Hoekstra looked for a way to get his foot in the door for a career in political science. He reached out to his professor, Eric Jepsen, Ph.D., professor of political science, who encouraged him to apply for an internship in Washington. Hoekstra said he had never considered an internship in the nation's capital before or even knew it was an option, but he took the chance and applied.
After an extensive application and interview process, Hoekstra was offered and accepted internship positions with Rep. Randy Feenstra and Sen. Chuck Grassley, who both represent his home state of Iowa. Through these internships, which he held during the summer prior to his junior year, Hoekstra was able to see the inner workings of Congress and gain valuable insight into how the United States government operates.
"Working for my representative and my senator was pretty intimidating at first," Hoekstra said. "But when the summer came to an end, I left D.C. with a new thought that this could be the place I eventually work."
When he was nearing the end of his junior year, Hoekstra began to think seriously about what he would pursue post-graduation, and in March 2022, he decided to reach out to the chief of staff in Feenstra's office to ask for guidance. What Hoekstra didn't know was that the Feenstra's current legislative correspondent announced he would be leaving the office at the end of April, opening an opportunity for Hoekstra to take on a full-time position in the office.
"I was very hesitant at first because taking a job like this was no small commitment," Hoekstra said. "But after taking some time talking with my parents and professors, it became obvious that an opportunity like this would only come around once in a lifetime. I knew I had to take the offer."
Hoekstra accepted the job as the legislative correspondent for Feenstra in May 2022 and returned to Washington as soon as the spring semester of his junior year ended.
"My favorite part is that I'm literally getting to work in Congress," Hoekstra said. "It's so easy to take for granted, but I'm working with my representative every day. For me especially, Rep. Feenstra represents my district, so he relies on me quite a bit to see where I think people would stand on certain bills which is really cool."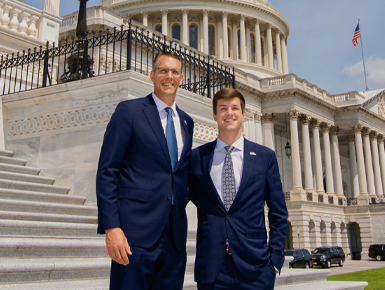 As legislative correspondent, Hoekstra is responsible for organizing all constituent mail, researching legislation and drafting responses to correspondence through the views and words of Feenstra. While his job may seem fairly straightforward and simple, Hoekstra said that's far from the truth.
"Often the letters are difficult and can take hours of research to fully understand," Hoekstra said. "The influx of mail never stops, and I constantly have to stay on top of new topics and think about what people might write in about next."
Hoekstra worked in Washington over the entire summer but moved back to Vermillion in August to finish his last semester of classes. Since returning to campus, he has been juggling a full-time job and a packed schedule of upper-level courses.
"It's been a little tough finding a balance," Hoekstra said. "There's still a lot to figure out, but the first few months of my job have been very rewarding."
In addition to finding time to commit to both his job and his coursework, Hoekstra also manages to find time to be involved in student organizations on campus. During his time at USD, he has been heavily involved in Greek life, Student Government Association, the Arts & Sciences Ambassador Program and Dakotathon. He also currently serves as the president of Beta Theta Pi.
"The organizations I have been involved in have only enhanced my college experience and have taught me so much about how to be leader, how to fundraise, how to be efficient with my time, how to represent the student body and how to overcome various difficulties," Hoekstra said.
Through his political science and criminal justice coursework, Hoekstra has built a strong foundation of knowledge about politics and representative democracy that has proven to be advantageous in his line of work. However, he believes it is the soft skills he has developed while at USD that have been the cornerstone to his success.
"My professors have pushed me to constantly grow my writing skills and my ability to research difficult topics and have encouraged me to seek opportunities I may have otherwise never applied for," Hoekstra said. "USD also taught me how to network, which is a huge part of being successful in D.C."
In addition to support from his professors, Hoekstra also received financial support from the Farber Fund, which helps fund grants for student internships, research-related travel, scholarships and more.
"Expenses were a huge deciding factor when considering taking a position in D.C., and the Farber Fund helped make it possible," Hoekstra said.
"You won't find that support anywhere else," Hoekstra added. "I asked other students in D.C. if their schools helped them out financially, and most of them said no. This just proves how committed USD is to helping students excel."
With his graduation coming a semester earlier than many of his peers, and a long-term move to Washington quickly approaching, Hoekstra can't help but feel sad that his time at USD is coming to and end. However, he's thankful for the experiences he's had and is always looking eagerly at what's ahead.
"I will forever be grateful for each opportunity I have been given in the small town of Vermillion, South Dakota, and I'm excited to see what the future has in store for me," Hoekstra said.
Press Contact
Hanna DeLange