USD Alumna and National Teacher of the Year Values Storytelling in Education
For 2023 National Teacher of the Year and University of South Dakota alumna Rebecka Peterson '11, being an educator is about more than teaching – it's about sharing stories.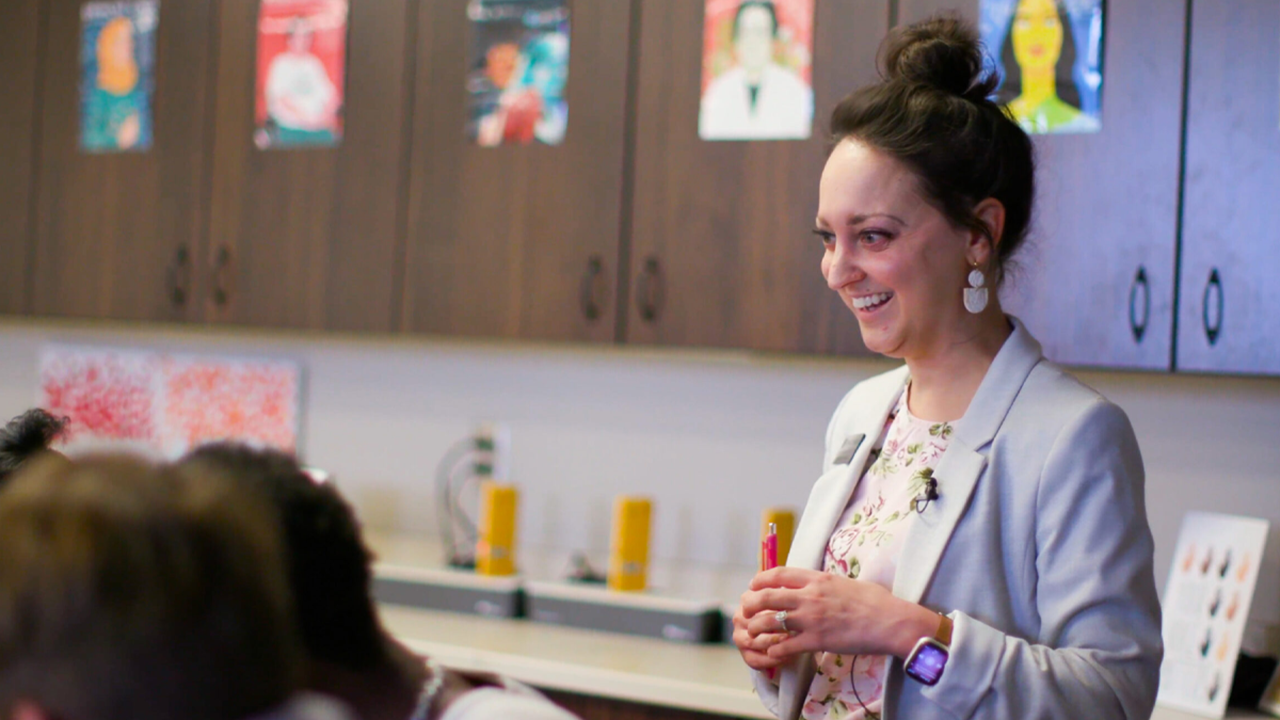 "For me, I love stories. When we learn each other's stories, we carry a piece of one another with us, and we're forever changed," said Peterson, an Oklahoma math teacher. "When I took the time to learn my students' stories, grace started to permeate even more. Empathy and hope arose."
This passion for understanding others and taking interest in their stories is what sets Peterson apart. She strives to build meaningful relationships with her students and said the most important gift that educators can give their students is to simply be themselves.
"I share my story with my students at the beginning of each school year, explaining both the joys and struggles of being a bi-cultural immigrant. Then, I welcome each of my students to share their story with me during non-instructional time," Peterson added. "Learning their stories empowers me to elevate their voice and helps me to authentically advocate for their academic, social and emotional needs."
As Peterson takes time to learn her students' stories, she earns their trust. The 2022 Oklahoma Teacher of the Year, Peterson said this trust opens doors for her students to tackle enormous academic milestones.
Peterson's district, the Union Public Schools system of Tulsa and Broken Arrow, Oklahoma, has 62 languages represented, and 72% of their students face socioeconomic challenges. Despite this, Peterson's calculus students have an 88% pass rate on the Advanced Placement calculus exam, while Oklahoma's average is at about 45%.
"Statistically, my students should not be outperforming the rest of our state. But my students are not a statistic," said Peterson.
Peterson's dedication to promoting positive classroom experiences for her students and cultivating their academic success earned her the honorable title of 2023 National Teacher of the Year.
Presented by the Council of Chief State School Officers (CCSSO), the National Teacher of the Year Program aims to support exceptional educators across the country. It is an honor that recognizes their dedication in the classroom, amplifies their voices to advocate for the profession and empowers these educators to participate in policy discussions to improve education for all children.
"When I found out I won the award, I truly couldn't believe what I was hearing," Peterson said. "Once the news settled in several days later, I couldn't help but wonder 'Why me?' I think that's something I'll always carry. There are just so many incredible educators I've crossed paths with during my career. It could have been any of them.
"So that makes me even more committed to shining a light on our good and important work – as a collective," she continued.
Peterson currently teaches math classes ranging from intermediate algebra to Advanced Placement calculus at Union High School in Tulsa, Oklahoma. She began her fulfilling career as an educator at USD, serving as a teaching assistant while pursuing her master's degree in mathematics. It was through this position, as well as her experiences with her peers and faculty, that led her down the path she's on today.
"The faculty at USD were incredibly welcoming and offered me a teaching assistant position, despite starting mid-year. My thought was that I would then get my Ph.D. at another university," Peterson said. "However, as much as I loved my math classes at USD, I also loved the teaching aspect of being a graduate student.
"I realized that I wanted to pursue teaching for a bit, so I took a 'break' from graduate studies after completing my master's. That 'break' turned out to be my calling."
Peterson said that her time at the state's flagship university was formative in shaping her approach to teaching.
"I think as with most teachers, it was my own teachers that inspired be to become a teacher," Peterson said. "As an immigrant to this country, I quickly saw the power teachers held: the power to turn my bad day into a good one; the power to inspire some of my most creative thoughts; the power to believe in me, even when I didn't believe in myself. I wanted to do that for others.
"In addition to shaping me as a mathematician, my time at USD taught me the importance of meeting students where they are and coming to them instead of expecting them to come to me. To this day, walking around and asking my students questions is foundational to my teaching philosophy," she added.
After two years of serving as a teaching assistant at USD, Peterson spent a year teaching at a community college in Tulsa, Oklahoma. Then, she decided to make a switch and started teaching high school math courses. Peterson said that to no one's surprise but her own, this shift was a complete shock to her system, and there were times that she didn't think she'd make it. Then, she found the "One Good Thing" blog.
The blog features a collective of teachers across the country that are committed to writing good things that have happened in their classrooms. The blog is inspired by the mantra, "Every day may not be good, but there is a good thing in every day." Peterson began to read the blog's posts. She then found herself writing them.
"I wrote my first 'One Good Thing' on the blog's platform. The next day I did the same. The day after that, I wrote again, and I just kept going," Peterson recalled. "I wrote good things that happened in my classroom for a decade straight, totaling exactly 1,400 good things.
"As I continued to write, my brain started to notice the good things all around me. Most of my blog posts, my 'good things,' were not big, flashy moments. They were small, everyday, beautiful moments that I wanted to hang on to. Tucking these moments into my heart sustained me. They sustained me through a tumultuous first year; they sustained me through a pandemic; they continue to sustain me as we serve students who are changed post-COVID," she continued.
As the 2023 National Teacher of the Year, Peterson hopes to use her platform to highlight the important and positive work being done by educators across the nation.
"I hope to use my messages this year to act as sort of a mirror. I hope there's a part of my story or my classroom in which other teachers see themselves," said Peterson. "Ultimately though, science has taught us that what mirrors do is reflect light. There is so much light all over our country in our classrooms that teachers are shining. I hope to reflect that light."