USD Student Explores International Politics Through Internship in New Zealand
This summer, University of South Dakota student Waverly Patterson had the opportunity to intern for the Green Party of Aotearoa New Zealand in Wellington, New Zealand, and aid their campaign trail through research and strategy.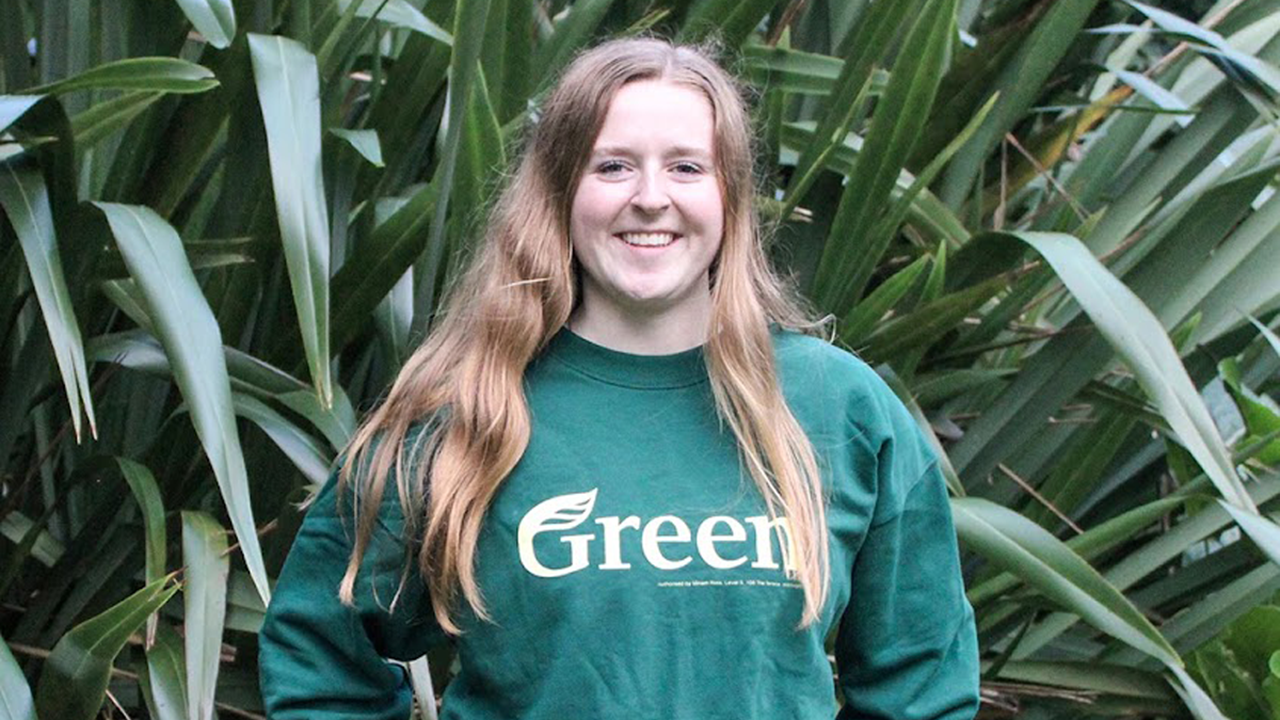 In her position, Patterson, a junior double majoring in political science and sustainability, was assigned various tasks related to the Green Party's upcoming campaign, which focuses on green politics, social justice and environmentalism. The research she conducted was used to look at key policy areas, such as housing, taxation, climate, health care, education and more.
"New Zealand, and especially the Green Party, is facing an extremely crucial upcoming election in October," Patterson said. "The Green Party needs to receive at least 5% of the nationwide vote in order to maintain its seats in the government. I worked with their campaign team to conduct research that can be used during voter outreach as well as campaign work in general."
As a Royal Oak, Michigan, native, the international aspect of the internship was Patterson's favorite part. "I could've done a similar internship in the U.S., but not many people can say that they have had an internship in another country or lived in New Zealand for the summer," Patterson said. "Additionally, I agree with the types of policies they put forth as well as what the party stands for. I was excited to learn more about the party and their policies."
During her time at USD, Patterson has conducted research for the Chiesman Center for Democracy and the Sexual Assault Kit Initiative (SAKI) grant. She credits USD for her success and the opportunities she has had thus far.
"I chose USD because of its size and affordability," Patterson said. "The class sizes are what I was looking for in a school and have allowed me to make connections with my professors that I would never be able to create at a larger university. This has opened so many doors for me that will benefit me long after I leave."
Although unsure of what the future entails after graduation, Patterson said having this internship experience under her belt will help her in the decision making process.
"This internship was a huge step toward reaching my academic and career goals. It has provided me insight on the intricacies of a foreign government and the importance of campaign strategies and hopefully it will help me in figuring out a future career path," Patterson said. "Overall, this internship was an important opportunity for me that I can use academically and when applying for future jobs."
Patterson was a recipient of a 2023 Farber Scholars Award, providing her with support during her internship. The Farber Funds provide support for political science, criminal justice and international studies majors to attend conferences, participate in study tours, complete internships, study abroad and conduct research throughout the nation and across the globe.
The Farber Funds honor William O. "Doc" Farber, Ph.D., who contributed 40 years of service to USD. For 38 of those years, he was chair of the Department of Government (later Department of Political Science) and is credited with the department's growth in staff, enrollment and academic opportunities. Doc Farber retired in 1976, but both his legacy and impact on students continue today through these funds.