USD Student Shapes Future of Rural Health Care Through Summer Internship at Sanford Health
As an intern at Sanford Health, University of South Dakota's Carter Linke, a rising senior double majoring in political science and media & journalism, is helping tackle one of the biggest challenges in health care – building tomorrow's workforce.
Through his internship, Linke has been tasked with assisting Sanford's national Summit on the Future of Rural Health Care. Combining his passions in politics and communications, this opportunity at Sanford is allowing Linke to meet with executive leaders in the health care system while doing work he is well-equipped to do, he said.
"Helping assist a project that tackles issues in rural health systems piqued my interest, especially since I was born and raised in rural South Dakota," Linke added.
In its second year, the Summit on the Future of Rural Health Care, which is scheduled for Aug. 15, will bring together industry professionals and policy makers to address unique challenges and opportunities regarding health care access in rural America, working specifically to address the shortage of health care providers in rural communities. Linke is helping advance the goals of the summit by meeting daily with leaders across the health care system and keeping the summit website up to date.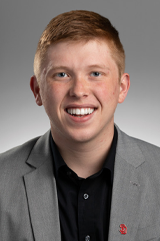 "One of my tasks is updating the summit's website as we continue to bring in new speakers and moderators from across the United States," said Linke. "These speakers are some of the nation's most influential health care leaders, and I've already learned so much about the industry in my short time here at Sanford.
In addition to working on the Summit on the Future of Rural Health Care, Linke's internship is allowing him to work on another big project – Sanford Health's Thought Leadership initiative.
"Part of that initiative includes advancing Sanford's policy goals through committee assignments and government relations," Linke said. "My favorite task so far has been the ability to draft agency briefs for the public policy team. It's something I can see myself doing after I graduate next May, and I'm excited I get to experience it close to home."
Hailing from Woonsocket, South Dakota, Linke said that a combination of the coursework he's completed and the extracurricular activities he's been involved in at USD have helped prepare him for his internship at Sanford.
"Just this spring, I was working through policy recommendations and research involving rural health care challenges while completing nationally competitive scholarship applications," Linke recalled. "In the classroom, learning about different agencies and the ways to work them in my public administration courses has been especially beneficial as I draft different recommendations for Sanford.
"Inside and outside of the classroom, USD has pushed me to explore different avenues and has prepared me to explore different career paths with the confidence that I'll succeed wherever I end up," he continued.
Linke's future goal is to go into digital communications for advocacy organizations, and his internship at Sanford is the next step in getting him there.
"My work at Sanford is helping me prepare for my future because I'm constantly given the opportunity to explore different tactics with some of the state's best," Linke said. "The work I'm doing with the summit is advocacy. I get to assist with one of the largest policy summits in the Midwest and be an advocate for rural health care through my work as an intern."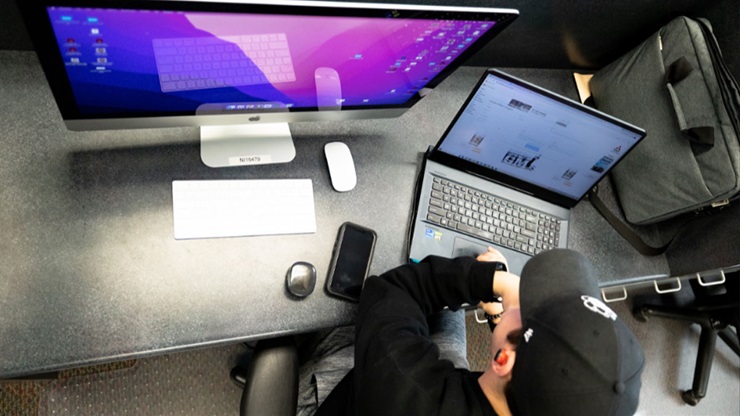 University of South Dakota's Travis Loof, Ph.D., and Lori Costello, Ph.D., assistant professors in the Department of Media & Journalism, were awarded second place in the "Best Practices in Teaching" competition for their innovative teaching method involving artificial intelligence (AI) assistive technologies.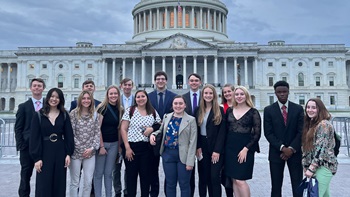 The University of South Dakota Department of Political Science hosted a faculty-led program with 15 undergraduate students in Washington D.C. earlier last month.