USD to Host Artificial Intelligence Symposium March 22
The University of South Dakota College of Arts & Sciences is hosting its second annual Artificial Intelligence (AI) Symposium March 22 in-person in the Muenster University Center Ballroom and online.
The AI Symposium aims to unite AI and data engineering experts in academia, industry and government around current issues and areas of collaboration where AI-driven tools are in demand due to big data issues, such as in health care, cyberthreats, quantum computing, sustainable agriculture and risk management.
"Data exist everywhere. The only question is how they are being structured, organized and analyzed for different purposes," said KC Santosh, Ph.D., chair of the Department of Computer Science and founder and co-chair of the symposium organizers. "No data analytics is possible without AI-guided tools, regardless of the sources of data."
The AI Symposium will feature six well-known speakers. Speakers include the following:
Yao-Yi Chiang, Ph.D., is an associate professor, Computer Science & Engineering Department, University of Minnesota
Aobo Li, Ph.D., postdoctoral fellow, University of North Carolina at Chapel Hill
Jesse M. Ehrenfeld, M.D., M.P.H., senior associate dean, professor of anesthesiology, Medical College of Wisconsin
Patrick Danielson, M.S., senior scientist, USGS Earth Resources Observations and Science (EROS) Data Center
Kory Postma, M.S., data scientist, USGS EROS Data Center
Matthew Rigge, Ph.D., ecologist, USGS EROS Data Center
"I'm excited to have USD's second annual AI Symposium with speakers from multiple domains highlighting the future of AI," said Santosh.
Symposium organizers include several departments in the College of Arts & Sciences, including the Departments of Computer Science, Mathematical Sciences, Sustainability & Environment, Physics, Biology and Chemistry.
"Mathematics is happy to help coordinate and promote the upcoming AI Symposium," said Dan Van Peursem, Ph.D., chair of the Department of Mathematical Sciences. "AI is one of the fastest growing fields in the data industry, and it is important we expose our students to what potential career opportunities are in this exciting new field."
USD is home to South Dakota's only programs in AI, preparing students for careers in data science and machine learning. The Department of Computer Science offers an undergraduate certificate and specialization and a graduate certificate and specialization, which focus on the development of AI tools for multiple purposes.
"Our AI programs at USD will contribute to preparing a workforce of young scientists who will maintain America's strategic position of command in science and engineering from South Dakota," Santosh said.
The AI Symposium is free and open to anyone, but registration is required. To learn more about the symposium and to register, visit usd.edu/AISymposium.
The University of South Dakota Department of Computer Science is set to host its third annual Artificial Intelligence (AI) Symposium on March 28 from 9 a.m. – 3:10 p.m. in person in Farber Hall, located inside Old Main, and livestreamed online.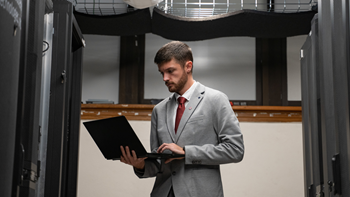 University of South Dakota student Hugo Morvan, a senior majoring in computer science and minoring in mathematics and physics, has been researching the impact of artificial intelligence (AI) in detecting COVID-19.