USD's Julia Hellwege Named Director of Government Research Bureau
Julia Hellwege, Ph.D., University of South Dakota assistant professor of political science, was recently named director of USD's Government Research Bureau (GRB).
The GRB is an academic research organization that combines intellectual risk-taking with current research methods to analyze issues affecting the State of South Dakota.

"I am excited for the opportunity to lead the GRB moving forward. It serves a wonderful opportunity to support different entities across the state on a variety of projects," Hellwege said. "The GRB is also a great opportunity for students to get first-hand research experience on applied projects, which will give them the experience they need to be successful in their future careers."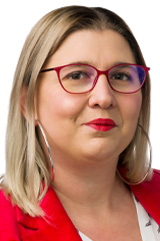 Since joining the USD Department of Political Science in 2016, Hellwege has published several peer-reviewed studies and served as editor of two books. She has also worked on several public scholarship pieces and various contracted work, including for the South Dakota Victim Services Program and the Department of Family Medicine in the Sanford School of Medicine.

"Year after year, the GRB partners with communities in South Dakota to solve real-world problems," said David Earnest, Ph.D., Department of Political Science chair. "Dr. Hellwege brings both academic expertise and practical experience as a public servant to her leadership of the GRB."

Hellwege follows Shane Nordyke, Ph.D., who served as the director since June 2014. During her time, the GRB completed more than $300,000 worth of contracted projects, including collaborations with the South Dakota Highway Patrol, South Dakota Department of Public Safety, South Dakota Department of Labor and Regulations, the City of Pierre and the Greater Sioux Falls Chamber of Commerce. The GRB has also served as an external evaluator for several grants administered at USD.

"It has been a privilege to work with so many exceptional students in assisting state and local partners in carrying out their missions," Nordyke said. "I am thrilled the GRB will be in such capable hands and excited to continue working with Julia on the research side of projects."

"I'm humbled to take on this position and grateful for the mentoring I have received from Shane over the years," Hellwege said. "I look forward to finding ways that the GRB and the Chiesman Center for Democracy can continue to collaborate in efforts that support both our government entities and the people of South Dakota."

Established in 1939, USD's Government Research Bureau has a distinguished history of conducting applied research on public policy and administrative issues affecting the State of South Dakota, local governments, American Indian Reservations, and nonprofits. The GRB offers technical expertise and innovative analytical tools to assist state and local government officials with community development and policy formation. GRB researchers offer a variety of analytical services including policy analysis, strategic planning, community surveying, and program evaluation.