Undergraduate Research Project Contributes to USD's Archival Library, Honors Former USD Art Educator
Junior graphic design major Veronica Knippling was honored with an Undergraduate Research Excellence Award for her project titled, "The Stilwell Papers." Her research project made significant contributions to both the University of South Dakota and the broader community of researchers interested in art education.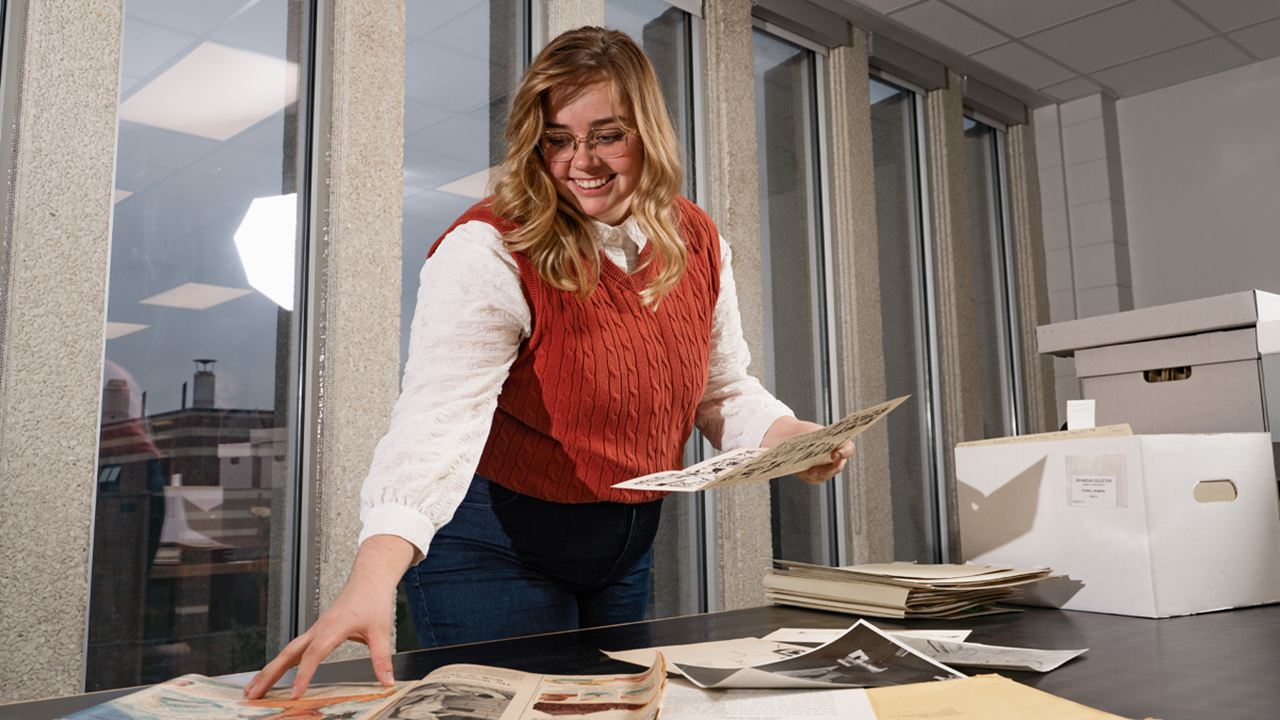 Knippling's project set out to arrange and describe the papers of Wilber Stilwell (1908-1974). Stilwell was an American artist and passionate art educator and served as the chair of the Department of Art at USD from 1941-1973.
"My research helps the legacy of Wilber Stilwell live on," Knippling said. "I love that I was able to give a little more life to someone that was so essential to art education as we know it. I probably wouldn't be at USD had Wilber not had such a passion for it."
Through her project, the Gann Valley, South Dakota, native evaluated, categorized and described archival materials, such as biographical documents, correspondence records, notes and sketches, and books from Stilwell's personal collection. She also wrote and designed education materials for display on USD's campus. These materials are also being showcased at the Stilwell Student Arts Exhibition, which is on display until Feb. 17.
"I'm an art history minor and learning about someone so influential in our state has been such a joy," Knippling said. "This project also helps put the Digital Library of USD on the map, as Wilber Stilwell is of interest on a regional level."
Knippling worked closely with Sarah Hanson-Pareek, curator of digital projects and photographs in Archives and Special Collections, to evaluate archival materials related to Stilwell's life and work, select documents for digitization, catalog selected documents utilizing best practices from the field and curate a physical exhibition of archival documents.
"This digital library entry will serve as a resource for both scholars and students worldwide," Knippling said. "Archival documents related to Stilwell's life and work are of interest to those pursuing research pertaining to the past contributors of the university's Department of Art, American realism, South Dakota art education, New Deal art and even government patronage, among other topics."
In addition to an Undergraduate Research Excellence Award, Knippling's work has also been honored with other awards, such as the Dean's Purchase Award, Silver Light Award and the University Art Gallery Award at the annual Stilwell Student Arts Exhibition. Knippling was also selected as a UDiscover Summer Research Scholar last summer.
Knippling's long-term goal is to stay in South Dakota and pursue a career as a brand strategist and designer for small businesses.