University Art Galleries to Celebrate Oscar Howe with Legacy Exhibition
The University of South Dakota University Art Galleries will celebrate the legacy of Oscar Howe and his artwork with "The Howe Legacy Across Four Generations Exhibition," which will be on display in the John A. Day Gallery Aug. 28 - Oct. 13.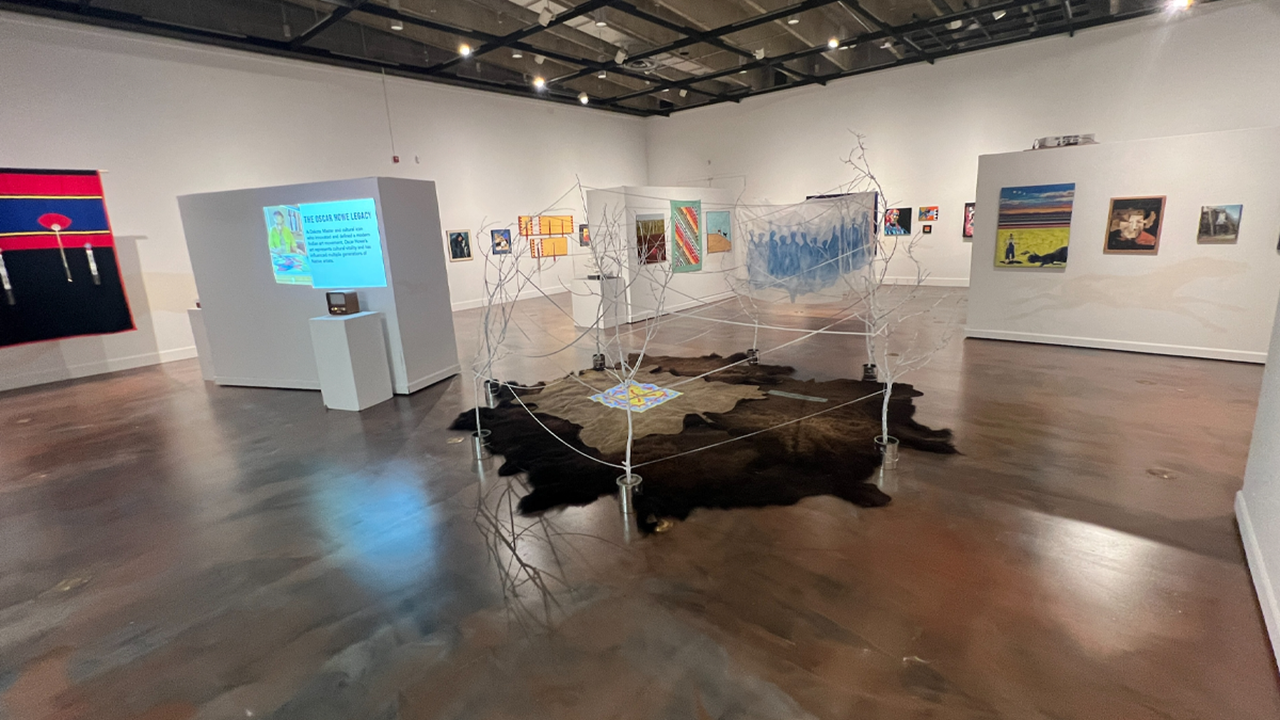 The Four Generations Exhibition will serve as a satellite exhibition to the "Dakota Modern: The Art of Oscar Howe" exhibition, which was on display from March 11 - Sept. 11, 2022, in the National Museum of the American Indian in New York, New York, and the Portland Art Museum, Portland, Oregon, from Oct. 29, 2022, - May 14, 2023, before returning home to South Dakota at the South Dakota Art Museum in Brookings, where it has been since June.
"This Four Generations Exhibition is an opportunity for our community to participate in the celebration, education and honoring of Howe and this incredible exhibition," said Amy Fill, University Art Galleries director.
Currently, the University Art Galleries maintains two collections with focuses on Native Artists: the Oscar Howe Collection, in which USD is steward of the largest single collection of Howe's work in the United States, and the Robert L. Penn Contemporary Native Art Collection, which is a living collection of artworks curated by Native students and gallery staff that has also featured co-curated exhibits with Inge Howe Maresh, Howe's daughter.
The Four Generations Exhibition at USD seeks to explore the impact and influence of Howe's work by showcasing the work of 16 different artists from various decades succeeding Howe. These artists will display personal responses and recreations of Howe's work, which will be displayed alongside the original works.
"We want to celebrate the generations of artists who are creating their own histories and who have taken inspiration from the groundbreaking works of Howe and Robert Penn, a student of Howe," said Fill. "Visitors can expect an exhibition of diverse mediums including painting, installation, ledger drawings, sculpture, video and music."
The exhibition opens Aug. 28 and runs through Oct. 13, with the gallery open for viewing from 9 a.m. to 5 p.m. Monday through Friday. The public reception is set for Sept. 21 from 5-7 p.m. in the John A. Day Gallery, located in the Warren M. Lee Center for Fine Arts. There will also be a panel discussion with participating artists on Sept. 21 from 7-8 p.m. in the Colton Recital Hall.
Meet the four generations of artists who will have their work on display in "The Howe Legacy Across Four Generations Exhibition."
1960s-70s
Arthur Amiotte (Wanblí Ta Hócoka Washté or Good Eagle Center) is a contemporary Lakota artist, historian, educator, author and lecturer on historical and modern American Indian art. A member of the Oglala Lakota Oyate tribe, he is most well-known for his Lakota tribal collage narratives, printmaking and textiles and has participated in over 100 exhibitions throughout the U.S. and Europe.
Roger Broer has been a fixture in the Northern Plains Native American art scene for over 40 years. As a member of the Oglala Lakota nation, he creates expressive paintings and monotype prints reflecting his Lakota culture and the world he occupies. Broer's work has been exhibited in more than 50 one-man shows and over 175 group shows, and he has paintings in both national and international collections.
Colleen Cutschall (Sister Wolf) is an Oglala-Sicangu Lakota artist, historian, educator and curator from Pine Ridge, South Dakota. She works in painting, sculpture, photography and installation art, and her work is featured in several permanent collections across the U.S. and Canada.
Donald Montileaux (Yellowbird) is a modern-day storyteller and an enrolled member of the Oglala Lakota Nation. He regards himself as having a mission "to portray the Lakota, the Native Americans, in an honest way." In the summers of 1964 and 1965, Montileaux attended workshops under Howe at USD. His artwork spans the globe with many artistic awards and commissions to date and is represented in numerous private and public collections.
1980s-90s
Gerald Cournoyer is a figurative American Indian artist, educator, lecturer and philanthropist. As a lead instructor for the Director for the Northern Plains Summer Art Institute and member of the Oglala Sioux Tribe, he uses painting as a way to reflect on his culture's past, present and future. Throughout his 30-year career, he has blended his cultural and artistic backgrounds to connect with his students.
Gwen Westerman is an enrolled member of the Sisseton Wahpeton Dakota Oyate and a citizen of the Cherokee Nation. She creates textile art influenced by her life and Indigenous cultures. Her work is in the permanent collections of the Red Cloud Heritage Center Museum, the University Art Galleries at USD, the Great Plains Art Museum and the Minnesota Historical Society.
Dwayne "Chuck" Wilcox is a contemporary Plains ledger artist and is an enrolled member of the Oglala Lakota nation. He focuses on vignettes of Indian life infused with humor and favors depicting powwows, social dances, families and everyday activities. Throughout his career, Wilcox has won numerous prizes and placement ribbons. His work has been exhibited in museums and galleries both nationally and in Europe.
Jim Yellowhawk is an abstract American Indian artist, blending traditional styles of art with modern imagery and concepts. Yellowhawk is an enrolled member of the Itazipco Band of the Cheyenne River Sioux Tribe and the Onondaga/Iroquois on his mother's side. He has brought his art to the international community, including being invited to perform Lakota men's traditional dance at venues worldwide, and his artwork is in public and private collections across the country.
2000s-10s
Denton Fast Whirlwind is an Oglala Lakota painter, bead worker, business owner and college instructor. Fast Whirlwind's work has been collected worldwide and is part of several public and private museum collections, including the Smithsonian Museum of the American Indian, Red Cloud Heritage Museum, USD, University of Arkansas and private collectors from France, Norway, England, Japan, Italy and Germany.
Henry Payer is a Ho Chunk artist who works primarily with collage and mixed media. He references the altered landscape through Indigenous cartographic methods of "picture-writing" combined with European modernist models of cubism, spatial distortion and collage. Payer served as an instructor for the Oscar Howe Summer Art Institute (OHSAI) in 2015 and has exhibited his work at locations across the Midwest.
Michael Two Bulls is an Oglala Lakota artist and musician who creates art that focuses on concepts that deal with identity, history and place – often drawing from aspects of his own life, family and experiences. As a core member of Bad Art Studio, Two Bulls has always believed that the true nature of art is not in the medium but is in the artist and their subject.
Dyani White Hawk (Sičáŋu Lakota) is a multimedia artist and independent curator. Through painting, beadwork, installation, performance and curation, her practice challenges the lack of representation of Native people, arts and voices in art movements and beyond. White Hawk's work is in the collections of the Museum of Modern Art, Minneapolis Institute of Art, Smithsonian National Museum of the American Indian and the Akta Lakota Museum, among other public and private collections.
2020s-Today
Autumn Cavender (Wicanhpi Iyotan Win) is an artist, midwife and activist from Pezihutazizi K'api Makoca (Upper Sioux Community). In 2020 and 2021, Cavender received two Artist Equity Grants from the Southwest Minnesota Arts Council (SMAC). Her generative quillwork has been featured most recently in exhibits at Art Basel-Miami, Miami Art Week and South by Southwest.
Talon Bazille Ducheneaux is a rap artist and poet from the Crow Creek Dakota and Cheyenne River Lakota tribes in South Dakota, part of the Oceti Sakowin (7 Council Fires). Bazille is the head of Wonahun Was'te' Studios/Records. Bazille is also the co-founder of the website NeverDeadNative.com – a platform which aims to create a celebratory place of discussion for Indigenous peoples who are interested in the realm of horror – alongside Dakota writer Dani Miller.
Terran Last Gun (Piikani) is a visual artist and Piikani citizen, a part of the Blackfeet Nation. Through revealing fragments of time, history and Indigenous Abstraction, Last Gun is creating a new Piikani art form with minimalist and geometric qualities that are rooted in meaning, content and place. In 2022, he was named one of the 12 New Mexico Artists to Know Now in Southwest Contemporary.
Kylie Wanatee, an enrolled member of the Rosebud Sioux Tribe, is from Rosebud, South Dakota, and is a rising sophomore at USD, pursuing a Bachelor of Fine Arts. She participated in the OHSAI in 2019, 2021 and 2022. Her artistic practice includes painting in acrylics, gouache on paper and oil paints.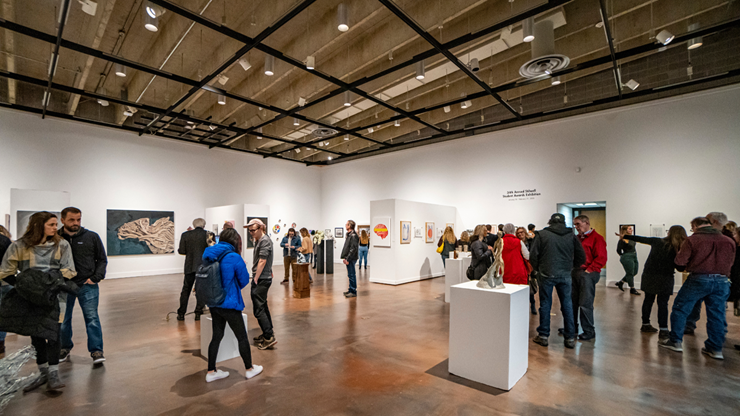 Six undergraduate students in the University of South Dakota College of Fine Arts will present a Bachelor of Fine Arts exhibition in the John A. Day Gallery on USD's campus from May 1-5.