USD Artists Complete Community Mural in Centerville
Two University of South Dakota artists, Amber Hansen and Reyna Hernandez, led a project to design a mural in Centerville, South Dakota, that reflects the history of the community. There will be a dedication event for the mural on Nov. 12.
The mural was painted on the side of Mushy's Bowling Alley & Bar and stretches 120 feet long and 20 feet tall. The wall was prepared over the summer and painted in the fall, with people of all ages living in and around Centerville joining in the painting process during the months of September and October.
The mural dedication and celebration event will take place at 4 p.m. on Nov. 12 at Mushy's. The lead artists and leadership team will share information about their experience creating the mural, with a reception and refreshments to follow.
"I am looking forward to celebrating the mural with our leadership team and with everyone who contributed time and energy to the project," said Hansen. "The mural was a big undertaking considering the scale and texture of the wall, in addition to navigating extreme weather conditions."
In the spring of 2022, Jared Hybertson, Centerville's economic development coordinator, invited local artists Hernandez and Hansen to design and create a mural with people living in and around Centerville. The lead design team members then conducted research and hosted workshops intended to generate ideas and themes for the design.
"I am grateful to our leadership team for the time they spent collecting and generating the ideas and for everyone who helped in the painting process," Hansen said. "The mural is a reminder that together we can imagine and create beautiful things."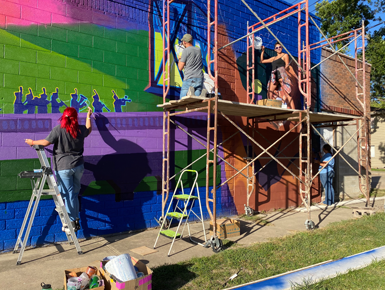 The mural represents the themes and concepts that emerged from group conversations, inspired by the personal and shared histories presented by community members. These ideas were used to create imagery that is both unique to, and reflective of, the place in which the mural exists.
"Working with members of the community helps us tell a complex and honest story about perspectives of home," Hernandez said. "We're interested in broadening the scope of shared histories and exploring the ways in which the nuances of our existence connects us. When we began the process of collective imagining in Centerville, we considered with the community things that are missing from the visual landscape and lesser-known histories of the place where they live."
The project was sponsored by the South Dakota Arts Council and the Centerville Development Corporation. Resources were provided by Midwest Ready Mix & Equipment and Fireball Industries Inc.
Artists from the University of South Dakota and Sioux City high schools completed a mural this summer for the Sioux City Art Center's Gilchrist Learning Center.
The Vermillion Community Mural Project recently completed their second installation of the indigenous-led, community-based mural project that spans across two sides of a historic building in downtown Vermillion.