From Business Operations to Estate Planning: Law School Leads to Career Change for Alumnus
Matt Gaul, J.D., a 2021 graduate of the University of South Dakota Knudson School of Law, recalls the experiential learning opportunities he was exposed to during his time at USD and reflects on how his experiences at the state's only law school propelled him into his career as an associate attorney.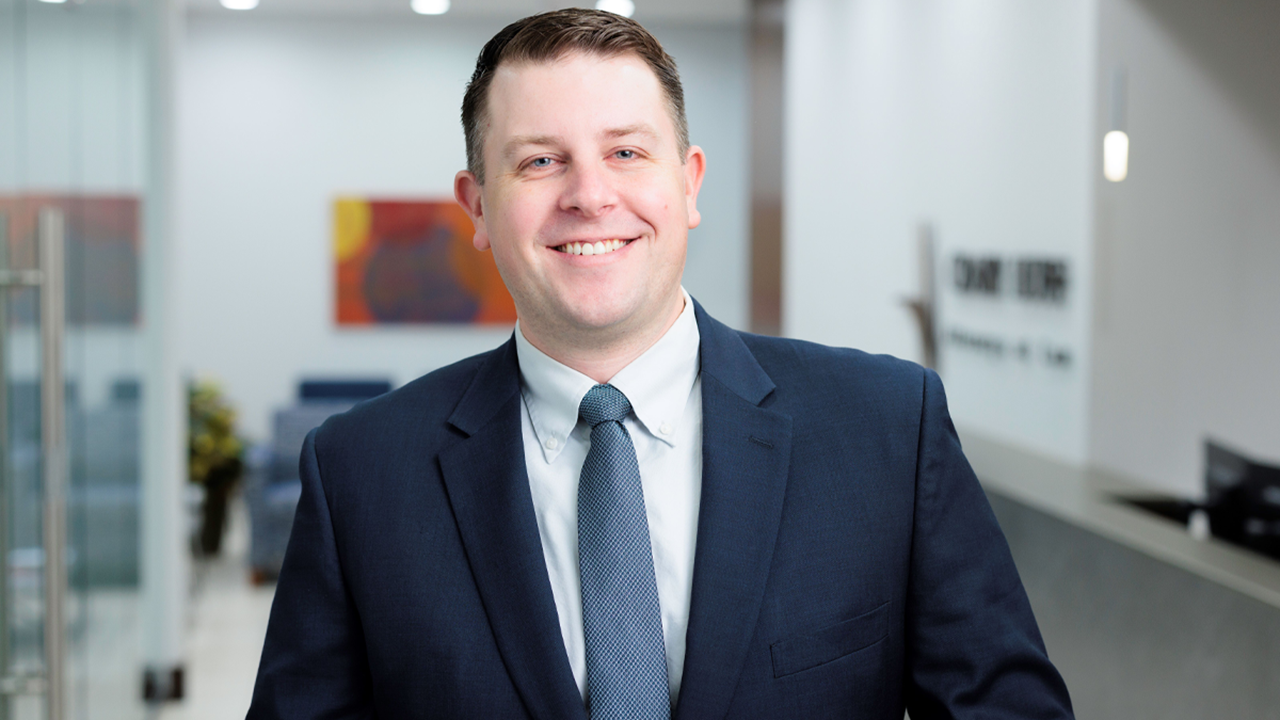 After graduating with a degree in business and human resource management from Briar Cliff University, Gaul began his career at Crary Huff Law Firm, P.C. in Sioux City, Iowa, in 2011. He served as the director of operations and oversaw various business functions of the firm until 2018, when he decided he was ready for a change. With support from the attorneys at Crary Huff, Gaul made the decision to go to law school, ultimately leading him to South Dakota's premier, nationally ranked law school.
"USD law reminded me a lot of the small, undergraduate university I attended," Gaul said about his decision to attend the Knudson School of Law. "Being able to get to know a large percentage of my classmates and having access to faculty and administrators created the type of learning environment where I could thrive. That said, the law school at USD is a small community within a larger university that offers a lot of amenities, resources and accommodations, so you get the best of both worlds."
After completing his J.D. at the law school, Gaul returned to Crary Huff, this time as an associate attorney. In this role, he works on the estate planning and estate administration team. Gaul spends most of his time consulting with clients, preparing estate planning documents, advising clients through estate administration and probate matters, and funding trusts with real estate, business interests and other assets. His favorite part of his job, he said, is "assisting families as they plan for their futures."
We asked Gaul about his experiences at the law school and how they led him to the work he does today, and this is what he had to say.
What experiential learning opportunities or internships did you have while at USD law?
I completed an externship with South Dakota's First Judicial Circuit during my second year. I also worked for Crary Huff Law Firm in Sioux City as a summer associate during my second-year summer. Combined, these opportunities allowed for well-rounded experience and feedback and advice from both judges and practitioners. There is so much you simply cannot learn in the classroom, so opportunities to see and experience the law in action are very important.
What activities or organizations were you involved with while at the law school?
I served on the board of the Student Bar Association (SBA), and I also served as a graduate assistant for the Legal Analysis and Writing (LAW) faculty. Because I was a nontraditional student and often had to leave town right after class, participating in SBA and working with the LAW department allowed me to get to know other students and faculty better. Some of my best memories from law school are from my time with SBA and LAW.
How did the USD Knudson School of Law prepare you for your career?
The USD Knudson School of Law provides a practical educational experience that not only educates students on legal doctrine but also gives students plenty of opportunities to experience the law in the real world.
What did you enjoy most about the Vermillion community while attending law school?
Vermillion is the perfect combination of "small town" and "college town." The locals are friendly, helpful and proud of their community, and there is also a lot to offer in terms of dining, recreation and social activities. As a commuter student, I never felt stranded when I had downtime between classes. There are lots of places to explore and hang out in Vermillion.
What is your favorite memory from law school?
Halloween with the LAW faculty and LAW graduate assistants was always a highlight of the year. Professor Marilyn Trefz and I once dressed as the Saturday Night Live Spartan cheerleaders, and we successfully pulled off a cheer that we memorized just five minutes before a costume contest. It was a lot of fun.
How do you stay connected to the USD law school and fellow alumni?
I've been fortunate to stay connected with many fellow USD law grads (several work at Crary Huff), faculty members and administrators. Our firm partners with the USD law school for the annual "Sioux City Night" networking event for students, alumni and employers, and this is always a highlight of the year for me. There is a large and proud base of USD Law alumni in this area, and it is great to connect, share stories and find ways we can benefit each other in our various roles.
The University of South Dakota Knudson School of Law was ranked No. 1 by BestValueSchools.org on the "20 Most Affordable Law Schools 2022" list for the second consecutive year.