USD Knudson School of Law to Host Dedication Ceremony for South Dakota Tribal Flags Installation
The University of South Dakota Knudson School of Law is set to host a dedication ceremony for nine newly installed flags representing the Native American tribes of South Dakota on Oct. 16 at 2 p.m. in the courtroom.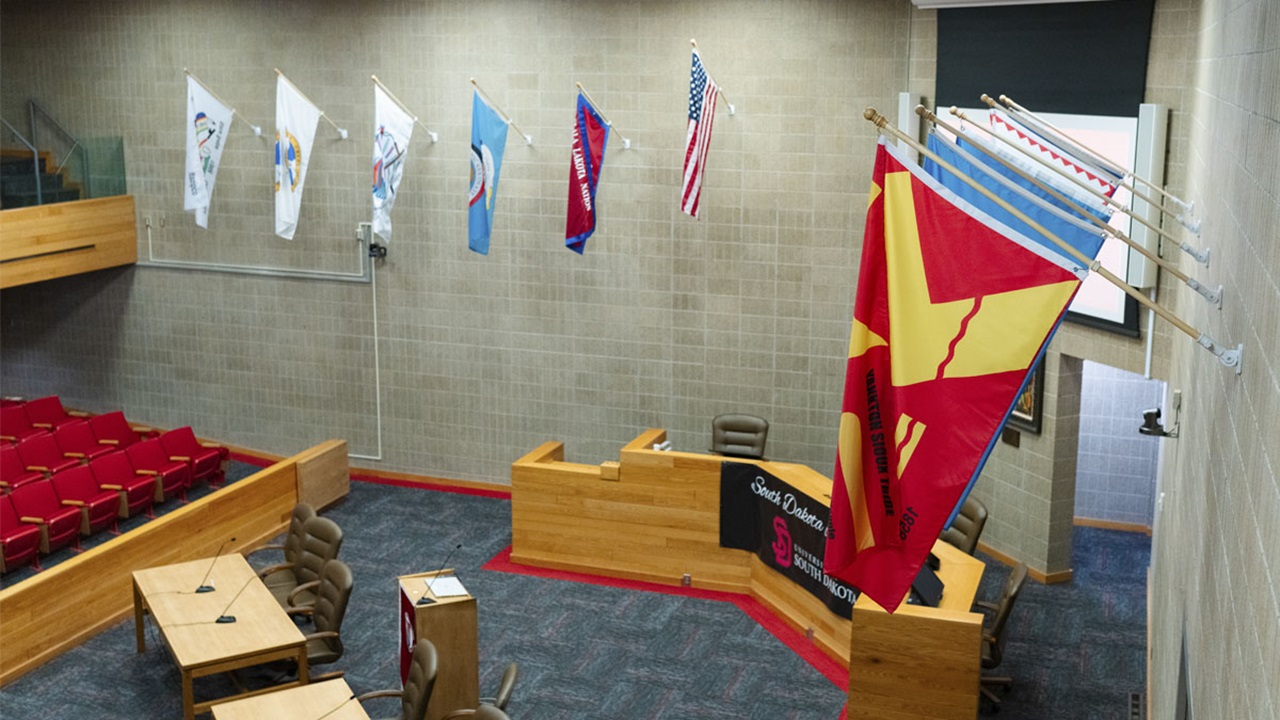 "Displaying South Dakota's tribal flags in the courtroom demonstrates our commitment to and celebration of our Native American students, as well as the legal communities we serve," said Knudson School of Law Dean Neil Fulton.
Maranda Herman '23, J.D., an enrolled member of the Oglala Sioux Tribe, initiated the process last year when she requested a flag from the Oglala Lakota Nation to be gifted to the law school.
"I feel the law school is doing all it can to be inclusive in today's world, and I wanted to support that mission by building the bridge between my tribe and my school," said Herman, a law and history instructor at Oglala Lakota College. "I felt a gifting of this nature would be a symbolic expression of solidarity and respect between our legal communities."
Event speakers include USD President Sheila K. Gestring; Knudson School of Law Dean Neil Fulton; Herman; Seth Pearman '12, J.D.; USD Native American Law Student Association President Marilyn Allen; and Judge Andrew Robertson '12, J.D. The Coyote Nation Drum Group (Sungmanitu Oyate H'oka) will present an opening and dedication song. Richard Moves Camp (Oglala Lakota) will give the opening prayer.
Following the event, attendees are invited to enjoy refreshments and live music by Kobe Jordan.