Mary Jo Olson Named Recipient of Edward J. Batt, M.D. Memorial Teaching Award
The University of South Dakota Sanford School of Medicine (SSOM) has awarded its Edward J. Batt, M.D. Memorial Teaching Award to Dr. Mary Jo Olson, a 1997 graduate and medical chief of staff at Sanford Vermillion.
The Batt award is given annually to a physician who holds appointment in the USD SSOM Department of Family Medicine for at least three years, teaches in one or more clerkships or courses and has received consistently positive faculty and student evaluations. Other factors considered include offering elective clerkships to SSOM students, providing service to SSOM and active participation in professional medical society activities.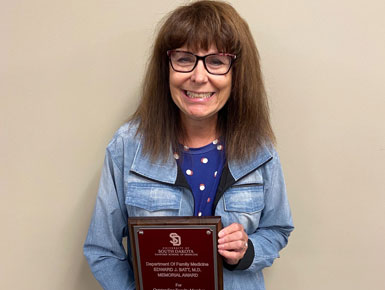 Board certified by the American Board of Family Medicine, Dr. Mary Jo Olson has been a faculty member of SSOM since 2003 and is a clinical professor. She has been very active in teaching in the Clinical Foundations and Family Medicine Preceptorship courses, the fourth-year rural family medicine rotation and the Alumni Student Scholar program. She has been a physician coordinator for the Frontier And Rural Medicine Program (FARM) since 2016.
Dr. Susan Anderson, dean of Rural Medicine and chair of Family Medicine at the USD Sanford School of Medicine, explains why Dr. Olson is a deserving recipient. "Dr. Olson is an exceptional and dedicated teacher and physician," she said. "She has been a clinical faculty member for nearly 20 years. She is always willing to teach and truly cares about her students. Her role in the Frontier And Rural Medicine program as the Vermillion physician coordinator is key to the program's success."
Most recently, Dr. Olson has championed the Vermillion student-run free clinic, is active in the governance of Sanford Health, has been active in the South Dakota State Medical Association (SDSMA) and the South Dakota Academy of Family Physicians (SDAFP). A scholarship in her and her husband's name, the Mary Jo and Dennis Olson Scholarship Award, was established to recognize a graduating medical student who has matched in family medicine. Dr. Olson was the Sanford Doctor of the year in 2016, and in 2018, she was recognized for having delivered more than 1,000 babies.

The Edward J. Batt, M.D. Memorial Teaching Award for excellence in family medicine teaching was established in 1978 after Dr. Batt's unexpected passing and first awarded in 1979 in his memory. Dr. Batt was a family medicine physician in Sisseton where he and his wife Anne raised their 12 children. In 1976 Dr. Batt joined the medical school in Sioux Falls, where he also taught in the family medicine residency program.