The Journey of a Medical Student
The foray into medical school holds different experiences and aspirations for each carefully vetted student, even though each class navigates similar academic challenges. Family and friends don't always fully comprehend what their student is immersed in.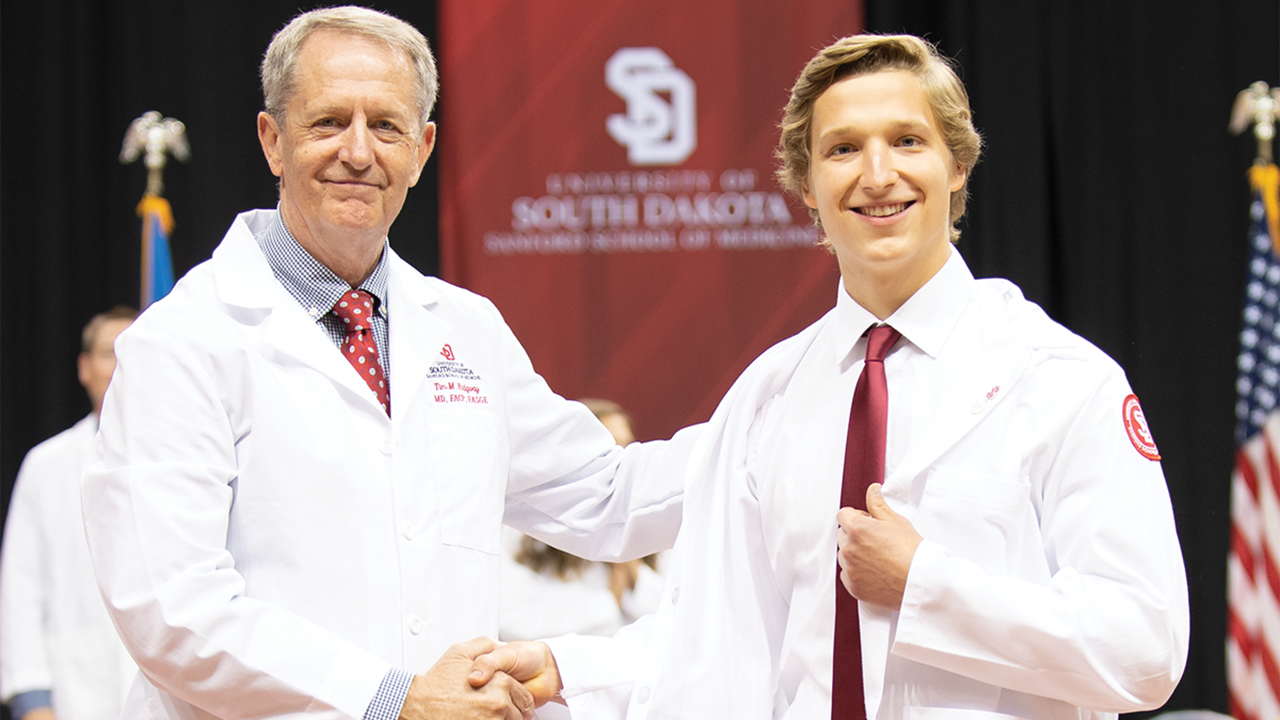 In this story, a first piece in a longitudinal series, we begin to follow the medical school journeys of six Class of 2025 students. In their own voices, these six students give you a personalized glimpse into medical school challenges and victories. We will continue to check in with them throughout their next two and half years at SSOM, until their Match Day and graduation.
Watch for future stories to follow along with their journeys.
What was going through your mind during your White Coat Ceremony?
Bailey Pickering: "I was proud of myself. It was a big moment and I reflected on what I was about to embark on."
Andrew Nerland: "It was an unforgettable experience for me. I couldn't help but feel a little bit of an impostor syndrome, being around so many accomplished people in what felt like such an important moment. But I worked really hard to get to that point. I felt so much respect and reverence and I embraced that moment. It's surreal. It's reinforcement that you are one step closer, when sometimes I've felt like it would never happen. When it all starts happening it's affirming."
Jerica Muzik: "I was super nervous in front of so many people. All my grandparents and immediate family drove to Vermillion just for that ceremony, and my college roommate and her mom streamed it online. I felt so much joy knowing all those people were there because they support me and were proud of me. I could hear my two young kids arguing in the audience, but I was happy to know they were there. I will never forget that."
Nadya EkhteraeeSanaee: "It was the best day of my life; it was so important. The work you put in before you get to that point is so grueling. You work so hard to be at the top of your class and put all your eggs in that basket. I was surrounded by excited people. My mom [Dr. Zohreh Safai '92] coated me. It was her first time being back in South Dakota in a long time and she was emotional from the second she got off the plane."
Nicholas Looby: "I was very happy with myself, I felt like I'd made it. My whole family was there supporting me, even both sets of grandparents. My dad [Dr. John Looby '94] coated me; it was very special."
Andrew Reuter: "My mom [Dr. Suzanne Reuter '00] coated me. I was really proud to get that opportunity because she's always been my inspiration. Now I get the opportunity to follow in her steps and to be coated by her in such a directly symbolic way was really meaningful to me, a privilege."
Now that Pillar 1 is behind you, what do you think of the curriculum?
Andrew R.: "As a Pillar 1 student, I really like the fact that classes can be taken in person on the Vermillion campus or watched online. I've done a mix of both in-person classes and online recorded lectures. Most of my classmates have really enjoyed that flexibility and ability to shift our schedules around. My favorite block from Pillar 1 was Medical Foundations 1 because I'm a huge anatomy fan. Some of it is review and some is new material. Getting my undergraduate medical biology degree set me up well."
Bailey: "Online classes are better for me. I prefer watching the lectures at my convenience."
Jerica: "The pass/fail curriculum is what allows me to be here. It allows me to survive school but also to be happy doing it. I'm not a full-time med student, not after 5 p.m. I won't miss out on spending time with my kids. Even though I might struggle, I know I'm competent. I might get down on myself if I got a not-so-great score on a quiz, but I know I'll do better the next week. Without pass/fail, I'd survive but would not be thriving. With small kids, I have different struggles than many of my classmates. Our experiences are different. There are a lot of different ways to look at pass/fail – we aren't in competition with one another so that builds relationships in class. Our class chats are filled with resources, constantly wanting to help each other, and that's a huge benefit."
Nadya: "When you get here, it's confirmation that you are good enough. If you weren't good enough, you wouldn't be here. The volume of information that we learn is insane. It's challenging but exciting. It's encouraging to get past the basic science coursework and into the system blocks because it feels more like real medicine. Studying has become second nature now. Studying eases my anxiety."
Nicholas: "I like the pass/fail system, because we can focus more on clinical knowledge over learning from a textbook or lecture. I was surprised by how close I'd get to my classmates. We hang out all the time. The environment went from competing in pre-med to collaborating, and everyone wanted to do better and help each other. As far as time management, you choose what's important to you. I had to change my study habits within the first two months. Some things will get neglected but you need to remember what fuels you and what will recharge you. The workload is intense. It's like drinking from a fire hose."
Andrew N.: "The pass/fail curriculum has fostered a collaborative environment. Our class is always supporting one another. I don't think anyone is interested in only passing, we all want to reach our potential. I was surprised at how capable of learning I am. Here you have to constantly rise to the occasion, and it all builds on itself."
Who or what was your inspiration for becoming a physician?
Jerica: "The idea of medical school came to me over the course of a few years. As a high school junior I won a South Dakota School of Mines math competition and my teacher said it would be great for a med school application. During my undergraduate years, I was involved in HOSA and research. Most of the research was with fruit flies and depression substance dependence assays. I liked the research but knew I didn't want to do benchwork for my career."
Andrew N.: "This is really where I belong. Getting into medicine was an organic process, it slowly felt right. A significant experience that helped confirm medicine as my career path was working as a medical scribe in the emergency department at UnityPoint St. Luke's in Sioux City, Iowa, where I observed the approaches of numerous doctors across a wide variety of situations. I learned a lot about the logistics of patient care and the clinical setting, about patient care as a whole and high stakes medicine. I also learned a lot about the emotional circumstances and toll associated with medicine. Working so close to emergency physicians in the emergency department was extremely insightful and motivating."
Andrew R.: "My mom, Dr. Suzanne Reuter, is a pediatric neonatologist and assistant dean of medical student affairs at SSOM. She always portrayed what it means to go into medicine for right reasons. Seeing the example she set made the profession incredibly attractive to me. She's a great physician and I'd like to be half the physician she is some day."
Bailey: "I had worked as a CNA at several nursing homes and did some home health care. I loved those CNA positions because I had patient contact. My college experiences reinforced that love. Dr. Richard Holm had a big impact on me. During my undergraduate years at SDSU, I was involved in the "On Call With the Prairie Doc" show for four years, taking phone calls and visiting with the physician guests. We had a really good HOSA program at Harrisburg High School, which I was involved in. I was one of the first three or four South Dakotans to place at the national competition – I got ninth place. That is one of the many serendipitous moments I've had in my life that led me to med school. It was such a great experience and that is another reason I ended up on this path. There was just a culmination of experiences that made me want to become a physician."
Nadya: "In college, I worked as a cardiology medical scribe and a student assistant at the physical therapy clinic on campus, but my mom is my inspiration. She led by example. She came to the United States as a teenager and learned English. She worked as an X-ray tech, bought a house and supported my grandparents, and then became an awesome doctor. She loves her job and finds it very fulfilling. She gets emotional about the patients that she's helped, and that touched me. She has never complained about the actual nature of her work and that made me feel like medicine could be a good choice for me. She set the best example in so many areas. She does an excellent job in each one. I want to be like my mom."
Nicholas: "I really liked working as a patient care tech at Monument Health while I was in high school. Being around my dad, who is an internal medicine/hospitalist at Monument, was also a huge influence. I remember when I was a kid, people would approach him and tell him how much they appreciated him. My mom is a nurse, and so she was an influence as well. I've always had a passion for solving puzzles and figuring out what the problem is. My high school physics teacher set me on a path of challenging myself and solidified my love of science and math. He pushed me to follow what I want."
How do you decompress from the stressors of medical school?
Nicholas: "I spend time with my fiancé and try to run about three miles every day. I love to ski, which I can't do much of now, but I'd like to do more when I can. I've learned it's important to take breaks and time off. I got a dog, which I recommend—my mini golden doodle, Lila, helps me with mental health."
Jerica: "I do DIY projects with my husband to wind down. It helps me learn about myself and I could not function without creativity. I tried to cut it out at the beginning of med school, and I suffered for it. I didn't do any better on quizzes, so I decided to put a limit on how much studying I'd do. I set some hard limits and I think I'm one of the happiest people in my class."
Andrew R.: "Running helps me to de-stress. I've always been active and running has been a good way
to get away for a few minutes. I also spend a lot of time with my family and my girlfriend. They are what energize me and bring me peace. In times of stress being around them grounds me. It's been very stressful, but I've been very lucky to have that support system."
Andrew N.: "I do weightlifting, running and physical fitness in general at the USD Wellness Center. I try hard to maintain taking a break by doing something that's good for me."
As of now, what area do you intend on practicing in?
Nadya: "As of now I am interested in either family medicine or cardiology. I really value longevity of care and enjoy the outpatient setting. The clinic environment is so calm. I also have an undergraduate degree in economics, so if I feel comfortable speaking on behalf of my patients, I may also consider doing some health care policy in addition to practicing someday."
Nicholas: "I've shadowed physicians at Sanford, Avera and Monument, but I'm still figuring out what area I'll go into. I like pediatrics. I also am interested in emergency medicine, internal medicine, radiology and anesthesiology."
Jerica: "What I love about family medicine is the variety. They make all the difference to so many people in the heart of South Dakota. That's where I want to be. The most amazing part is the utter spread of people you get to care for, the longitudinal care you get to give. Family medicine physicians care for people their whole lives, and their babies, I think that's amazing. More than any other specialty, you get to be an involved community member and I want that for my life. Your physician will end up being one of the constants in your life and that's what I want to do for people."
Bailey: "I'm leaning toward primary care but keeping an open mind. If I had to choose today, I'd say family medicine. I'm drawn to that. It stems back to being a CNA and having continuity of care, anticipating their needs because you know them so well."
Andrew N.: "I'm leaning toward psychiatry or primary care. I've always been drawn to those areas. I feel like I can connect with patients and make a difference. I've shadowed in those areas and it feels like something I want to be a part of – but I am open to other opportunities."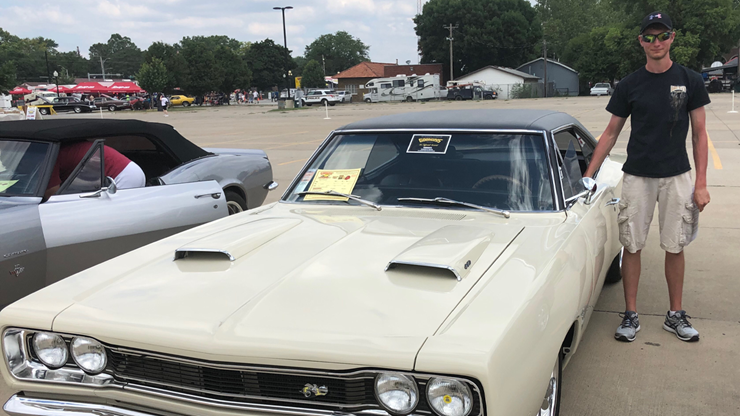 Restoring classic cars, helping out on the family farm and beating his friends in Mario Kart tournaments are just a few of third-year Sanford School of Medicine (SSOM) student Gaven Bowman's favorite pastimes. Restoring cars, a family affair for Bowman since his early days, has proven to have several parallels to the art of medicine in his eyes.
The Sanford School of Medicine and alumni celebrated together on May 5-6, honoring the Classes of 1973, 1998 and 2013.
As the stage of training following graduation, residency programs offer medical students opportunities to focus on their fields of specialty.