Unique Program Develops Physicians for South Dakota's Rural Communities
A group of 11 medical students are learning about and practicing rural medicine during a nine-month track at clinics and hospitals in seven small communities across South Dakota as part of the University of South Dakota's Sanford School of Medicine's award-winning rural preparation program, Frontier And Rural Medicine (FARM).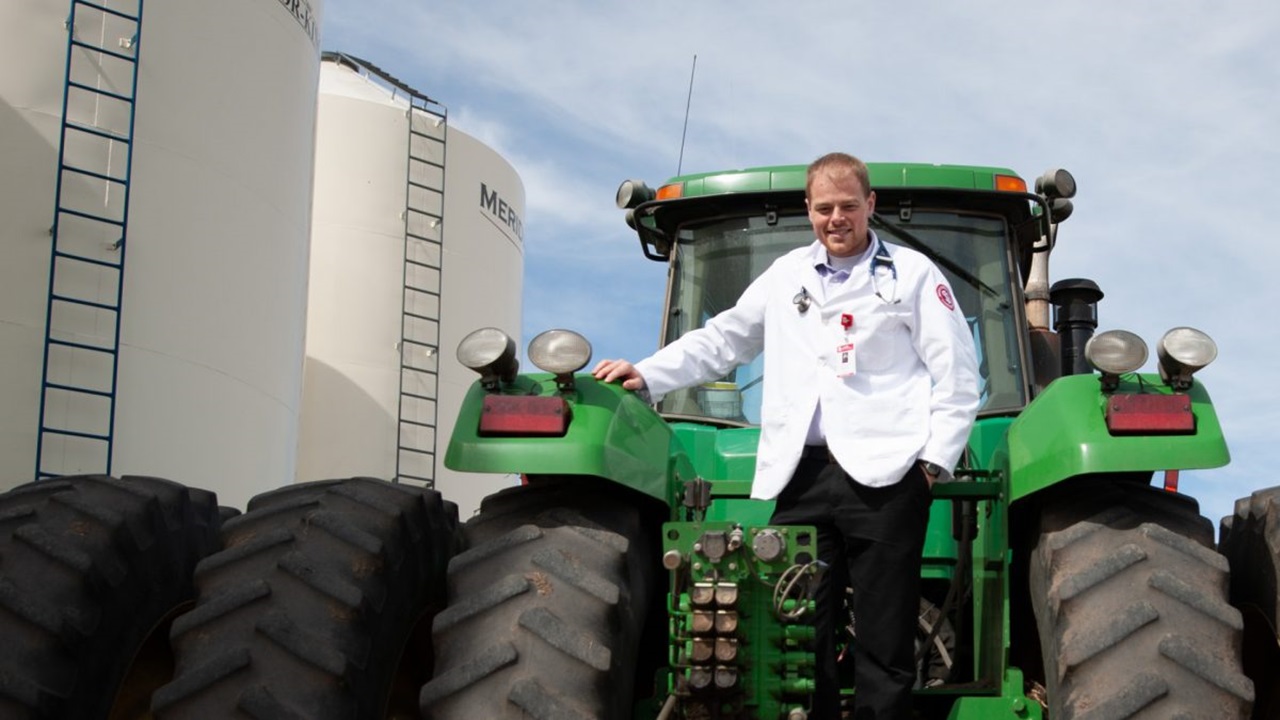 The overarching objective of FARM, which is now in its seventh year, is to encourage medical students to plan for a primary medicine career serving rural residents, especially those in South Dakota.
FARM offers this unique opportunity to students in the USD medical school who are in Pillar 2 and their third year of medical school. The process to determine FARM students is selective. Through the nine-month program, students learn the rewards and challenges of practicing in a rural community, engage with community residents and stakeholders and develop a level of comfort at practicing in a rural health care setting.
The students reside in the communities they serve, and under the supervision of practicing physicians they can assist in—and even lead--patient care, including conducting exams, delivering babies, helping with diagnoses, planning treatment and working in a variety of other health care capacities.
"The FARM program provided a great hands-on experience," explained Dr. Rebecca Cooper, a member of the medical school's Class of 2020. "FARM allowed me to become part of a team caring for patients rather than serving as a bystander. The responsibilities I was given have served me well into my residency where I am the primary physician caring for my patients."
Cooper, a Parkston, South Dakota native, is currently doing her residency at the Sioux Falls Family Medicine Residency Program. She performed her FARM training in Vermillion, South Dakota.
Dr. Austin Eggers, another member of the medical school's Class of 2020, is also a resident at the Sioux Falls Family Medicine Residency Program. His plan is to eventually establish a medical practice in a rural setting.
"The FARM program is excellent for training you to be a well-rounded physician," said Eggers, a graduate of Rosholt High School in Rosholt, South Dakota. "I was able to care for many continuity patients in the clinic, hospital, emergency room and delivery room in Milbank, South Dakota. That set me up for success in my family medicine residency and for a future rural practice."
Students in the medical school's Class of 2024 are the ninth class to be recruited into the program. The program has seen 34 students successfully match into residencies following graduation. Twenty-three of those students matched into some aspect of primary care, including family medicine, internal medicine, pediatrics and obstetrics. Fifteen students in that group chose family medicine.
The program is helping the university and medical school achieve its mission to educate and prepare medical students for primary care service, with an emphasis on rural practice.
The program began in 2014 with six students in five communities. FARM's current 11 students are at seven different sites, including health care facilities in Milbank, Mobridge, Parkston, Pierre, Spearfish, Vermillion and Winner, reflecting the growing popularity and contributions of the program.
"We are grateful to the communities, clinics and hospitals that have embraced the FARM program and welcomed our students into their local health care family," said Dr. Susan Anderson, executive dean and chair of the medical school's Family Medicine and Rural Medicine programs. "FARM teaches students to be part of a rural community while they take care of neighbors and emulate the excellent care already provided by local physicians and health care teams."
In 2017, the USD Sanford School of Medicine was awarded the prestigious Foreman Award, widely regarded as the most coveted annual award by the nation's 150 medical schools. Selected by the Association of American Medical Colleges (AAMC), this recognition focused on the medical school's community service in South Dakota, especially its service to rural communities. USD's innovative FARM program was an integral aspect of that recognition.
The FARM program is one of the reasons USD's Sanford School of Medicine is consistently rated one of the top medical schools in the country for producing rural physicians. The school's student body is primarily South Dakotans, and it blends students from the state's rural areas and small towns with those from the state's larger communities.