Walking Forward Program Strives to Mend Cancer Disparities in American Indians
Dr. Daniel Petereit, a radiation oncologist at Monument Health Cancer Care Institute in Rapid City, South Dakota, is working to provide equal health care access to American Indians through his cancer research program, Walking Forward.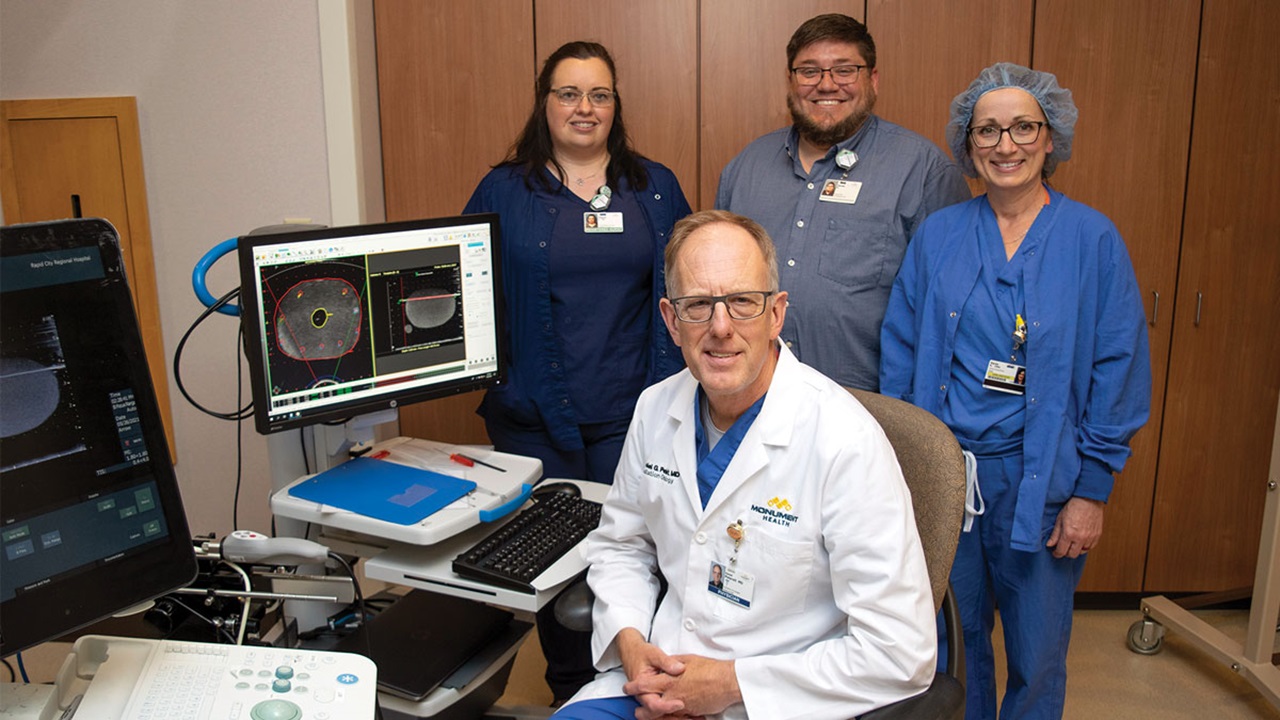 "Where you live should not determine how you fight cancer."
Perhaps no one understands this edict more than American Indians in the Northern Plains.
With Dr. Daniel Petereit as its catalyst, Walking Forward is a cancer disparity research program that intends to dismantle that pronouncement by providing screenings and health care access to American Indians in South Dakota who face roadblocks to receiving such care. Among those barriers: American Indians have the highest lung cancer mortality rate in the United States. The average distance to a treatment location is 140 miles one way, and six of the 10 poorest counties in the United States are located on the Pine Ridge, Cheyenne River and Rosebud reservations in South Dakota.
Walking Forward seeks to address these significant disparities between American Indian and non-American Indian populations throughout South Dakota. The community-based participatory program was developed in 2002 at Rapid City Regional Hospital (now Monument Health) with a Cancer Disparities Research Partnership (CDRP) grant from the National Cancer Institute (NCI). Specifically, the program serves the American Indian community members from the Cheyenne River Sioux Tribe, Rosebud Sioux Tribe and Oglala Sioux Tribe, as well as urban American Indians living in and around Rapid City.
Petereit is a radiation oncologist at Monument Health Cancer Care Institute in Rapid City. With his father's influence as a radiologist, and with a background in primary care, Petereit had always wanted an opportunity to help rectify health disparities. Growing up in Sioux Falls, the junior Petereit always had an interest in what he could do as a physician to address serious health issues.
A 1989 graduate of the USD SSOM, Petereit trained in radiation oncology at the University of Wisconsin, with additional oncology training at the MD Anderson Cancer Center in Houston, Texas. He moved to Rapid City in 1999 to work for Monument Health. Three years later, he'd see an opportunity and start up Walking Forward.
Regional Health was a well-suited candidate. With Petereit as its principal investigator, the inaugural Walking Forward project won the very competitive NIH grant in 2002 to assess barriers and gain access to communities with wide cancer disparities. Walking Forward was the first of six sites around the nation that were initially approved for the NIH funding and two decades later, continues its important work.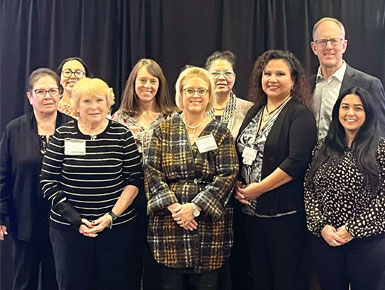 Of the project's 10 staff members, six are enrolled reservation members based in Rapid City, Pine Ridge and the Cheyenne River Sioux Indian Reservation and live in the communities they serve. There has been very little turnover, and some staff have been working with the project for nearly two decades. "They have a passion for doing this; they know their work can mean inroads," said Petereit.
Dr. Norm Coleman, one of Petereit's mentors and associate director of the NCI Radiation Research Program in the Division of Cancer Treatment and Diagnosis, said, "Walking Forward is the most impressive community program I've ever seen. Everyone involved has shown a level of dedication to the American Indian population. By overcoming concerns and through all the trust building, Dan and the team have done a really fabulous job. We use Walking Forward often as an example of what can be done. It's really pioneering stuff. Dan shows it can be done and people didn't think he could."
As a national expert in brachytherapy, Petereit holds a leadership role with the American Brachytherapy Society (ABS) and is an exam developer for the American Board of Radiology for gynecologic cancers. In addition, he has worked with the International Atomic Energy Agency (IAEA) to develop treatment guidelines for cervical cancer and the use of brachytherapy for other malignancies. He is also an American Society for Radiation Oncology (ASTRO) and ABS fellow.
"He's a remarkable person to lead the Walking Forward project," Coleman explained. "He's a great leader, he's straightforward, and he does things for the right reasons. He works his heart out for patients and the community and is a remarkable motivator."
In 2014, Walking Forward aligned with Avera Health and became one of its community research programs. Initial partners were the Mayo Clinic and the University of Wisconsin, with Walking Forward serving as the implementation arm of the project. Additional partners over the past 11 years include Georgetown University, Columbia University, Massachusetts General Hospital, Bristol Myers Squibb Foundation, Irving A. Hansen Memorial Foundation, Pink Pony Polo Ralph Lauren Foundation and South Dakota communities— and the list continues to grow and evolve.
Through its phases of funding, Walking Forward has accomplished much to be proud of. Just wrapping up its fourth phase of funding and now underway into its fifth, Walking Forward has held community education, cancer screenings and clinical trials, smoking cessation programs and lung cancer screenings. The organization received $350,000 for low-dose CT scans and physician and patient education and thus, have seen a dramatic increase in lung cancer screening.
Promising Outcomes
To date, more than 5,000 American Indians have participated in clinical trials with Walking Forward and higher rates of cancer treatment completion have also been recorded. Recent data analysis also suggests that American Indian cancer patients with screen-detectable cancers are now presenting with earlier stages of disease and experience higher cure rates.
"We've also witnessed increased trust among the tribal community, due to being well-embedded in the communities, and that we're there for the right reasons," Petereit explained. "Patient navigators have been integrated into Indian Health Service (IHS) facilities in South Dakota. Relationships have been built and new research partners identified."
According to Dr. Coleman, Petereit and his team "develop levels of trust so that health care in general can be accomplished better. It's an example of how people can work together," he said. "I was so impressed by my first meeting in South Dakota. Patients were saying, 'This is the first time we have sat down in a room together.' Helping one another brings so many good things. The level of care in general has heightened because people learned how to improve care in a trusted way."
To continue the legacy of improved care, Petereit says that radiation oncology physicians must be trained in brachytherapy, a successful and cost-effective treatment for cancer treatment worldwide—especially for rural populations that often lack access to cancer care. "We are seeing a decrease in brachytherapists as this modality will die off unless more physicians are properly trained," he said. "For example, we are seeing more advanced stages of prostate and cervical cancer. As the recent president of the American Brachytherapy Society, we implemented a national program for residency programs to train brachytherapists so patients have access to high-quality brachytherapy, which is potentially curative. We need to preserve this treatment that is so effective for these patients."
There is indication that Walking Forward can serve as a model for other countries to follow; and although Petereit doesn't necessarily see himself piloting that next phase, he is confident he and his team have built a sustainable model for worldwide impact. His goal to find someone who is interested in transitioning in the next few years to taking over Walking Forward; something Dr. Petereit is working feverishly on.
Networking is key, and Petereit seizes opportunities to spread the word about Walking Forward and its results. He presents around the country with organizations such as the American Brachytherapy Society (ABS), American Society for Radiation Oncology (ASTRO), the American Cancer Society with its Diversity, Equity and Inclusion initiatives, and at various universities around the U.S. In those addresses and in his conversations, Petereit has a message for physicians: "You can make a difference. As a physician, you are positioned to make a difference. Medicine presents opportunities and Walking Forward is one of those unique opportunities, to be sure. The stars aligned to make it happen."
Obtaining funding every five years has been, and continues to be, Walking Forward's principal challenge. "We have to secure funding to continue our work," explained Petereit. "We've been fortunate, we've persevered, we're getting our name out there because of the community outreach our staff has done. Foundations must be willing to invest in cancer research and outreach."
In the future, Walking Forward plans to step beyond cancer treatment issues and encourage American Indians of western South Dakota to focus on all health issues throughout the continuum, and it hopes to expand research to all frontier populations. Petereit explains that Walking Forward needs to continue breaking down barriers to screenings and care, and that expanding Medicaid would be very helpful in getting more American Indians access to preventive care.
"Our brothers and sisters suffer from health issues that we can help address," Petereit said. "We need to understand their culture and challenges, like geographic access. Understanding the underfunding of the IHS and being culturally sensitive is very important. Lots of progress has been made with programs like Indians into Medicine (INMED), and we see Lakota medical school graduates come back to work here, and that builds more trust. But there is still so much to be done."
Through research and outreach, Walking Forward aims to:
• Increase cancer screening
• Increase detection of cancers at an earlier stage
• Increase cancer survival rates
• Improve the quality of life for American Indian cancer patients
Walking Forward's Vision
To improve the quality of life for American Indian cancer patients from early detection, successful treatment and survivorship—including end of life care.
Walking Forward's Mission
This has been and will continue to be accomplished through access to screening, state of the art cancer treatments and clinical trials, and comprehensive patient navigation.
The Sanford School of Medicine and alumni celebrated together on May 5-6, honoring the Classes of 1973, 1998 and 2013.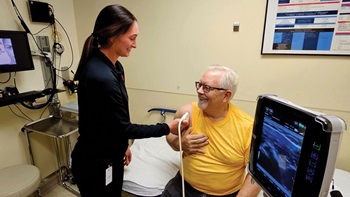 Sanford School of Medicine research centers move the needle in South Dakota rural health improvement.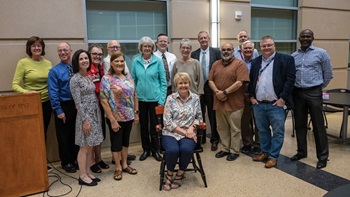 On May 19, Cathy Logue's last day of employment with the Sanford School of Medicine, she reflected on and celebrated 34 years of helping students gain skills and confidence in foundational learning.