A Better Future for All
Addressing health disparities is a top priority for Marie Chisholm-Burns, '21 Ph.D.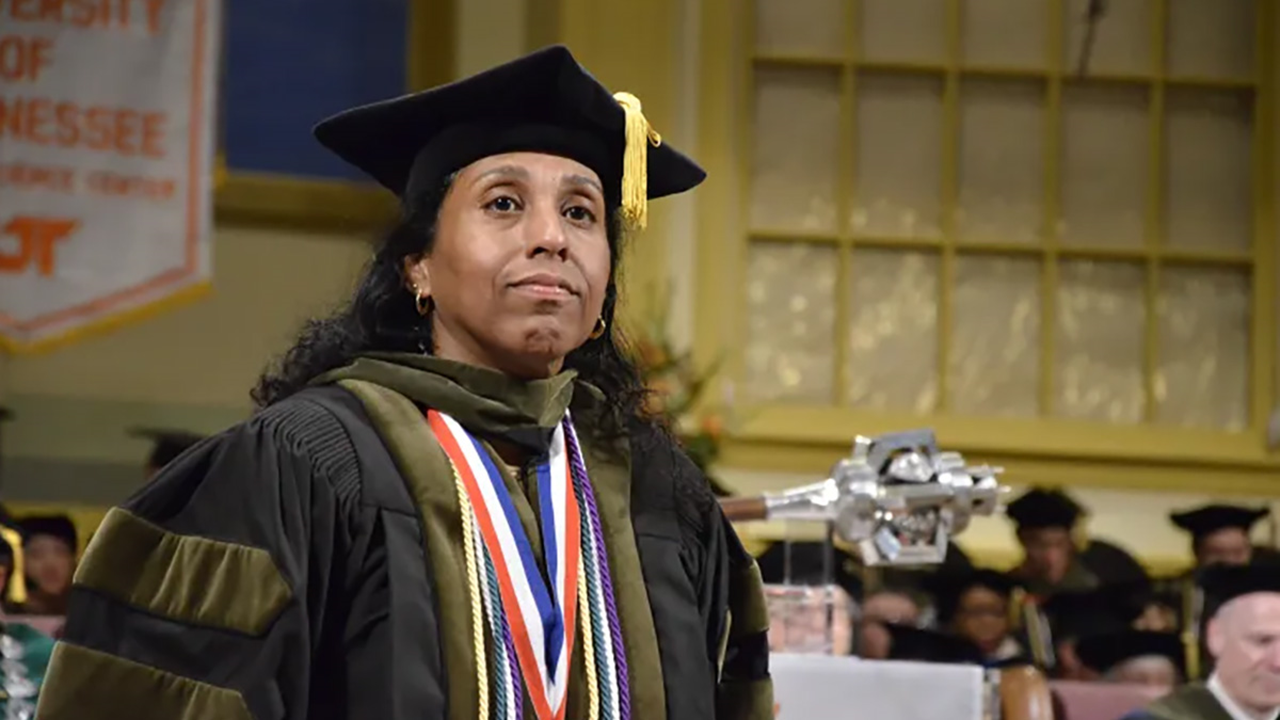 As dean of the University of Tennessee Health Science Center (UTHSC) College of Pharmacy, and with an abundance of accolades, grants and publications to her name, Marie Chisholm-Burns, Ph.D. is no stranger to high achievement.
As a 2021 alumna of the University of South Dakota's Ph.D. in Health Sciences program, Chisholm-Burns exhibits the program's virtues in a high-impact way. Currently, she has dual appointments as UTHSC Distinguished Professor in the Colleges of Pharmacy and Medicine. The College of Pharmacy has three campuses, located in Memphis, Knoxville and Nashville, Tennessee.
But recently, she was named to the position of executive vice president and provost of Oregon Health & Science University (OHSU) and will lead one of the most influential and prestigious health science centers in the country. She will assume that role in July.
OHSU is a public research university entirely dedicated to health sciences with a main campus, including two hospitals, in Portland, Oregon. As the state's only public academic health center, the system of hospitals and clinics across Oregon and southwest Washington is a leader in caring for patients, educating health care professionals and conducting extensive research.
Where she is soon headed and where she started out are, quite literally, at opposite ends of the country. Chisholm-Burns grew up in Hempstead, New York, as an only child to hard-working parents who instilled in her that she was not bound by circumstances. She embraced math and the sciences, but not until her 10th grade year at Long Island Lutheran High School, when she started taking advanced classes. "My parents taught me to drive hard, work hard, do the best you can, find ways to work around things, go get things done, be nice to people and do the right things," she said.
Her post-secondary educational pursuits would take her to Georgia College for a bachelor's degree in psychology; to the University of Georgia for a Doctor of Pharmacy degree; Emory University for her MPH; and the University of Memphis for an MBA. Working in post-secondary education for 27 years at four comprehensive universities and academic health science centers—the University of Georgia, Medical College of Georgia (Augusta University), University of Arizona, and UTHSC has certainly provided Chisholm-Burns with an arsenal of constructive experiences and relationships.
Yet, she remained curious. She wondered if there was more education in store for her; more opportunity to make an impact.
She discovered USD's
online Ph.D. program
, and knew it was the right program for her.
"The Ph.D. in Health Sciences is ideal for working professionals within the health sciences, like Marie, to be able to continue with their current jobs and advance their degrees," explained Kory Zimney, Ph.D., associate professor of the Department of Physical Therapy and director of the Ph.D. in Health Sciences program. "Our program also provides students the ability to broaden and deepen their knowledge in the areas of teaching and leadership and issues in health and human services."

Chisholm-Burns stated, "The school and the program were so responsive, and they care about their students. My courses provided a lot of diversity, which I enjoyed. My advisor, Patti (Berg-Poppe), was great. She gave me a broad perspective and broadened my horizon."

For Chisholm-Burns, working on a Ph.D. during the COVID-19 pandemic was serendipitous: It was a time where she could apply the "bridge-building mentality" of her childhood as well as be challenged to do more.

After 10 active years at the University of Tennessee Health Science Center, she's proud of the accomplishments she's been a part of. "It's been a busy 10 years," she reflected. "I'm very proud of what we accomplished with the student body and its diversity, and I'm proud of the increase in research as well."

Now she, her husband John and 18-yearold son John Jr., are ready for their next phase.
"Sometimes I pinch myself," Chisholm-Burns stated. "I've made a lot of moves: New York to Georgia, then to Arizona and Tennessee and now, to Oregon, but the last two years have given me pause. And honestly, I believe this next move is the culmination of what I've been working toward. It's a perfect blend of health care, opportunities and education, at a place that is innovative and bold and provides excellent health care and education.

"I'm at a point in my life where I want to utilize the time I have to make the biggest difference I can make," she continued. "OHSU provides a place where all my passions intersect in a way I can really get behind. OHSU is the right place for me and now is the right time. And USD helped me get to where I am."