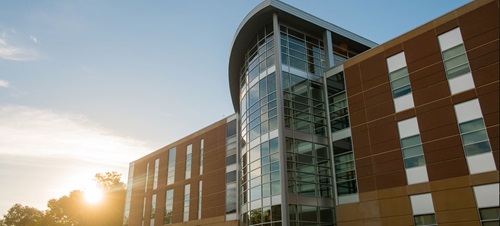 Health Sciences
As you earn your doctorate in health sciences, you will study teaching, leadership, advanced practice and scholarship to develop the skills needed to lead in academia, research and/or health and human services practice.

Be a leader who shapes the future of health care
As a health sciences student at USD, you will gain a robust education in teaching, leadership, advanced practice and scholarship as you prepare for the next step in your career. We emphasize evidence-based practice and a person-centered approach, equipping you with a range of skills that will be invaluable in a variety of settings. Course delivery is designed to be complementary to your working schedule, with classes offered online with limited expectations for face-to-face contact.
Whether you are interested in leadership roles in academia, research, health services or earning your certification as a behavior analyst, a degree from USD can help you achieve your goals.
Degrees & Offerings
Health Sciences: Applied Behavior Analysis (M.S.)
Master's
This comprehensive program is designed to equip you with the knowledge and skills to become a proficient behavior analyst. This program requires 30 credit hours and is offered online. One course is offered in a hybrid format to gain practical hands-on experiences through supervised training in our Sioux Falls, South Dakota location. Establish a deep understanding of behavior analysis principles and evidence-based interventions to address behavioral challenges across diverse populations. You'll graduate with the knowledge and skills you need to work toward your career as a Board Certified Behavior Analyst (BCBA®).
Learn More About the Applied Behavior Analysis Specialization
Health Sciences (Ph.D.)
Doctorate
USD's Ph.D. in health sciences requires 75 credit hours and is designed for practicing health care professionals who are ready to take on the responsibility to shape the health care industry, improve patient outcomes or teach the next generation of practitioners. The online program's flexibility also accommodates your unique interests; you can choose elective coursework, project topics and dissertation directions that are tailored to your individual career aspirations and research interests. You'll study teaching, leadership, advanced practice and scholarship as you prepare for leadership roles related to health. Ideal for working professionals, you can tailor the curriculum to meet your individual career aspirations and research interests through elective coursework, projects completed within courses and your dissertation.
Program Details
Graduate
College
Department
Contact
Graduate Admissions
Known for Excellence
With qualities like small class sizes, specialized programs and incredible student opportunities, USD is not your typical university. What makes us unique is what makes your education exceptional.
USD is home to the state's only comprehensive health sciences school and medical school.
USD offers courses online to accommodate the busy, working professional's schedule.
Whether you live in-state or out-of-state, USD offers one low and affordable online tuition rate.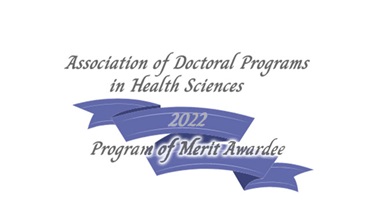 USD Ph.D. in Health Sciences Program holds Program of Merit designation from the Association of Doctoral Programs in Health Sciences.

Departments & Facilities
Explore the departments, facilities and centers that contribute to your education in public health & health sciences.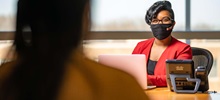 The Department of Public Health and Health Sciences emphasizes collaborative learning, equipping students with a rich understanding of the health care field and preparing them to excel in careers such as advocating for health policy, promoting health through education, managing health data analytics and leading collaborative health care teams. The department offers degrees at the associate, bachelor's, master's and doctorate levels.
Faculty & Staff
Get to know the faculty and staff in the Department of Public Health and Health Sciences. Our faculty are experts in their field, contributing research and scholarship in productive aging and gerontology, management of chronic disease, health and culture, attachment, Native American health and more.
Take Your Classes Online
We're committed to bringing our knowledge to you. USD serves the largest number of online students in the state of South Dakota. With competitive online tuition rates, we offer the same price whether you're out-of-state or an in-state resident.
View all online programs
Surprisingly Affordable
Whether you've recently completed your undergraduate degree, or you want to kick your career up a notch, graduate school is the next logical step. The good news is there is funding for both online and on-campus students to get you through your program.
| | GA (Resident*) | Resident | Online | Non-Resident |
| --- | --- | --- | --- | --- |
| Tuition (1 cr.) | | | | |
| GAF Fee (1 cr.) | | | | |
| Total | | | | |
More About Tuition & Fees
Tuition rates are subject to change and may vary depending on the program or department. Visit the Graduate Tuition & Costs page for more information.
* Graduate Assistant (GA) rates are available for resident, non-resident and online students.
** Resident rates may be available to you through the SD Advantage, Child of Alumni or Western Regional Graduate Program. To see if you quality, visit usd.edu/grad-tuition.