School of Health Sciences Invests in Student Mental Health
Today's college students face a great deal of uncertainty and many hurdles throughout their academic careers. Aftermath of a global pandemic paired with common stressors can oftentimes cause feelings of distress and hopelessness in young adults.
According to The Healthy Minds Network, one of the nation's premier research organizations contributing to young adult mental health, over 60% of college students present with at least one mental health problem. This is compounded for students in the Health Sciences as they prepare for a workforce that is drastically dealing with mental health issues. Recent research points out that 93% of health care workers reported stress, 86% reported anxiety, and 76% reported exhaustion and burnout (MentalHealthAmerica.org).
To help address this critical situation, the University of South Dakota School of Health Sciences identified individual mental health and wellness as one of its top five priorities in its most recent strategic plan. The need for more student support and care has become evident in the past few years, and the School of Health Sciences has responded by embracing a culture of well-being and delivering better tools to support student personal growth. This is a vital initiative not only for students while they are in school; but it is also important they learn resiliency skills and build social and emotional capacity to help them combat the stressors they will face working in the increasingly challenging health care environment.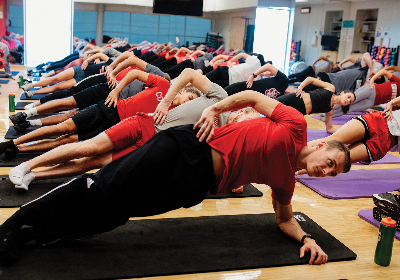 "Students can struggle with studying effectively, time management, and dealing with personal expectations," explained Michele Seaton-Bertsch, recruiter for the School of Health Sciences. "It is important that students know about positive ways to deal with any type of stress."
One of the champions of the well-being initiative is Kory Zimney, associate dean for faculty/staff affairs. "As future health care professionals, our students must learn that 'self-care' is not 'selfish care,'" explained Zimney. "They need to take care of their mental, physical and social well-being to be at their best to care for their current and future patients. All the School of Health Sciences departments are committed to supporting our students and helping them on this lifelong journey of maximizing their well-being."
On campus, the USD Student Counseling Center is an available option for one-on-one sessions, offering weekly student well-being and health sessions specifically for SHS students. These sessions, provided in-person and via Zoom, discuss topics such as developing a routine, stress with finals, self-care and impostor syndrome.
While the Student Counseling Center provides considerable and comprehensive student support, the School of Health Sciences is committed to taking extra steps by providing more options and coping activities for students.
Therapy Assistance Online (TAO)
The Therapy Assistance Online (TAO) app is a helpful asset that provides School of Health Sciences students free unlimited access to over 150 brief, effective, educational sessions covering more than 50 common topics and skills related to mental health, wellness and substance use issues. Its platform includes interactive sessions, mindfulness exercises and practice tools to meet student needs, as well as ways to reach out for help, if needed.
Assistance with procrastination, perfectionism, test anxiety, evaluating substance abuse and relationship health are also available. Its four levels of resources, ranging from professional development for faculty, mild concerns and moderate problems, to severe and chronic problems, are available with TAO with just a tap.
Target Health Tuesdays
Target Health Tuesdays is a weekly scheduled opportunity to participate in a wellness activity at locations on Vermillion's campus as well as at USD – Sioux Falls, where activities like yoga, meditation, massages and pet therapy are offered.
"We started the Target Health Tuesday initiative to support students, faculty and staff to focus on their health and well-being," said Ranelle Nissen, associate dean of academics for the School of Health Sciences. "We are all faced with increasing stress and pressures from multiple external sources that impact our overall well-being. These external influences on our well-being can negatively affect our performance in our everyday tasks and responsibilities. Taking time each day to focus on our well-being helps us achieve the best version of ourselves."
Nursing Initiatives
Some departments within the School of Health Sciences have also implemented some of their own specific stress-relieving activities into day-to-day student life. Jean Yockey, Ph.D., associate professor of nursing, says nursing students started a wellness initiative in spring 2022, with three major focus areas encouraged: gratitude, water intake and increased physical activity. Each of the three areas had a champion group of students and was highlighted for a 21-day window.
A "humor board" was put up outside a high traffic area so students could vote on favorite memes and potentially win a gift card, and a local health food expert demonstrated healthy snack selections for all SHS students. Finally, "choose your own ending" activities at the Wellness Center and attending mental health webinars were encouraged.
All these events resulted in student participation in over 300 activities. "The topic of wellness resonates within nursing and with students," said Yockey. "We know this because students have already given presentations about wellness at local, regional and national conferences."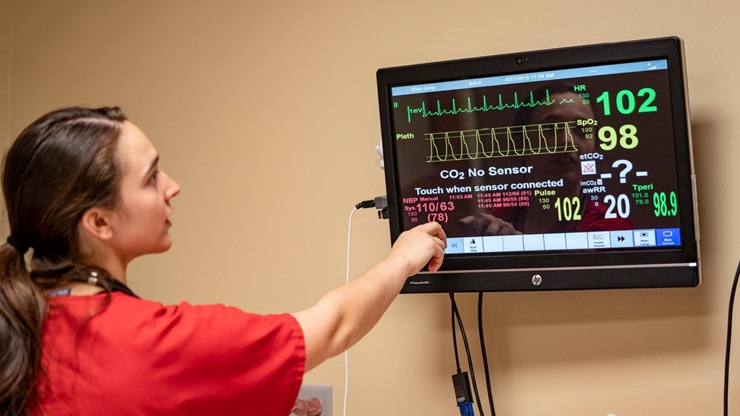 The University of South Dakota will offer an online Doctor of Nursing Practice (D.N.P.) and online Master of Science in Nursing (M.S.N.), both recently approved by the South Dakota Board of Regents, to meet growing demands for nursing leadership and informatics at an advanced level.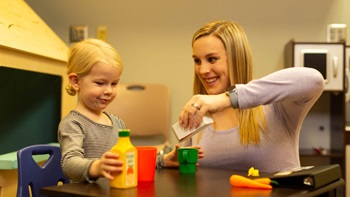 The University of South Dakota and LifeScape are partnering to address a gap in behavior services, including services to people with autism and people with developmental disabilities, through a new graduate level certificate program.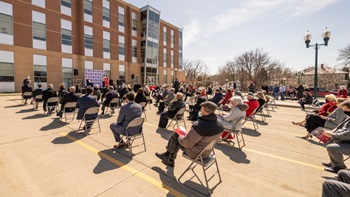 The University of South Dakota broke ground on the new School of Health Sciences building and announced a $1 million gift from the Delta Dental of South Dakota Foundation on April 1.