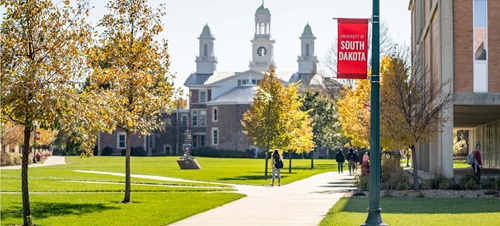 Undergraduate Tuition & Costs
Your education should be affordable. At USD, it will be.
Combining academic excellence with affordability.
At the University of South Dakota, we combine the affordability you need now with the educational benefits and experiences you'll value for a lifetime. We are consistently ranked as one of "America's Best Value Colleges" — meaning you're getting a world-class education from a leading, flagship university while paying only a fraction of the tuition cost you might pay at other colleges.
Estimated Undergraduate Tuition, 
Fees & Costs for 2023-24
| | SD Residents, SD Advantage* & Child of Alumni | MN Residents | Out-of-State |
| --- | --- | --- | --- |
| Tuition (30 cr.) | | | |
| Fees (30 cr.) | | | |
| Books (estimate) | | | |
| Housing | | | |
| Food Service | | | |
| Total | | | |
* SD Advantage: The in-state rate is available to new undergraduate students who are residents of South Dakota, Colorado, Illinois, Iowa, Montana, Nebraska, North Dakota, Wisconsin, Wyoming and children of alumni of USD.
University of South Dakota tuition and fees are paid at the beginning of each semester and may change over the course of the year.
Child of Alumni Rate: Parent or legal guardian received a degree from the University of South Dakota. For more information or to see if you qualify please contact the Office of Admissions at 605-658-6200 or visit our Child of Alumni page.
Students enrolled in select disciplines are subject to additional fees. View the listing of program fees.
Housing rates based on double occupancy in a traditional-style residence hall.
Undergraduate students living in residence halls are required to subscribe to a university meal plan. Food service rates shown represent the meal plan commonly assigned to incoming students. Various meal plans are available through the University of South Dakota's Dining Services.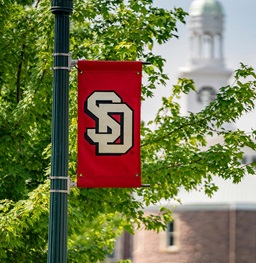 Financial Aid
Navigating options for how to pay for college can be challenging, but you are not alone.
The Office of Financial Aid will work with you and your family to explore how you can make your college education even more affordable.
Financial Aid Resources
Scholarships
USD awards nearly $9.5 million in scholarships each year. View our scholarships to see which ones you may qualify for and how you can apply.
View Scholarships
In-State and Reduced Tuition Rates
No matter where you live, USD offers you an exceptional education at a competitive and affordable price.
South Dakota, Iowa, Nebraska, North Dakota, Wyoming, Illinois, Wisconsin, Colorado and Montana students qualify for in-state tuition. USD also offers reduced tuition for Minnesota students.
And with our already-affordable rates, out-of-state students are likely to pay less at USD than you would at one of your own state universities.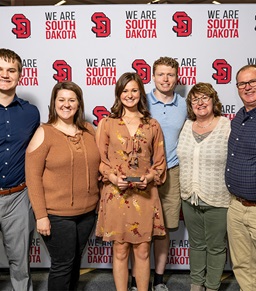 Carrying On Your Family's Coyote Legacy
Children of University of South Dakota alumni can pay in-state tuition for their undergraduate degrees – regardless of where they live.The program is limited to incoming freshmen or transfer students who attend the same university from which one of their parents or legal guardian received a degree. If students meet initial requirements for admission, their tuition rate will be at the in-state-rate per credit hour rather than the rate for out-of-state students making a world-class education from USD even more affordable. Students already accepted at USD should contact Dean of Enrollment Mark Petty at 605-658-6220 or
mark.petty@usd.edu
to determine if they qualify for the new Child of Alumni rate.
Already a South Dakota Resident? Learn more about the Coyote Legacy Scholarship.
Learn More