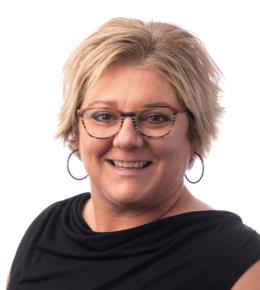 Amy Hunsley
Sioux Falls Site Director
NURSING
Bio:
Amy McTighe has worked for the University of South Dakota since 2003 and is the USD Nursing Site Director in Sioux Falls. Prior to working for USD, Amy worked as a Labor/Delivery/Normal Newborn nurse, in the emergency department, and on the Medical-Surgical unit. She is a member of the USD Nursing and SHS Interdisciplinary/Interprofessional Team, the Testing Committee, and is the Chair of the BSN Curriculum Committee. Amy has assisted in the revision of curriculum, concept development, simulation creation and implementation, laboratory skills creation and implementation, test item writing, clinical learning activities, and interprofessional learning activity creation and implementation.
---
Teaching Interests:
Maternal/Child Health, Med/Surg Nursing, Concept Curriculum, Professional Development, and Interdisciplinary/Interprofessional Development<br><br>
---
Research Interests:
Concept Curriculum, Civility, Professional Development of the Nursing Student, Clinical Learning Activities, Interactive student learning in the classroom, Interdisciplinary/Interprofessional Learning within nursing curriculum.
---
Education:
MS, Nursing, University of Phoenix, 2006
---
Licensures and Certifications:
Certified Nurse Educator, NLN
Registered Nurse, South Dakota Board of Nursing
---
Publications:
Citations listed below are presented in a standardized, modified format for display purposes only. They do not necessarily reflect the preferred style and conventions of the faculty member or discipline.
Ray, Annette, Hunsley, Amy, Koenecke, Lori, and Feller, Lisa. Low-fidelity simulation: Care of the post-CABG patient. QSEN.org..
Feller, Lisa, Hunsley, Amy, Ray, Annette, and Lucia, Schliessmann M.. Rural South Dakota: The power of education and care delivery partnership. Edited by Susan G. Slater, 40-43. Vol. 18, Iss. 1. Thousands Oaks, California: Home Healthcare Management and Practice, 2005.
---
Awards and Honors:
Nursing Excellence Award Excellence in Clinical Teaching, University of South Dakota Department of Nursing, 2017
Excellence in Service Award, USD Nursing, 2015
---
Presentations:
Yockey, Jean, Kleinhesselink, Anne, Pithan, Anne, Varenhorst, Lisa, Smith, Emily, Luken, Regan, Hunsley, Amy.

Living Catastrophe Theory Leads to Future Improvements

. Presented at the Nuts&Bolts for Nurse Educators Conference, Minineapolis, MN. (August 2020)
Ray, Annette, Hunsley, Amy, Varty, Gayle.

Building Innovative Quality Patient-Centered Care with Simulation

. Presented at the Simulation in Healthcare: Where No One has Gone Before, Ft. Lauderdale, Florida. (March 25, 2010)
Koenecke, Lori, Hunsley, Amy, Ray, Annette.

Innovative Simulation Strategies in a Rural Setting

. Presented at the Simulation in Healthcare: Where No One has Gone Before, Ft. Lauderdale, Florida. (March 25, 2010)
Hunsley, Amy, Koenecke, Lori.

Give Us One Good Reason Why Simulation Cannot Be Incorporated Into Your Curriculum?

. Presented at the Midwest Nurse Educator's Academy, Grand Forks, ND. (May 18, 2009)
Hunsley, Amy, Ray, Annette.

Promoting Health Through Mutually Valuable Partnerships

. Presented at the International Nurse Educators Conference in the Rockies, Breckenridge, Colorado. (July 20, 2007)