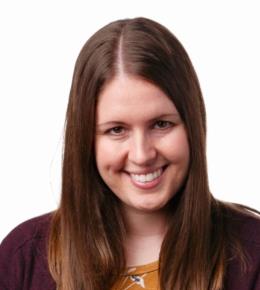 BreAnne Danzi
Assistant Professor
PSYCHOLOGY
Teaching Interests:
I am interested in teaching related to clinical psychology, children and families, disasters, and clinical supervision. I am particularly interested in issues of professional development, promoting awareness of career paths in psychology, and supporting students in identifying and achieving their professional goals.
---
Research Interests:
My interests broadly focus on the mental health of children and families, especially those impacted by stress and trauma. My research focuses on understanding children's responses to traumatic stress, improving the assessment of PTSD in children, and identifying biopsychosocial factors (e.g., genetics, social support) that contribute to risk and resilience trajectories following trauma exposure. My work has historically focused on community-wide trauma (e.g., natural disasters, terrorism), but I also study other forms of stress (e.g., peer victimization, transitions). I am particularly interested in assessment and diagnostic issues in children, and my recent research has focused on improving the diagnostic criteria for PTSD to be more developmentally-sensitive to clinical presentations in trauma-exposed children.
---
Education:
Ph D, Clinical Psychology, University of Miami, 2019
MS, Clinical Psychology, University of Miami, 2015
BA, Psychology, University of North Carolina at Chapel Hill, 2012
---
Licensures and Certifications:
Licensed Psychologist, South Dakota
---
Publications:
Citations listed below are presented in a standardized, modified format for display purposes only. They do not necessarily reflect the preferred style and conventions of the faculty member or discipline.
Danzi, BreAnne, La Greca, Annette M., Greif Green, Jennifer, and Comer, Jonathan S.. What's in a name? Comparing alternative conceptualizations of posttraumatic stress disorder among preadolescent children following the Boston Marathon bombing and manhunt, 545-558. Vol. 34, Iss. 5. Anxiety, Stress, & Coping, 2021. (DOI: https://doi.org/10.1080/10615806.2021.1894330)
Danzi, BreAnne, Tawfik, Saneya H., Mora Ringle, Vanesa, and Saez-Flores, Estefany. Enhancing profession-wide competencies in supervision and assessment: An evaluation of a peer mentorship approach., 176-184. Vol. 14, Iss. 3. Training and Education in Professional Psychology, 2020. (DOI: 10.1037/tep0000256)
La Greca, Annette M., Brodar, Kaitlyn E., Danzi, BreAnne, Tarlow, Naomi, Silva, Karina, and Comer, Jonathan S.. Before the storm: Stressors associated with the Hurricane Irma evacuation process for families, 63--73. Vol. 13. Disaster Medicine and Public Health Preparedness, 2019. (DOI: 10.1017/dmp.2019.9)
Girio-Herrera, Erin, Ehrlich, Caroline J., Danzi, BreAnne, and La Greca, Annette M.. Lessons learned about barriers to implementing school-based interventions for adolescents: Ideas for enhancing future research and clinical projects, 466 - 477. Vol. 26, Iss. 3. Cognitive and Behavioral Practice, 2019. (DOI: 10.1016/j.cbpra.2018.11.004)
La Greca, Annette M., and Danzi, BreAnne. Posttraumatic stress disorder. In

Treatment of disorders in childhood and adolescence, fourth edition

, edited by Prinstein, Mitchell J; Youngstrom, Eric A; Mash, Eric J; Barkley, Russell A, 495 - 538. New York, NY: The Guilford Press, 2019.
Danzi, BreAnne, and La Greca, Annette M.. Genetic pathways to posttraumatic stress disorder and depression in children: Investigation of catechol-O-methyltransferase (COMT) Val158Met using different PTSD diagnostic models, 81-86. Vol. 102. Journal of Psychiatric Research, 2018. (DOI: 10.1016/j.jpsychires.2018.03.014)
Danzi, BreAnne, and La Greca, Annette M.. Peer Rejection. In

The SAGE Encyclopedia of Intellectual and Developmental Disorders

, edited by Braaten, Ellen B., 1220-1222. Thousand Oaks, CA: SAGE Publications, 2018. (DOI: 10.4135/9781483392271.n376)
La Greca, Annette M., Danzi, BreAnne, Marchante-Hoffman, Ashley N., and Tarlow, Naomi. Trauma exposure in posttraumatic stress and acute stress disorders. In

The Oxford handbook of stress and mental health

, edited by Harkness, K; Hayden, E.P., 1-48. Oxford, UK: Oxford University Press, 2018. (DOI: 10.1093/oxfordhb/9780190681777.013.11)
La Greca, Annette M., Danzi, BreAnne, and Chan, Sherilynn F.. DSM-5 and ICD-11 as competing models of PTSD in preadolescent children exposed to a natural disaster: Assessing validity and co-occurring symptomatology, 1310591. Vol. 8, Iss. 1. European Journal of Psychotraumatology, 2017. (DOI: 10.1080/20008198.2017.1310591)
Danzi, BreAnne, and La Greca, Annette M.. Optimizing clinical thresholds for PTSD: Extending the DSM-5 preschool criteria to school-age children, 234--241. Vol. 17. International Journal of Clinical and Health Psychology, 2017. (DOI: 10.1016/j.ijchp.2017.07.001)
Danzi, BreAnne, and La Greca, Annette M.. DSM-IV, DSM-5, and ICD-11: Identifying children with posttraumatic stress disorder after disasters, 1444-1452. Vol. 57, Iss. 12. Journal of Child Psychology and Psychiatry, 2016. (DOI: 10.1111/jcpp.12631)
---
Presentations:
Danzi, BreAnne, Strobel, Susan, Puumala, Susan, Kenyon, DenYelle, Curry O'Connell, Meghan, VanNess, Chelsey, Wesner, Chelsea.

COVID-19 stressors and psychological functioning of youth and parents in South Dakota

. Presented at the American Psychological Association, Virtual. (August 2021)
Danzi, BreAnne, La Greca, Annette.

Genetic vulnerability in children: ADCYAP1R1 variant increases risk for PTSD in trauma-exposed girls and boys

. Presented at the International Society of Traumatic Stress Studies, Virtual. (November 2020)
Strobel, Susan, Wesner, Chelsea, Danzi, BreAnne, Puumala, Susan, Kenyon, DenYelle, McConnell, Meghan.

Responding to COVID-19 in rural America: A public health case study

. Presented at the Project ECHO (Extension for Community Healthcare Outcomes), virtual. (June 4, 2020)
Danzi, BreAnne, La Greca, Annette M..

Elucidating the etiology of posttraumatic stress disorder in children: The role of TPH2 genetics

. Presented at the Miami International Child and Adolescent Mental Health Conference, Miami, FL. (February 2020)
Danzi, BreAnne, La Greca, Annette M..

Overview and conceptualization of PTSD in youth: Current challenges and dilemmas

. Presented at the American Psychological Association, San Francisco, CA. (August 2018)
Danzi, BreAnne, La Greca, Annette M..

Different models of PTSD yield discrepant findings in children: A genetic variant case example

. Presented at the International Society for Traumatic Stress Studies , Chicago, IL. (November 2017)
Danzi, BreAnne, La Greca, Annette M..

Stressed or depressed? Differentiating between PTSD and depression using new and emerging diagnostic criteria in trauma-exposed children

. Presented at the Miami International Child and Adolescent Mental Health Conference, Miami, FL. (February 2017)
Danzi, BreAnne, La Greca, Annette M..

COMT gene associated with ICD-11 but not DSM-5 PTSD in disaster-exposed children

. Presented at the Association for Behavioral and Cognitive Therapies, New York, NY. (October 2016)
Danzi, BreAnne, La Greca, Annette M..

Extending DSM-5 preschool PTSD criteria to preadolescent children

. Presented at the International Society for Traumatic Stress Studies , New Orleans, LA. (November 2015)
Danzi, BreAnne, La Greca, Annette M..

DSM-IV, DSM-5, and ICD-11: How well do diagnostic criteria for PTSD fit children after disasters?

. Presented at the International Society for Traumatic Stress Studies, Miami, FL. (November 2014)
Danzi, BreAnne, La Greca, Annette M., Chan, Sherilynn F., Landoll, Ryan R., Herge, Whitney M..

Socially anxious and depressed adolescents' peer victimization and relationship qualities

. Presented at the American Psychological Association, Washington, D.C.. (August 2014)