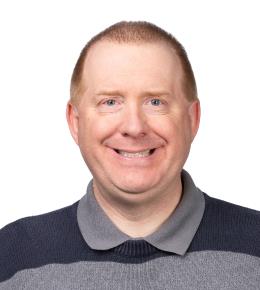 Clark Bennett
Instructor
MATHEMATICAL SCIENCES
Bio:
I am originally from Anoka, MN. I received my BS in mathematics from USD in 2000. I received my MA in mathematics from USD in 2002.
---
Teaching Interests:
Pre-College Algebra, College Algebra, Precalculus, Trigonometry, Calculus, Statistics.
---
Research Interests:
Mathematical modeling and applied mathematics.
---
Education:
Mathematics, North Dakota State University, 2004
MA, Mathematics, The University of South Dakota, 2002
BS, Mathematics, The University of South Dakota, 2000
---
Publications:
Citations listed below are presented in a standardized, modified format for display purposes only. They do not necessarily reflect the preferred style and conventions of the faculty member or discipline.
Van Peursem, Dan, Keller, Christina, Pietrzak, Dale, Wagner, Clarice, and Bennett, Clark. A COMPARISON OF PERFORMANCE AND ATTITUDES BETWEEN STUDENTS ENROLLED IN COLLEGE ALGEBRA VS. QUANTITATIVE LITERACY, 107-118. Vol. 46, Iss. 2. Mathematics and Computer Education , 2012.
Bennett, Clark. Tips from a Prof, Use These University Math Instructor's Tips to Succeed at College. Edited by Enid Arbelo, 5. Vol. March/April. Victor, NY: Next Step Magazine, 2008.
---
Awards and Honors:
Belbas-Larson Award for Excellence in Teaching Nomination, USD Students, 2017
Belbas-Larson Award for Excellence in Teaching Nomination, USD Students, 2016
Alpha Phi Guest Dinner, Alpha Phi Sorority, 2005