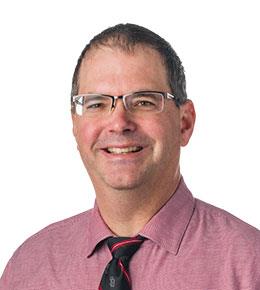 Dan Van Peursem
Chair, Mathematical Sciences / Professor
MATHEMATICAL SCIENCES
Bio:
I am a lifetime resident of the Midwest and have been an educator my whole life. My first collegiate position was here at USD in 1997 and have been here ever since. I have served as the Mathematical Sciences Department Chair since 2004. Dr. Van Peursem enjoys maintaining student interaction through his courses.
---
Teaching Interests:
For the past several years I have been teaching our calculus I and geometry courses. It is my hope to recruit strong math majors into the field that are interested in careers in mathematics.
---
Research Interests:
My original dissertation area was in the analytical modeling of ground water flow. Specifically ground water remediation systems using vertical recirculation wells. As of recently, I have been more interested in mathematical modeling in biology and ecology with population dynamics and the spread of diseases.
---
Education:
Ph D, Applied Mathematics, The University of Nebraska-Lincoln, 1997
MA, Mathematics, The University of South Dakota, 1992
BA, Mathematics, Northwestern College, 1989
---
Grants:
Math Pathways, BOR and SD Education Access Foundation. (2019 - 2022)
Funds to support Undergraduate Math Conference, MAA (Mathematical Association of America). Grant Role: Principal. (2014 - 2014)
Finishing what we have begun: Improving success in mathematics at USD, South Dakota BOR. Grant Role: Principal. (2013 - 2013)
---
Publications:
Citations listed below are presented in a standardized, modified format for display purposes only. They do not necessarily reflect the preferred style and conventions of the faculty member or discipline.
Wesner, Jeff, Van Peursem, Dan, Flores, Jose, Lio, Yuhlong, and Wesner, Chelsea. Forecasting hospitalizations due to COVID-19 in South Dakota, USA, 218-229. Vol. 5, Iss. 2. Journal of Healthcare Informatics Research, 2021.
Coker, E H., and Van Peursem, Dan. The erosion of horizontal sand slurry pipelines resulting from inter-particle collision, 74-81. Vol. 400-401. Wear, 2018. (DOI: 10.1016/j.wear.2017.12.022)
Jensen, Stephanie, and Van Peursem, Dan. Controlling Plague Among Prairie Dogs: A Two Colony Eppidemiological Model. Edited by Professor Ka-Lok Ng, 67-78. Vol. 10, Iss. 3. Transactions on Biology and Biomedicine/ WSEAS, 2013.
Henneman, Kayla, Van Peursem, Dan, and Huber, Victor. Mathematical modeling of influenza and a secondary bacterial infection. Edited by Professor Ka-Lok Ng, 1-11. Vol. 10, Iss. 1. Transactions on Biology and Biomedicine / WSEAS, 2013.
Van Peursem, Dan, Keller, Christina, Pietrzak, Dale, Wagner, Clarice, and Bennett, Clark. A COMPARISON OF PERFORMANCE AND ATTITUDES BETWEEN STUDENTS ENROLLED IN COLLEGE ALGEBRA VS. QUANTITATIVE LITERACY, 107-118. Vol. 46, Iss. 2. Mathematics and Computer Education , 2012.
Georgescu, Catalin, and Van Peursem, Dan. Dynamics of a Population Model Controlling the Spread of Plague in Prairie Dogs.. Vol. 1. WSEAS Press: Recent Advances in Applied Mathematics and Computational and Information Sciences, 2009.
---
Awards and Honors:
Distinguished Service Award, South Dakota Council of Teachers of Mathematics, 2019
Cutler Award, College of Arts and Sciences, 2016
Honorary Member of Golden Key, USD Golden Key Honor Society, 2012
---
Presentations:
Van Peursem, Dan.

Akedemos and FDA

. Presented at the Podcast for Akedemos and FDA, via Zoom. (May 14, 2020)
Van Peursem, Dan.

Math Emporium

. Presented at the MAA Sectional Meeting, Freemont, NE. (March 30, 2012)
Georgescu, Catalin, Van Peursem, Dan.

Dynamics of a population model controlling the spread of plague in prairie dogs.

. Presented at the 15th American International Conference on Applied Mathematics, Houston. (April 30, 2009)
Georgescu, Catalin, Van Peursem, Dan.

Dynamics of a population model

. Presented at the Nebraska/SE South Dakota Section of MAA, Hastings College, Hastings, NE. (April 3, 2009)