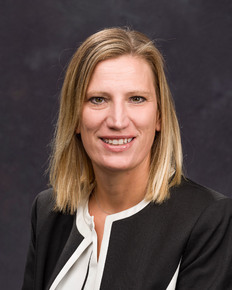 Jessica McHugh
Assistant Professor
OCCUPATIONAL THERAPY
Bio:
Dr. McHugh earned her Masters of Science degree from the University of South Dakota and PhD from Texas Woman's University. She has clinical experience in leadership and management, pediatrics, early interventions, and inpatient rehabilitation. Dr. McHugh is board certified in pediatrics through AOTA.
---
Teaching Interests:
Pediatric Occupational Therapy, Assistive Technology and Therapeutic Adaptions, Evidence-Based Practice, Leadership and Management, and Academic/Clinical Education
---
Research Interests:
Scholarly and clinical interests include pediatric neurodevelopment related to sensory systems, vision related to youth occupations, evidence-based practice, and leadership development.
---
Education:
Ph D, Occupational Therapy, Texas Woman's University, 2016
MS, Occupational Therapy, University of South Dakota, 2008
BA, Elementary, Early Childhood, and Special Education, University of Iowa, 1999
---
Licensures and Certifications:
Board Certification in Pediatrics, AOTA
South Dakota OT License, South Dakota Board of Medical and Osteopathic Examiners, State of South Dakota
Licensed Occupational Therapist, State of Iowa, State of Iowa
Board Certified Occupational Therapist, National Board for Certification in Occupational Therapy, NBCOT
---
Grants:
Health Utilization and Needs of Caregivers, USD School of Health Sciences Research Committee. Grant Role: Co-Principal. (2021 - 2022)
---
Publications:
Citations listed below are presented in a standardized, modified format for display purposes only. They do not necessarily reflect the preferred style and conventions of the faculty member or discipline.
McHugh, Jessica, Baxter, Mary F., Chang, Pei-Fen, and Mitchell, Katy. Idiopathic Toe Walking and Postural Instability: The Next Step, e109-e116. Vol. 4, Iss. 3. Annals of International Occupational Therapy, 2021. (DOI: https://doi.org/10.3928/24761222-20200811-02)
Serwe, Katrina, Cores, Kimberly, Mettler, Maria, Smith, Jamie, Steger, Kaitlyn, Dougherty, Deborah, McHugh, Jessica, Piller, Aimee, Riley, Bonnie, and Tomlin, George. International Position Statements on Evidence-Based Practice in Occupational Therapy: A Qualitative Content Analysis, 101-108. Vol. 4, Iss. 3. Annals of International Occupational Therapy, 2021. (DOI: https://doi.org/10.3928/24761222-20200619-02)
Boell, Molly, McHugh, Jessica, and Lucas Molitor, Whitney. The Role of Occupational Therapy in Addressing Feeding Difficulties in the Neonatal Intensive Care Unit, 20-22. Vol. 25, Iss. 7. OT Practice, 2020.
---
Awards and Honors:
Patrick L. Redinius Spirit Award, USD Center for Disabilities, 2013
Carol Gray Award, Future Horizons, 2004
---
Presentations:
Nissen, Ranelle, McHugh, Jessica.

Familiarity and Use of Sensory-Based Theories by Occupational Therapists Practicing in Various Settings Across the United States

. Presented at the 2022 AOTA Inspire, San Antonio, TX. (April 2022)
Dougherty, Deborah, Piller, Aimee, Tomlin, George, McHugh, Jessica, Riley, Bonnie, Serwe, Katrina.

A Practitioner's Role? Using, Generating & Synthesizing Evidence in Everyday Practice for the Betterment of the Client & the Profession

. Presented at the 2020 Virtual Conference Series, Virtual. (May 21, 2020)
McHugh, Jessica.

An Innovative, Occupational Approach to Teaching/Learning EBP Principles

. Presented at the AOTA Education Summit, Las Vegas. (October 18, 2019)
McHugh, Jessica.

Improving Visual-Motor Skills of Youth Athletes with Amblyopia Utilizing the Dynavision

. Presented at the Closing the Gap Annual Conference, Prior Lake, MN. (October 03, 2019)
McHugh, Jessica, Serwe, Katrina, Tomlin, George, Piller, Aimee, Dougherty, Deborah.

Use of Case Reports & Case Report Journals in OT

. Presented at the AOTA Annual Conference, New Orleans, LA. (April 06, 2019)
McHugh, Jessica.

Idiopathic Toe Walking and Postural Instability: The Next Step

. Presented at the AOTA Annual Conference, Salt Lake City, Utah. (April 19, 2018)
McHugh, Jessica.

Autism/Sensory Processing and the DSM-5

. Presented at the Monthly Meeting, Sioux Falls, SD. (May 2013)
McHugh, Jessica.

Sensory Processing Disorders

. Presented at the Siouxland Autism Society, Sioux City, IA. (April 2011)
McHugh, Jessica.

Autism Awareness

. Presented at the Monthly Meeting, Joplin, Mo. (February 2002)
McHugh, Jessica, Montgomery, Sarah, Hatfield, Joan.

Introduction to Autism

. Presented at the Introduction to Autism, Joplin, Mo. (August 2001)