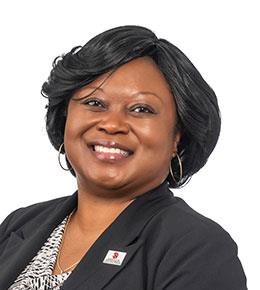 Jewel Shepherd
Assistant Professor
BEACOM SCHOOL OF BUSINESS
Bio:
Dr. Jewel Goodman Shepherd is an Assistant Professor of Health Services Administration with an earned doctorate in Health Services Research. Dr. Shepherd is also the Internship Experience Coordinator for Health Services Administration for both the undergraduate HSAD major and graduate HSAD specialization. She is also the Master of Business Administration (M.B.A.) Program Coordinator.
---
Teaching Interests:
My academic and professional accomplishments and experiences have been important to developing my teaching pedagogy because as an educator I must be willing to understand not only the student perspective, but also the perspective that I bring into the classroom and be willing to make accommodations. I demonstrate ambitious behaviors and model self-efficacy for my students so that there are clear expectations of success for them throughout their tenure with me in the course and beyond. I ensure there are no discrepancies between my teaching behaviors and my personal values. I am committed to placing students at the center of their learning by teaching in the manner that is best suited for their learning style and that promotes success. With an accomplished experience at the Community College level, the Undergraduate level specific to a four-year University experience and familiarity with graduate students pursuing an MPH or a Health Services Research PhD, I share the College and University's responsibility of managing recruitment and retention by executing my role as a mentor with the same enthusiasm I exert for teaching to ensure student academic success. I see advising and mentoring as an extension of teaching and service to students to promote a cohesive learning community. My teaching interests are public health, community health, epidemiology, health services research, advanced strategic planning, advance healthcare management, health services administration and additional health-focused curriculum.
---
Research Interests:
Research interests include: chronic care management, health education and promotion, behavior health surveillance, mobile health technologies, and inter-professional collaboration in the health sciences.
---
Education:
Master of Theology , William P. Wiggins Bible College, 2019
Ph D, Health Services Research , The Old Dominion University , 2010
Master of Public Administration , Health Care Administration Management , Troy University , 1999
BA, United States Policy and Politics, The George Washington University's Mount Vernon Campus for Women, 1994
---
Licensures and Certifications:
Certified in Public Health, CPH , National Board of Public Health Examiners
Certified Health Education Specialist, CHES, National Commission for Health Education Credentialing, Inc.
---
Research:
Analyzing the ALOS in Avera Health System, Avera Health, (2017 - 2017)
Antecedents & Consequences of Patient Education: The Impact of Patient Engagement, Medication Adherence, Cost-Benefit and Chronic Condition Management"., Sanford Research
---
Grants:
Moscequest - Addressing a Critical Barrier to Drug Abuse Research, National Institute of Drug Abuse (NIDA). (2020 - Present)
Beacom Consulting Group, Beacom School of Business, The Beacom Opportunity Fund. (2017 - Present)
, USD Center for Teaching and Learning. Grant Role: Principal. (2016 - 2017)
---
Publications:
Citations listed below are presented in a standardized, modified format for display purposes only. They do not necessarily reflect the preferred style and conventions of the faculty member or discipline.
Shepherd, Jewel. Proposed Framework for Implementation of a Phlebotomy Training Program for Rural Hospital Systems: Strategic Management Planning for Clinical Support Services. Edited by Lisa Moynihan, 36-37. Vol. 51, Iss. 12. Sarasota, Florida : Medical Laboratory Observer: The Peer Reviewed Management Source for Lab Professionals , 2019.
South-Winter, Carole A., Shepherd, Jewel, and south-winter, carole. Academia and Industry Partnerships: Using Data Driven Decision-Making in Health Services Administration (Part 1 of Series), 131-138. Vol. 15, Iss. 1. Portland, OR: Journal of Human Resource and Adult Learning , 2019.
Shepherd, Jewel. Proposed Framework for Examining Ancillary Benefits of Patient Education: A Practical Application Tool for Health Services Administrators. Edited by Dr. Dean Smith , 81-94. Vol. 35, Iss. 1. New Orleans, Louisiana : The Journal of Health Administration Education, a publication of the Association of University Programs in Health Administration , 2018.
Shepherd, Jewel, and Sariol, Ana. Inclusiveness in Health Services: Taking a HEALTHY Approach. In

Momentum: Early Careerist Newsletter

. American College of Healthcare Executives, 2018.
Shepherd, Jewel. A Decade of Diabetes Hospitalizations: Meaningful Information for Community-Based Health Services Administrators for Identifying and Assessing Risk. Edited by Editorial Board: Anita S. Tesh , 8 pages. Vol. 3, Iss. 3. Los Angeles, California : The Journal of Patient Care , 2017. (DOI: DOI: 10.4172/2573-4598.1000135)
Shepherd, Jewel, Claiborne, Denise M., Johnosn, Kaprea F., and Goodman, K S.. Treating Patients with Alzheimer's Disease: Adopting a Patient-Centered Approach will help Dental Professionals Improve Both Oral and Systemic Health Outcomes for Patients with Alzheimer's Disease. Edited by Thomas G. Wilson, Jr., DDS, 34-39. Vol. 2, Iss. 2. Santa Ana, California: Decisions in Dentistry: The Journal of Multidisciplinary Care, 2016.
Shepherd, Jewel, Johnson, Kaprea F., Goodman, K S., and Copeland-Murphy, S. Utilizing the Stages of Change Model to Design an Employment Readiness Training Program for High Risk Workers: A Collaborative of Community-Based Human Service Professionals and Health Sciences Educators., 37-43. Vol. 4, Iss. 2-1. American Journal of Health Research , 2016.
Shepherd, Jewel, Claiborne, Denise M., Johnosn, Kaprea F., and Goodman, K. S.. Dealing with Dementia: A Patient-centered Approached will Help Dental Professionals Improve Both Oral and Systemic Health Outcomes for Patients with Alzheimer's Disease. Edited by Kirsten Machado , 37-40. Vol. 13, Iss. 7. Santa Ana, California : Dimensions of Dental Hygiene , 2015.
Tufts, Kimberly A., Johnson, Kaprea F., Shepherd, Jewel, Lee, Ju-Young, Ajzoon, Muna S. Bait, Mahan, Lauren B., and Kim, Miyong T.. Novel Interventions for HIV Self-management in African American Women: A Systematic Review of mHealth Interventions. In

Special Issue: Living Longer with HIV

, edited by Lucy Bradley-Springer, PhD, RN, ACRN, FAAN, 139-150. Vol. 26, Iss. 2. Thousand Oaks, California : JANAC-JOURNAL OF THE ASSOCIATION OF NURSES IN AIDS CARE, 2015. (DOI: DOI: https://doi.org/10.1016/j.jana.2014.08.002)
Shepherd, Jewel, and Lemaster, Margaret F.. Working to Improve Access to Care - Community Health Centers: Addressing Overall Health and Oral Health is a Perfect Match. Edited by Kirsten Machado, 60-64. Vol. 12, Iss. 6. Santa Ana, California: Dimensions of Dental Hygiene, 2014.
Shepherd, Jewel, Locke, Elizabeth, Zhang, Qi, and Maihafer, George. Health Services Use and Prescription Access Among Uninsured Patients Managing Chronic Diseases. Edited by Pascal James Imperato, 572-583. Vol. 39, Iss. 3. New York, New York: JOURNAL OF COMMUNITY HEALTH, 2014. (DOI: 10.1007/s10900-013-9799-1)
Shepherd, Jewel. Engaging Undergraduate Students in Substance Use and Related Mental Health Disorders Research within South Dakota: A Review of the Summer Program for Undergraduate Research in Addiction (SPURA). Edited by Keith A. Hansen, MD. Sioux Falls, South Dakota: South Dakota Medicine .
---
Presentations:
Shepherd, Jewel.

Economic Valuation of the Opioid Epidemic: A Management Framework for Health Services Administration Early Careerists to Understand the Economics of Prescription Misuse

. Presented at the Western Academy of Management , Kona Big Island Keahole, Hawaii. (March 2020)
South-Winter, Carole, Shepherd, Jewel, Heard, Matthew, Moore, Rachelle.

Academia and Industry Partnerships: Using Data to Drive Decision Impact

. Presented at the Beacom Scholar Series, USD. (September 11, 2019)
South-Winter, Carole A., Shepherd, Jewel, Heard, Matthew.

Academia and Industry Partnerships: Using Data Driven Decision-Making in Health Services Administration to Identify and Address Unmet Need

. Presented at the 2019 Global Business & International Management Conference, , Portland, Oregon, USA. (August 2019)
South-Winter, Carole A., Heard, Matthew, Shepherd, Jewel.

HSAD students and faculty provide world-class global research with industry partnerships

. Presented at the Beacom Scholar Series, USD. (March 21, 2019)
Shepherd, Jewel G..

The Administrator - Clinician Dyad: Health Services Administrators Aligning with Clinical Providers to Identify and Address Patient Population Unmet Needs that Impact Care Retention, Engagement, and Outcomes

. Presented at the Annual Meeting of The Association of University Programs in Health Administration, Philadelphia, Pennsylvania. (June 13, 2018)
Shepherd, Jewel G..

Implementing a Culturally Responsive Teaching Pedagogy for Health Services Administration Curriculum

. Presented at the Annual Meeting of The Association of University Programs in Health Administration, Long Beach, California. (June 16, 2017)